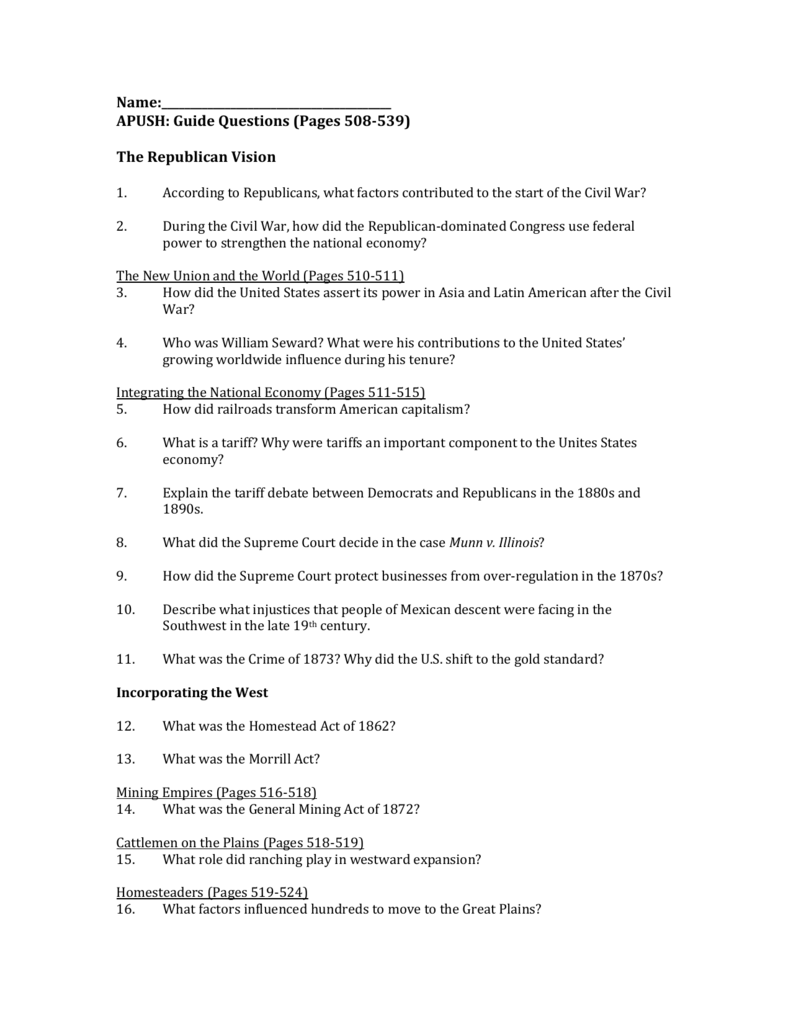 Name:________________________________________
APUSH: Guide Questions (Pages 508-539)
The Republican Vision
1.
According to Republicans, what factors contributed to the start of the Civil War?
2.
During the Civil War, how did the Republican-dominated Congress use federal
power to strengthen the national economy?
The New Union and the World (Pages 510-511)
3.
How did the United States assert its power in Asia and Latin American after the Civil
War?
4.
Who was William Seward? What were his contributions to the United States'
growing worldwide influence during his tenure?
Integrating the National Economy (Pages 511-515)
5.
How did railroads transform American capitalism?
6.
What is a tariff? Why were tariffs an important component to the Unites States
economy?
7.
Explain the tariff debate between Democrats and Republicans in the 1880s and
1890s.
8.
What did the Supreme Court decide in the case Munn v. Illinois?
9.
How did the Supreme Court protect businesses from over-regulation in the 1870s?
10.
Describe what injustices that people of Mexican descent were facing in the
Southwest in the late 19th century.
11.
What was the Crime of 1873? Why did the U.S. shift to the gold standard?
Incorporating the West
12.
What was the Homestead Act of 1862?
13.
What was the Morrill Act?
Mining Empires (Pages 516-518)
14.
What was the General Mining Act of 1872?
Cattlemen on the Plains (Pages 518-519)
15.
What role did ranching play in westward expansion?
Homesteaders (Pages 519-524)
16.
What factors influenced hundreds to move to the Great Plains?
17.
What environmental challenges did homesteaders face on the Great Plains?
The First National Park (Pages 524-525)
18.
What factors led to the creation of the first national parks?
A Harvest of Blood: Native Peoples Dispossessed
19.
Why did the federal government change its policies toward Indians on the Great
Plains after the Civil War?
The Civil War and Indians on the Plains (Pages 526-528)
20.
What were the causes and results of the Dakota uprising in Minnesota in 1862?
21.
How did the U.S. government respond militarily to Native American resistance?
Grant's Peace Policy (Pages 528-532)
22.
Describe President Grant's peace policy toward Native Americans.
23.
How did the Supreme Court impact relations with Native Americans in Lone Wolf v.
Hitchcock (1903) and Ex Parte Crow Dog?
24.
What was the Dawes Severalty Act (1887)? What were the results?
The End of Armed Resistance (Pages 532-533)
25.
What events led to Battle of Little Big Horn? What were the results?
Strategies of Survival (Page 533)
26.
What was the Ghost Dance movement?
Western Myths and Realities (Pages 535)
27.
Who was Buffalo Bill Cody?