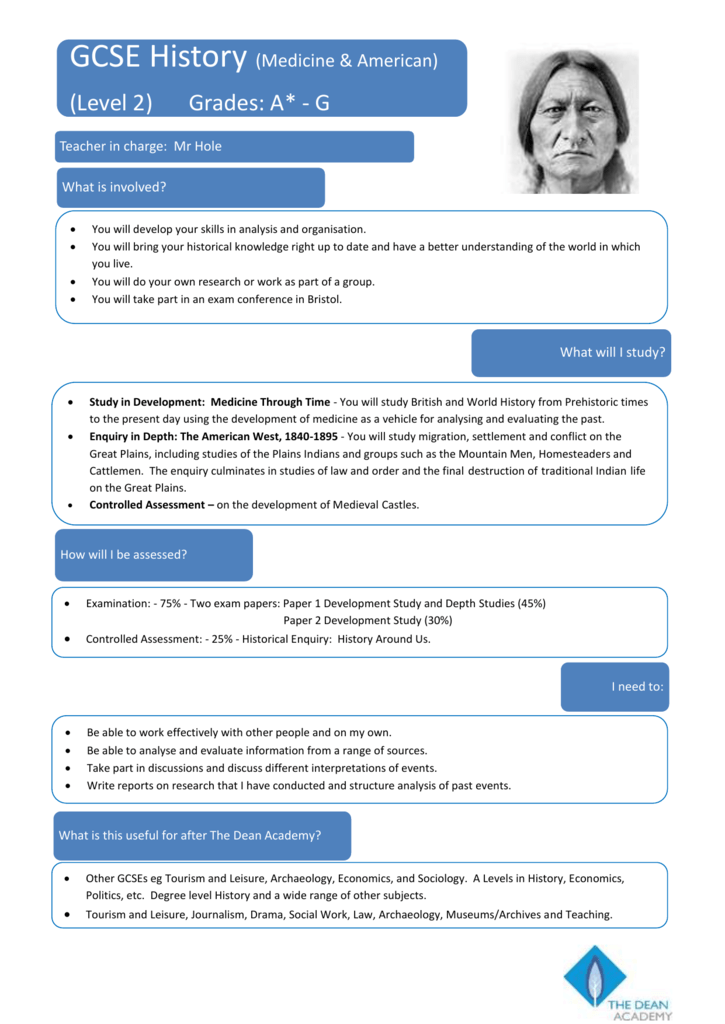 GCSE History (Medicine & American)
(Level 2)
Grades: A* - G
Teacher in charge: Mr Hole
What is involved?





You will develop your skills in analysis and organisation.
You will bring your historical knowledge right up to date and have a better understanding of the world in which
you live.
You will do your own research or work as part of a group.
You will take part in an exam conference in Bristol.
.
What will I study?

Study in Development: Medicine Through Time - You will study British and World History from Prehistoric times
to the present day using the development of medicine as a vehicle for analysing and evaluating the past.
 Enquiry in Depth: The American West, 1840-1895 - You will study migration, settlement and conflict on the
Great Plains, including studies of the Plains Indians and groups such as the Mountain Men, Homesteaders and
Cattlemen. The enquiry culminates in studies of law and order and the final destruction of traditional Indian life
on the Great Plains.

Controlled Assessment – on the development of Medieval Castles.
1) Rivers and Coasts - looks at the basic processes, landforms, coastal erosion and how people are affected by floods
2) Population and Settlement - What are the issues associated with an ever increasing population?
How
I beHazards
assessed?
3) will
Natural
– Investigates storms and hurricanes as well as earthquakes and volcanoes
4) Economic Development – Looks at Aid, the jobs that people do and how industry has affected the Environment

Examination: - 75% - Two exam papers: Paper 1 Development Study and Depth Studies (45%)
Paper 2 Development Study (30%)

Controlled Assessment: - 25% - Historical Enquiry: History Around Us.
I need to:




Be able to work effectively with other people and on my own.
Be able to analyse and evaluate information from a range of sources.
Take part in discussions and discuss different interpretations of events.
Write reports on research that I have conducted and structure analysis of past events.
What is this useful for after The Dean Academy?

Other GCSEs eg Tourism and Leisure, Archaeology, Economics, and Sociology. A Levels in History, Economics,
Politics, etc. Degree level History and a wide range of other subjects.

Tourism and Leisure, Journalism, Drama, Social Work, Law, Archaeology, Museums/Archives and Teaching.