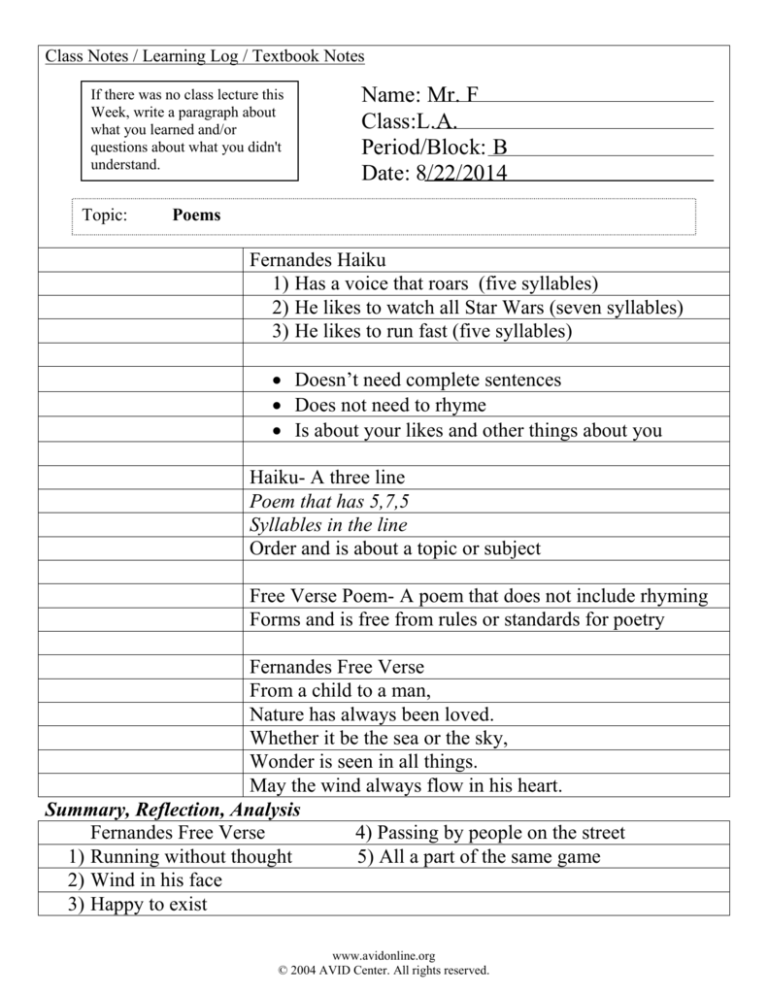 Class Notes / Learning Log / Textbook Notes
If there was no class lecture this
Week, write a paragraph about
what you learned and/or
questions about what you didn't
understand.
Topic:
Name: Mr. F
Class:L.A.
Period/Block: B
Date: 8/22/2014
Poems
Fernandes Haiku
1) Has a voice that roars (five syllables)
2) He likes to watch all Star Wars (seven syllables)
3) He likes to run fast (five syllables)
 Doesn't need complete sentences
 Does not need to rhyme
 Is about your likes and other things about you
Haiku- A three line
Poem that has 5,7,5
Syllables in the line
Order and is about a topic or subject
Free Verse Poem- A poem that does not include rhyming
Forms and is free from rules or standards for poetry
Fernandes Free Verse
From a child to a man,
Nature has always been loved.
Whether it be the sea or the sky,
Wonder is seen in all things.
May the wind always flow in his heart.
Summary, Reflection, Analysis
Fernandes Free Verse
4) Passing by people on the street
1) Running without thought
5) All a part of the same game
2) Wind in his face
3) Happy to exist
www.avidonline.org
© 2004 AVID Center. All rights reserved.
Questions/Main Ideas:
Notes:
H.W.: 1)Complete one Haiku poem about yourself with
three lines that have five, seven, five syllables in the
line order.
2) Complete one free verse poem about yourself that has at
Least five lines, and no more than eight lines.
3) Please bring a small picture of yourself when you
Were a baby, toddler, or a little older (5" x 7" or less).
4) Bring your book covers, syllables, and parent packet.
Summary, Reflection, Analysis
www.avidonline.org
© 2004 AVID Center. All rights reserved.