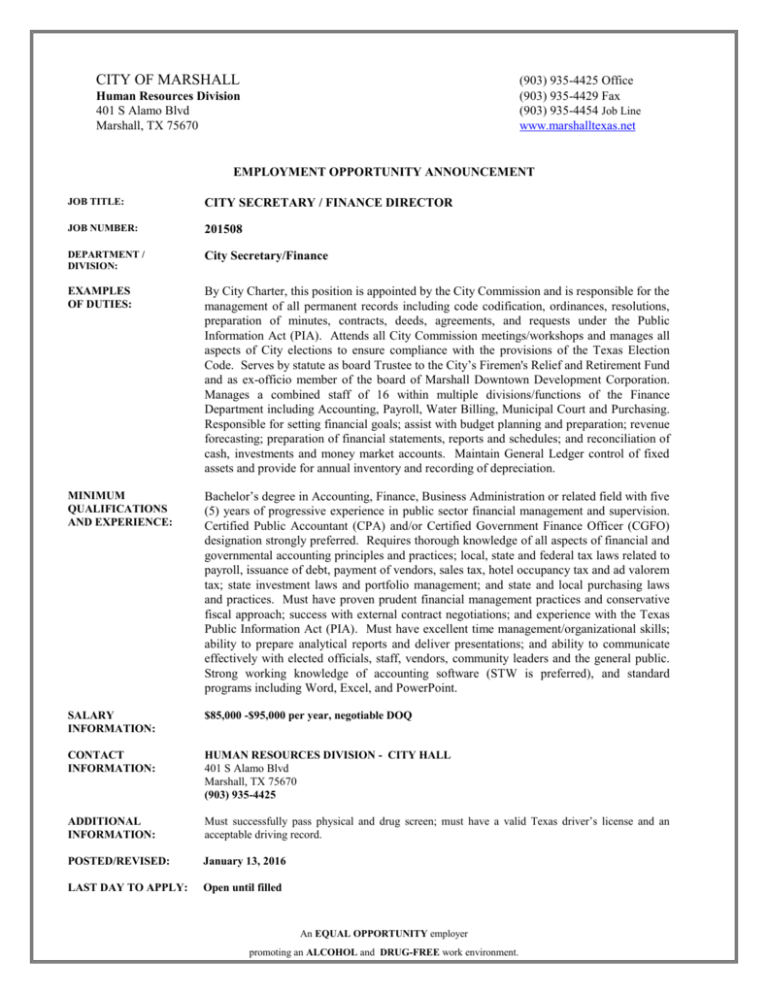 CITY OF MARSHALL
(903) 935-4425 Office
(903) 935-4429 Fax
(903) 935-4454 Job Line
www.marshalltexas.net
Human Resources Division
401 S Alamo Blvd
Marshall, TX 75670
EMPLOYMENT OPPORTUNITY ANNOUNCEMENT
JOB TITLE:
CITY SECRETARY / FINANCE DIRECTOR
JOB NUMBER:
201508
DEPARTMENT /
DIVISION:
City Secretary/Finance
EXAMPLES
OF DUTIES:
By City Charter, this position is appointed by the City Commission and is responsible for the
management of all permanent records including code codification, ordinances, resolutions,
preparation of minutes, contracts, deeds, agreements, and requests under the Public
Information Act (PIA). Attends all City Commission meetings/workshops and manages all
aspects of City elections to ensure compliance with the provisions of the Texas Election
Code. Serves by statute as board Trustee to the City's Firemen's Relief and Retirement Fund
and as ex-officio member of the board of Marshall Downtown Development Corporation.
Manages a combined staff of 16 within multiple divisions/functions of the Finance
Department including Accounting, Payroll, Water Billing, Municipal Court and Purchasing.
Responsible for setting financial goals; assist with budget planning and preparation; revenue
forecasting; preparation of financial statements, reports and schedules; and reconciliation of
cash, investments and money market accounts. Maintain General Ledger control of fixed
assets and provide for annual inventory and recording of depreciation.
MINIMUM
QUALIFICATIONS
AND EXPERIENCE:
Bachelor's degree in Accounting, Finance, Business Administration or related field with five
(5) years of progressive experience in public sector financial management and supervision.
Certified Public Accountant (CPA) and/or Certified Government Finance Officer (CGFO)
designation strongly preferred. Requires thorough knowledge of all aspects of financial and
governmental accounting principles and practices; local, state and federal tax laws related to
payroll, issuance of debt, payment of vendors, sales tax, hotel occupancy tax and ad valorem
tax; state investment laws and portfolio management; and state and local purchasing laws
and practices. Must have proven prudent financial management practices and conservative
fiscal approach; success with external contract negotiations; and experience with the Texas
Public Information Act (PIA). Must have excellent time management/organizational skills;
ability to prepare analytical reports and deliver presentations; and ability to communicate
effectively with elected officials, staff, vendors, community leaders and the general public.
Strong working knowledge of accounting software (STW is preferred), and standard
programs including Word, Excel, and PowerPoint.
SALARY
INFORMATION:
$85,000 -$95,000 per year, negotiable DOQ
CONTACT
INFORMATION:
HUMAN RESOURCES DIVISION - CITY HALL
401 S Alamo Blvd
Marshall, TX 75670
(903) 935-4425
ADDITIONAL
INFORMATION:
Must successfully pass physical and drug screen; must have a valid Texas driver's license and an
acceptable driving record.
POSTED/REVISED:
January 13, 2016
LAST DAY TO APPLY:
Open until filled
An EQUAL OPPORTUNITY employer
promoting an ALCOHOL and DRUG-FREE work environment.