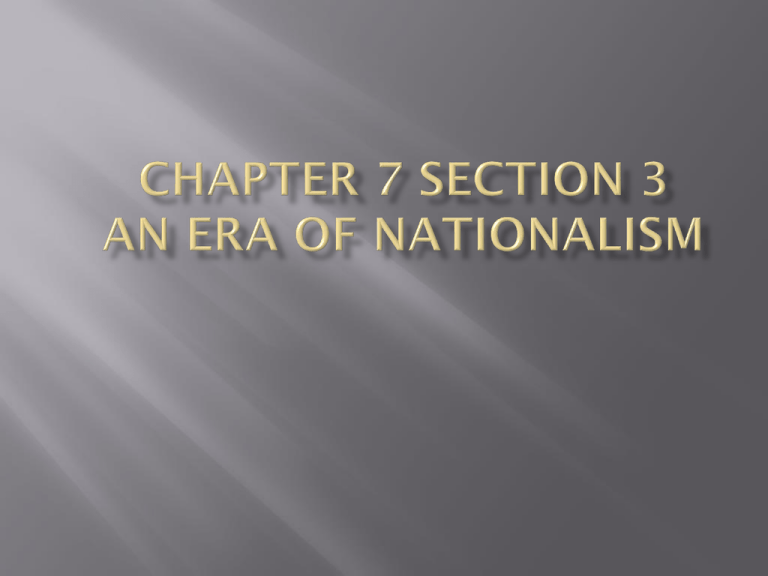 



It was a "era of good feelings" for the
Democratic Republican party.
Nationalism sweeps the country
Democrats issued the Tariff of 1816. Betraying
their former policies.
Henry Clay was one of the leading advocates.



Under John Marshall the Supreme Court
favored a strong federal government and a
national economy.
Marshall applied several federalist principles to
interpret the constitution.
Marshall court supported that federal law was
superior to state law.
•
•
Business became connected across states causing
the economy to panic.
•
It was called boom and bust cycle.
During "boom phases, high consumer demand
encourages owners to expend production.


Art was influenced by nationalism, along with
writers
The period became known as the American
renaissance



John Quincy Adams played a big part in
development.
Florida was sold to America but had a hard
time settling their because of the Seminoles
After Adams attacked on Florida the Adams on
is Treaty was signed




The policy responded to European powers, to
help Spain recover Latin American colonies
who claimed independence.
American and Spain signed the document
declaring they would stay out of each others
affairs.
At the time America lacked the power to
enforce it.
It made much more significance in 1890's when
America had more power.



The nation was more difficult to govern
because of regional differences.
The south wanted more slaves while the north
did not.
The Missouri Compromise was made to settle.