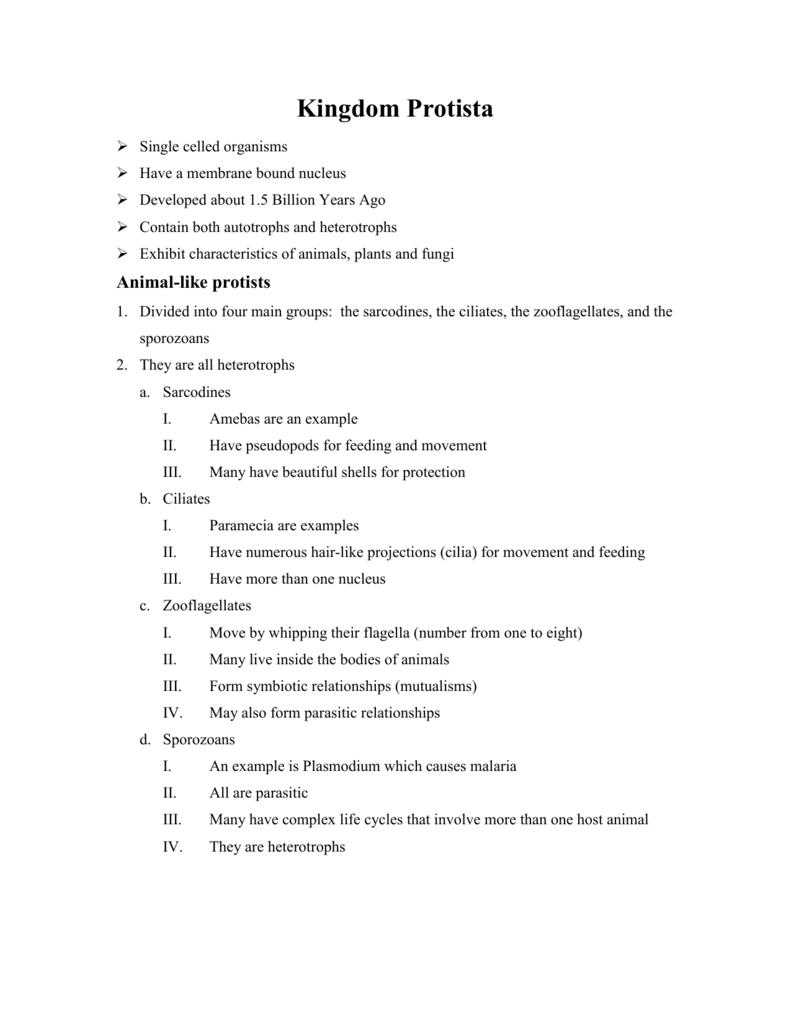 Kingdom Protista
 Single celled organisms
 Have a membrane bound nucleus
 Developed about 1.5 Billion Years Ago
 Contain both autotrophs and heterotrophs
 Exhibit characteristics of animals, plants and fungi
Animal-like protists
1. Divided into four main groups: the sarcodines, the ciliates, the zooflagellates, and the
sporozoans
2. They are all heterotrophs
a. Sarcodines
I.
Amebas are an example
II.
Have pseudopods for feeding and movement
III.
Many have beautiful shells for protection
b. Ciliates
I.
Paramecia are examples
II.
Have numerous hair-like projections (cilia) for movement and feeding
III.
Have more than one nucleus
c. Zooflagellates
I.
Move by whipping their flagella (number from one to eight)
II.
Many live inside the bodies of animals
III.
Form symbiotic relationships (mutualisms)
IV.
May also form parasitic relationships
d. Sporozoans
I.
An example is Plasmodium which causes malaria
II.
All are parasitic
III.
Many have complex life cycles that involve more than one host animal
IV.
They are heterotrophs
Plant-like protists
1. Three interesting groups are euglenas, diatoms, and dinoflagellates
2. Most are autotrophs
3. Plant-like protists supply 70% of the earth's oxygen as a byproduct of their foodmaking process
a. Euglenas
I.
Have a flagella
II.
Have chloroplasts
III.
Have red eye-spot sensitive to light
b. Diatoms
I.
Have a two-part glassy shell that encases the cell.
II.
Is the origin of all sand and glass on Earth.
c. Dinoflagellates
I.
Have flagella that propel them through water.
II.
Some forms are responsible for toxic red tides.
III.
Some have a twinkling light similar to that of fireflies.
Fungus-like protists
1. These are all heterotrophs
2. One interesting type is the slime mold.
a. Slime mold reproduction involves fruiting bodies.
b. The coordinated activities of multicellular slime molds are fascinating.