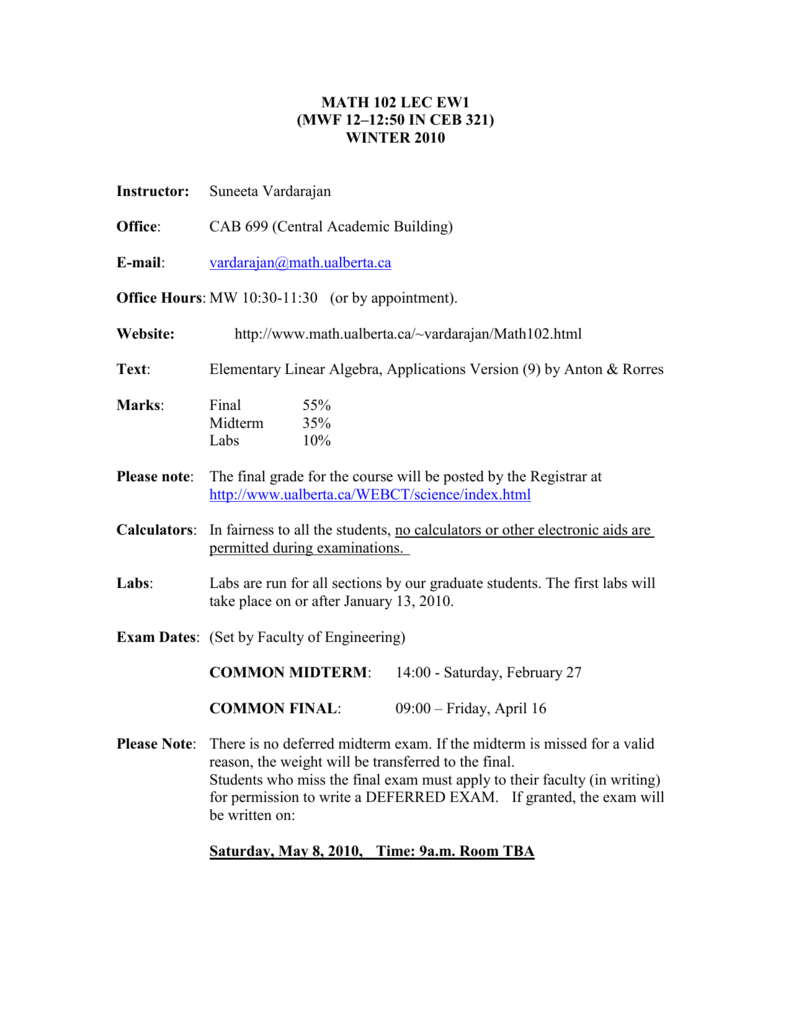 MATH 102 LEC EW1
(MWF 12–12:50 IN CEB 321)
WINTER 2010
Instructor:
Suneeta Vardarajan
Office:
CAB 699 (Central Academic Building)
E-mail:
[email protected]
Office Hours: MW 10:30-11:30 (or by appointment).
Website:
http://www.math.ualberta.ca/~vardarajan/Math102.html
Text:
Elementary Linear Algebra, Applications Version (9) by Anton & Rorres
Marks:
Final
Midterm
Labs
55%
35%
10%
Please note: The final grade for the course will be posted by the Registrar at
http://www.ualberta.ca/WEBCT/science/index.html
Calculators: In fairness to all the students, no calculators or other electronic aids are
permitted during examinations.
Labs:
Labs are run for all sections by our graduate students. The first labs will
take place on or after January 13, 2010.
Exam Dates: (Set by Faculty of Engineering)
COMMON MIDTERM:
14:00 - Saturday, February 27
COMMON FINAL:
09:00 – Friday, April 16
Please Note: There is no deferred midterm exam. If the midterm is missed for a valid
reason, the weight will be transferred to the final.
Students who miss the final exam must apply to their faculty (in writing)
for permission to write a DEFERRED EXAM. If granted, the exam will
be written on:
Saturday, May 8, 2010, Time: 9a.m. Room TBA
Final Re-exam Policy: In addition to the requirements set out in section 23.5.5 of the
Academic Calendar, students wishing to be considered for a reexamination
must have, excluding the final, completed at least one-half of the term
work. Term performance will be considered in the decision to grant a
reexamination.
Homework
Policy:
Once we get going there will be weekly homework assignments. The
details will be given in class. Some of the questions will be used for part
of the exams. Solutions will be posted on the web.
Syllabus:
Course covers topics from Chapters 1 to 10 of the text. Specific sections
covered are 1.1-1.6, 2.1-2.3, 3.1-3.5, 4.1-4.3, 5.1-5.6, 6.1-6.3,
6.5-6.6,
7.1-7.3, 10.1-10.4
Final Remarks:
1)
2)
3)
4)
5)
6)
Course-related material will be posted on my U of A web site
whose URL is in the previous page.
You are encouraged to have a look at old 102 exams.
In this course there are common exams and grading amongst all
the sections. Unless exceptional circumstances arise, grades will be
awarded based on the long time statistics for the overall
performance in Math 102. It is therefore possible for every
student in a specific class to do very well!
Do not get behind. Do the homework, attend the labs. This is very
important.
Try to learn the concepts, rather than just memorizing formulas.
The University of Alberta is committed to the highest standards of
academic integrity and honesty. Students are expected to be
familiar with these standards regarding academic honesty and to
uphold the policies of the University in this respect. Students are
particularly urged to familiarize themselves with the provisions of
the Code of Student Behaviour (online at
www.ualberta.ca/secretariat/appeals.htm) and avoid any behaviour
which could potentially result in suspicions of cheating,
plagiarism, misrepresentation of facts and/or participation in an
offence. Academic dishonesty is a serious offence and can result in
suspension or expulsion from the University.
There will be no formula sheet allowed at the exams.