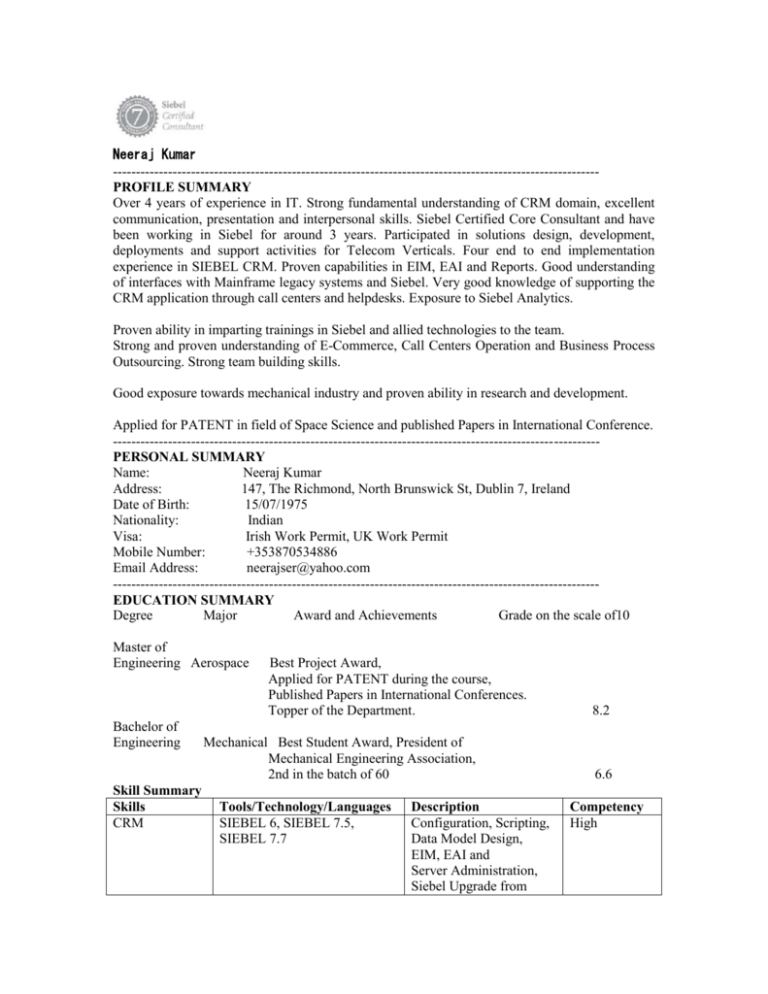 Neeraj Kumar
---------------------------------------------------------------------------------------------------------PROFILE SUMMARY
Over 4 years of experience in IT. Strong fundamental understanding of CRM domain, excellent
communication, presentation and interpersonal skills. Siebel Certified Core Consultant and have
been working in Siebel for around 3 years. Participated in solutions design, development,
deployments and support activities for Telecom Verticals. Four end to end implementation
experience in SIEBEL CRM. Proven capabilities in EIM, EAI and Reports. Good understanding
of interfaces with Mainframe legacy systems and Siebel. Very good knowledge of supporting the
CRM application through call centers and helpdesks. Exposure to Siebel Analytics.
Proven ability in imparting trainings in Siebel and allied technologies to the team.
Strong and proven understanding of E-Commerce, Call Centers Operation and Business Process
Outsourcing. Strong team building skills.
Good exposure towards mechanical industry and proven ability in research and development.
Applied for PATENT in field of Space Science and published Papers in International Conference.
---------------------------------------------------------------------------------------------------------PERSONAL SUMMARY
Name:
Neeraj Kumar
Address:
147, The Richmond, North Brunswick St, Dublin 7, Ireland
Date of Birth:
15/07/1975
Nationality:
Indian
Visa:
Irish Work Permit, UK Work Permit
Mobile Number:
+353870534886
Email Address:
neerajser@yahoo.com
---------------------------------------------------------------------------------------------------------EDUCATION SUMMARY
Degree
Major
Award and Achievements
Grade on the scale of10
Master of
Engineering Aerospace
Bachelor of
Engineering
Skill Summary
Skills
CRM
Best Project Award,
Applied for PATENT during the course,
Published Papers in International Conferences.
Topper of the Department.
Mechanical Best Student Award, President of
Mechanical Engineering Association,
2nd in the batch of 60
Tools/Technology/Languages
SIEBEL 6, SIEBEL 7.5,
SIEBEL 7.7
Description
Configuration, Scripting,
Data Model Design,
EIM, EAI and
Server Administration,
Siebel Upgrade from
8.2
6.6
Competency
High
CRM
Clarify 8.5, Clear Support,
Clear Basic
Business
Intelligence
SIEBEL Analytics 7,
Informatica
Business
Business Objects
Intelligence
J2EEFramework Java Core, RMI, EJB, Struts
COM
VB COM
Scripting
Pearl and VB Script
Reporting
Actuate Reports 6 and 7. Report
Server Installation
752 to Siebel 7.7.
Exposure
at levels of design,
development,
deployment,
support, and training.
Underwent one month of
training in Clarify
Development
Currently used Clarify
Bridge as a tool to raise
Service Requests
and Service Assignment.
Marketing Analytics,
Sales Analytics,
Customer Dashboard
Underwent Siebel
Analytics Training
Low
Medium
Universe Design
Low
Underwent self study and
training.
Used Java Data Beans
used J2EE framework
with respect to SIEBEL
7, and for EAI
applications.
Used COM for System
Integration and Analysis.
Reading data from flat
files and pushing data in
Siebel table space.
Used pearl script to do
file operations, and used
VB Script
to write macros in MS
Excel information and
passing it as output
parameter to COM object.
Macros were written to
analyze data in excel.
Good understanding in
development of reports.
Worked on reports
development in Actuate
6,7 did installation and
administration of Report
server on
Siebel 7.5.
Low
Medium
Medium
Medium
Middleware
TIBCO, Siebel UAN, Microsoft
Biz-Talk Server.
Database
MS-SQL Server,
Oracle 9i
Languages
SQL
Languages
PL-SQL, XML, C, C++
Environments
Windows
Environments
Unix
Additional
Skills
Fundamental of message
driven architecture
especially for achieving
design objectives.
Sending and
Receiving of data to
Siebel Application
from Siebel UAN.
Configuring Biz talk
Server for Siebel UAN
deployment. Sending data
from Siebel (CRM) to
TIBCO which acts as
common gateway
for other
application(Billing,
Inventory etc)
Basic Administration
User Set-up, Access
Control and Installation
Strong Understanding and
practice of writing SQL
for analysis of data in fast
and effective way
Complex queries for Data
Analysis work and some
manual updates
Good understanding and
exposure during
academics and industry.
Academic usages of
procedures, triggers,
cursors. Used C, C++ in
the beginning of career as
programmer. Used XML
in EAI integration.
Strong understanding and
exposure Extensively
working on windows
environment, and have
academic understanding
of operating systems.
Understanding of
commands and
operations.
Software
Engineering,
Object Oriented
Programming (OOP),
Object Oriented
Low
Medium
High
Medium
High
Low
High
Analysis &
Design (OOAD),
Microsoft Project
Documentation using
Microsoft Suite
Fluent in Conducting
business in English.
Business Skill
Employment Summary
Company
BearingPoint Ireland Ltd
Work Location
Dublin, Ireland
Duration
Aug 2005-Present
IBM Global Services
(Reuters Account)
Bangalore, India
April 2005- June 2005
Reuters (IBM Contracted)
Tower Hill, London, UK
January 2005-March 2005
British Telecom Plc
(MBT Contracted)
Gatwick, West Sussex, UK
July 2004- December 2004
Mahindra-British
Telecom Ltd
Pune, India
June 2002 –July 2004
VeriTek Solutions
Pune, India
March 2001-May 2002
Birla Institute of Technology Ranchi, India
April 2000- Feb 2001
---------------------------------------------------------------------------------------------------------EMPLOYMENT DETAILS
_______________________________________________________________________
Client: Permanent TSB, Dublin
From: 27th Oct 2005
Till Date
Role: Siebel Lead Developer
Responsibility:
•
Business analysis, scope, architecture design, and project plan.
•
Preparing solution architecture.
•
Using Siebel Financial as base application developing business functionality for
Mortgage. Creating and testing workflows, EAI, and scripting.
•
Integration using web services.
************************************************************************
Client: Irish Times, Dublin
From: 8th Sept 2005
24th Oct 2005
Role: Senior Consultant
Responsibility:
•
Business analysis, scope, architecture design, and project plan.
•
Preparing proposal, bid documentation, product evaluation and solution architecture.
************************************************************************
Client: ESATBT (BT Ireland), Dublin From: 9th Aug 2005
To: 6 Sept 2005
Role: Senior Consultant
Responsibility:
•
Involved in Performance analysis of the application developed in Siebel 752.
•
Preparing proposal, bid documentation, analysis and solution architecture.
***********************************************************************
Client: Reuters, UK
From: 24th January 2005
To: 11th June 2005
Role: Siebel Specialist
Responsibility:
•
Involved in Pre Migration analysis of the application developed in Siebel 752.
•
Did migration of application from Siebel 752 to Siebel 7.72. Resolved issues involved
with migration of application and repository.
•
•
•
Configuration management of the development server, by using Visual Source safe.
Using Test Director to log bugs and assign to team members.
Post migration testing and Bug fixing.
Solution Design and low level design of Web Training Module for new Functionality s
over current application
Coordinating with Business analyst team and program managers to offshore the activities.
***********************************************************************
Client: BT Wholesale market, UK
From: 5th July 2004 To: December 2004
Role: Business Process Analyst
Responsibility:
•
Design and enhancement of Existing module of Order Management in Siebel 7.5, writing
Business Service to the support the business logic using Siebel e-script, developing
interfaces to communicate to the legacy systems by extensively using EAI.
•
Supporting the fault raised from the customers/users internal and external for earlier
version of the application using Clarify Bridge.
•
Using SQL to verify the data quality to perform cleansing activity, and loading the
cleanse data using Perl scripts, COM Interface and EIM into the Siebel Table space.
•
Coordinating with solutions design and information quality management teams to
perform, plan and devise future strategy for development, maintenance and testing of the
applications.
***********************************************************************
Client: Malaysia Telecommunications Period: 3rd February 2004 to 1st July 2004
Role: Business Analyst, Developer and Team leader
Responsibility:
•
Worked on evaluation of Request for Proposal from Telecom Malaysia, functional
mapping document from the RFP to Siebel Vanilla application, feasibility and effort
estimation.
•
Training the team of thirty professional in Siebel 7.5 so that they can be used as
developers/team members for the Application Prototyping.
•
Prepared functional design document for Service assurance, and trouble tickets.
Developed the business scenario in SIEBEL 7.5 along with the team.
**********************************************************************
Client: VIBO, Taiwan Period: 10th April 2003 to 15th January 2004
Role: Solution Designer and Developer
Responsibility:
•
Design of the RMS (Resource Management System). Brainstorming on functionality and
researching on the need of the customer business process flow and competitive functional
evaluation of current applications telecom domain.
•
Developing business components, designing database, optimizing the developed
application.
•
Developing the Reports and integration with other modules, using EAI, Virtual Business
components and XML Gateway.
•
Developing user guide, training manuals.
*******************************************************************
Client: BT Exact, UK Period: 16th December 2002 to 15th March 2003
Role: Solution Designer and Developer
Responsibility:
•
Proactive analysis of client's business and needs.
•
Designing the system after research on the client's business model and giving
presentation to them on that model by proposing a solution.
•
Working as team lead on the agreed design in Siebel PRM as a team lead.
•
Implemented functionality like Communication Management, and Document
Management.
•
Working as Campaign Management, Incentive Compensation, one of the system
integration testing team member with other modules. Setting up users and helping in
deployment of the application by doing offshore support.
***********************************************************************
Client: ALCATEL, France
Period: 20th June 2002 to 6th December 2002
Role: Solution Developer
Responsibility
•
All stages of the SDLC in the SIM (Subscriber Identity Module) Inventory Project.
•
Involved in defining the scope of modules.
•
Designing the flow of functionality so that it covers all the aspects of out of the box
SIEBEL.
•
Development of the modules using Siebel Tools.
•
Functional testing of the application
•
Writing Workflow and Business Services.
•
Making the user manual of the solution, designing pre-sales material for the product.
***********************************************************************
Functional Experience:
1. Worked on more than three RFP's for end to end implantation of CRM, Billing and Allied
support system for some of the big Telecom service provider across the globe. Actively involved
in functionality mapping, client presentation, developing demo, technology assessment,
feasibility study, and effort estimation with respect to Siebel.
2. Have trained more 200 people till now on Siebel and its related technologies within the
organization, and user groups on client side. Active member of MBT's ESG team (Education
Service Group).
***********************************************************************
Client: Dr. Reddy Laboratory Period: 1st November 2001 to 24th May 2002
Role: Researcher and Developer
Responsibility
•
Reading from Research Papers, Journals and discussion among the team and with lead
researcher in computational chemistry.
•
Modeling the research problem in algorithms.
•
Writing code in C++ for the modeled algorithms.
Client: ARDE (Armament Research and Development Establishment) Period: 19th March 2001
to 5th October 2001
Role: Developer
Responsibility
•
Team member of Modeling and Simulation group. Conceptualizing and designing
algorithm for trajectory simulation.
•
Working on trajectory equations.
•
Reading from Research Papers, Journals and discussion among the team and with lead
researcher in Modeling and Simulation group.
•
Modeling the research problem in algorithms.
•
Writing code based on the algorithm in VB 6.0.
Client: ISRO (Indian Space Research Organization) and Department of Science and Technology
Period: 1st April 2000 to 14th February 2001
Role: Research Associate cum student at Dept. Of Space Engineering and Rocketry.
Responsibility:
•
Inventing a new Technology for Manufacturing Aerostatic journal, Thrust and
Herringbone grooved Aerodynamic Bearing.