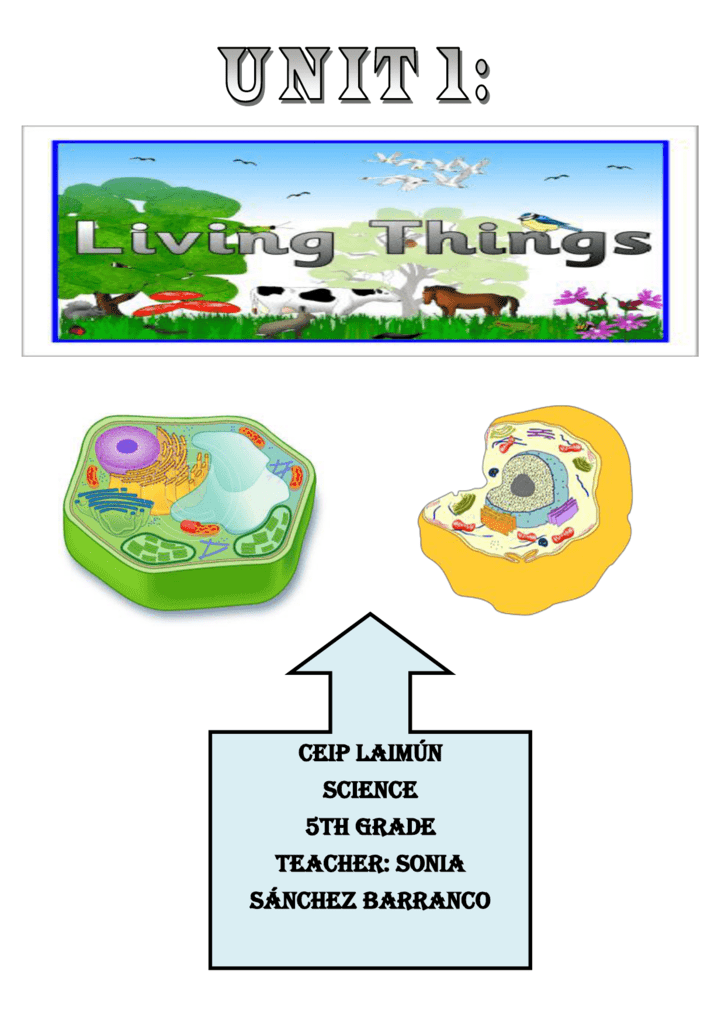 CEIP LAIMÚN
SCIENCE
5th GRADE
TEACHER: SONIA
SÁNCHEZ BARRANCO
Vital functions:
In nature, there are living things and
non- living things.
-

NUTRITION

INTERACTION

REPRODUCTION
Characteristics:
-
They are born from other living things.
Living things: people, animals
-
They eat.
and plants.
-
They react to their environment.
Non – living things: rocks, air
-
They grow.
and wind.
-
They reproduce.
-
They die.
PRESENTATION:
"CHARACTERISTICS OF
LIVING THINGS"
Living things are made up of tiny
units called cells.
Cells are the smallest living units
in a living thing.
Some living things are made up of a
single cell. They are unicellular.
Bacterias are unicellular.
Other living things are made up of
many cells. They are multicellular.
Animals and plants are
multicellular.
There are a lot of parts and functions to some cells. Here are some of the main components many
cells have:






Membrane - This is the covering around the cell. Sort of like the skin. It allows some
substances in and keeps others out.
Mitochondria - This is where the cell gets its energy. In the human body, food we have
digested reacts with oxygen in the mitochondria to make energy for the cell.
Ribosomes - Ribosomes are like tiny factories that make different things the cell needs
to function, like proteins.
Nucleus – It is the part which controls the cell. It uses chromosomes to instruct the rest
of the cell what to do next. DNA is inside the nucleus.
Cytoplasm – It is between the nucleus and the membrane. The other components of the
cell float around in the cytoplasm. It's mostly water.
Lysosomes - These guys clean up the place getting rid of waste and other unwanted
substances that may get into the cell.
The machines inside the cell like the nucleus, ribosomes, and lysosomes are called organelles.
Plant cells have a hard and rigid wall on the outside of the membrane called the cell wall.
VIDEO:
"ANIMAL CELL
STRUCTURE"
VIDEO:
"THE NUCLEUS"
LABEL THE ANIMAL CELL
-
CELL MEMBRANE
ENDOPLASMATIC RETICULUM
NUCLEUS
MITOCHONDRIA
GOLGI BODY
RIBOSOME
LYSOSOME
CYTOPLASM
PRESENTATION:
"THE ORGANISATION
OF LIVING THINGS"
Multicellular living things have the
following structure:
o Cells form tissues:
- Tissues, such as muscle
tissue, are made up of cells
which work together.
o Tissues form organs:
- Organs, such as the heart,
are made up of tissues which
work together.
o Organs form systems:
- Systems, such as the
digestive system, are made
up of organs which work
together.
o An organism is a complete living
thing: Many systems work
together in an organism.
Unscramble these words.
1. A human being is an
NAGROMIS___________
2. Human beings are
ILTUMRALULELC_________________
3. One type of tissue is ELSCUM
_______tissue.
4. Tissues are made up of SELCL
___________
5. The heart is an AGRON
_______________
6. One type of system is the VITESGIDE
_______________ system.
Fun Facts About Cells




They were discovered by the scientist
Robert Hooke.
The largest known cells are ostrich eggs.
They can weigh over three pounds.
When many cells of the same kind are
together in a group, it's call tissue.
The word cell comes from the Latin word
cellula, which means small room.
THE CELL SONG
I went into a cell, to get out of the rain, and there was
the gatekeeper, the cell membrane.
I went into a cell, and what did I see, the mitochondria,
it's the energy factory.
I went into a cell, and said "who drives this bus" and
found myself talking to the boss, the nucleus.
I went into a cell, to recover from a spasm, and found
myself swimming in some clear cytoplasm.
I went into the nucleus to ask how to get home, and
got genetic info, stored in a chromosome.
LISTENING!!!
Do you want to sing? Click on this
website and learn this song.
THE CELL SONG:
https://www.youtube.com/watch?
v=rABKB5aS2Zg
I went into a cell, and stretching o' so far, was a thin
and wavy network, it's called the E.R.
I went into a cell, trying not to be perplexed, by the
packaging and sorting in the Golgi complex.
I went into a cell, and said "who makes proteins here?"
and somebody responded "it's the ribosome, my dear."
I went into a cell, and was feeling pretty fine, till a
lysosome engulfed me, and dissolved me in enzymes.
I went into a cell, and was feeling pretty nimble, till a
centriole lassoed me, tying me up in a spindle.
SONG:
"CELLS RAP"
Lyric
I went into a plant cell to see how trees get so tall, and
all around the outside was a rigid cell wall.
I went into a plant cell, "why's it so green I asked?"
"'Cause I make food from sunlight," said a green
chloroplast.
I went into a plant cell to see how plant cells store
food, when a vacuole informed me that he was the
storage dude.
PRESENTATION:
"PLANT AND ANIMAL
CELLS"
So when you go inside a cell, remember what you see,
There's over a trillion cells in both you and me.
Just sing this song if you ever feel confusion, and
remember active transport is
the opposite of diffusion.
Choose the correct option.
1. Living things are made up of tiny / big units called
cells.
2. Cells are the smallest units in a living / non living
thing.
3. Living things with a single cell are multicellular /
unicellular.
4. Skin cells and bone cells are different / the same.
5. Living things made up of many cells are multicellular /
unicellular.
PRESENTATION:
"KINGDOMS"
Living things are classified
into groups called kingdoms.
The three principal kingdoms
are the animal kingdom, the
plant kingdom and the fungi
kingdom.
THE ANIMAL
KINGDOM





Animals are
multicelular.
They eat other living
things.
They can move from
one place to another.
They have a nervous
system and sense
organs.
They react to stimuli.
KINGDOMS
THE PLANT KINGDOM




Plants are
multicelular.
They use sunlight and
substances from the
soil and air to make
their food.
They cannot move.
Plants do not have a
nervous system or
sense organs.
However, they react
slowly to some
stimuli.
THE FUNGI KINGDOM





Most fungi are
multicelular.
A few are
unicelular.
They dependo n
other organisms
for food.
They do not make
their own food.
They are fixed to
something. They
cannot move.