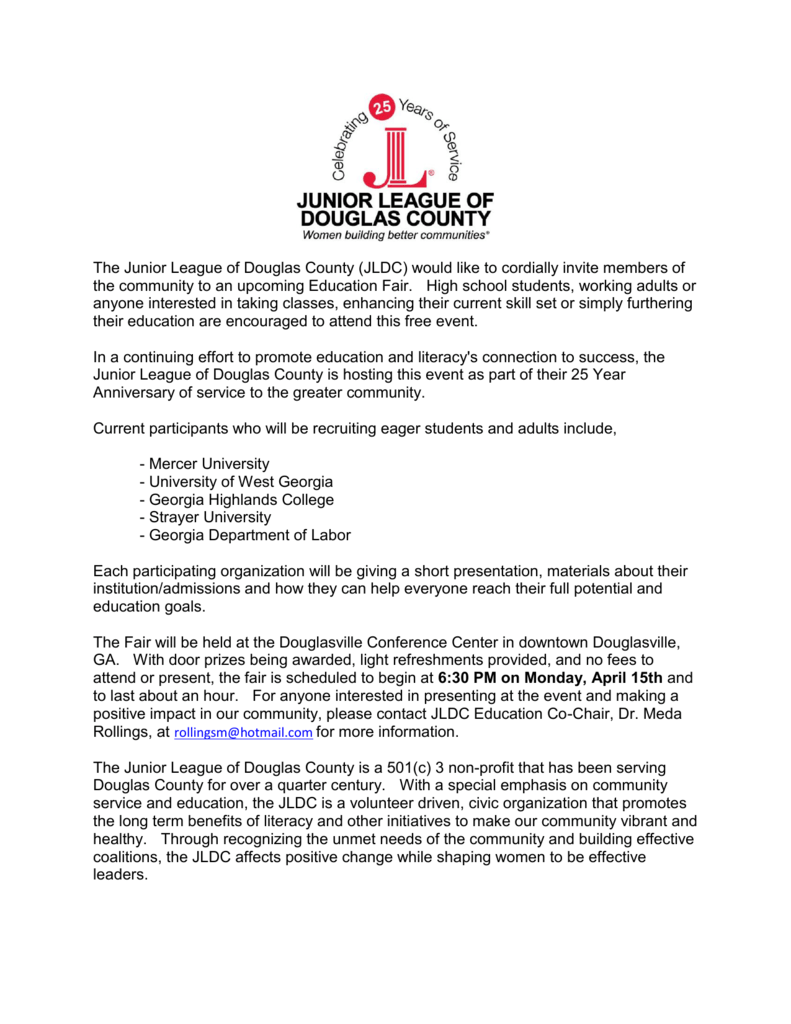 The Junior League of Douglas County (JLDC) would like to cordially invite members of
the community to an upcoming Education Fair. High school students, working adults or
anyone interested in taking classes, enhancing their current skill set or simply furthering
their education are encouraged to attend this free event.
In a continuing effort to promote education and literacy's connection to success, the
Junior League of Douglas County is hosting this event as part of their 25 Year
Anniversary of service to the greater community.
Current participants who will be recruiting eager students and adults include,
- Mercer University
- University of West Georgia
- Georgia Highlands College
- Strayer University
- Georgia Department of Labor
Each participating organization will be giving a short presentation, materials about their
institution/admissions and how they can help everyone reach their full potential and
education goals.
The Fair will be held at the Douglasville Conference Center in downtown Douglasville,
GA. With door prizes being awarded, light refreshments provided, and no fees to
attend or present, the fair is scheduled to begin at 6:30 PM on Monday, April 15th and
to last about an hour. For anyone interested in presenting at the event and making a
positive impact in our community, please contact JLDC Education Co-Chair, Dr. Meda
Rollings, at [email protected] for more information.
The Junior League of Douglas County is a 501(c) 3 non-profit that has been serving
Douglas County for over a quarter century. With a special emphasis on community
service and education, the JLDC is a volunteer driven, civic organization that promotes
the long term benefits of literacy and other initiatives to make our community vibrant and
healthy. Through recognizing the unmet needs of the community and building effective
coalitions, the JLDC affects positive change while shaping women to be effective
leaders.