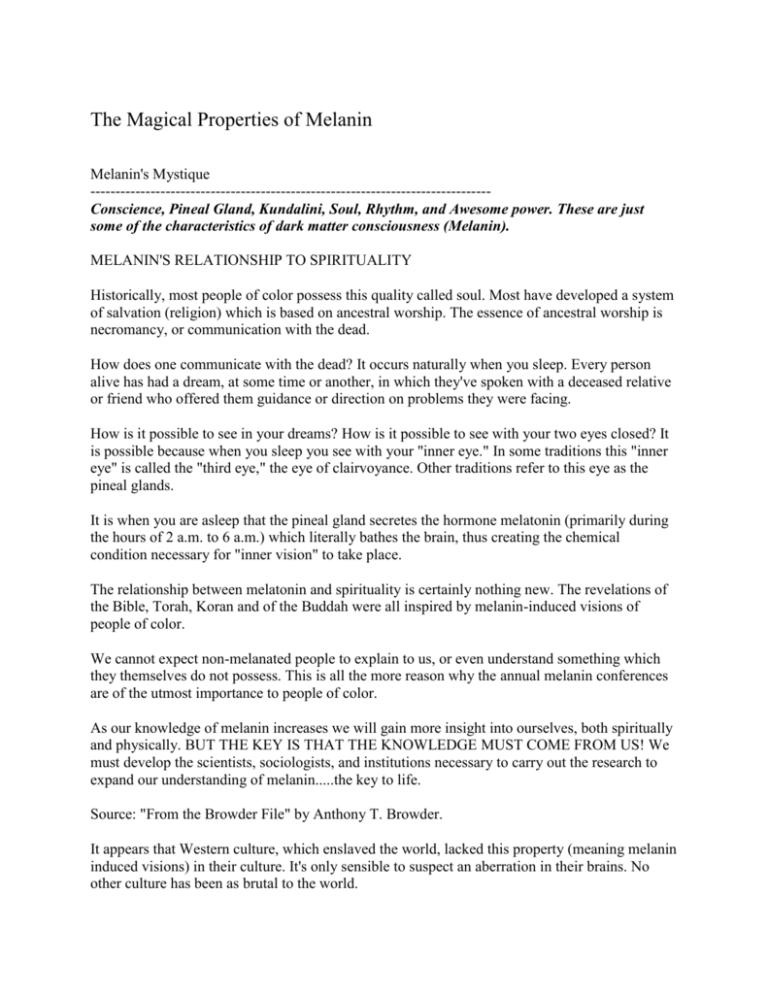 The Magical Properties of Melanin
Melanin's Mystique
-------------------------------------------------------------------------------Conscience, Pineal Gland, Kundalini, Soul, Rhythm, and Awesome power. These are just
some of the characteristics of dark matter consciousness (Melanin).
MELANIN'S RELATIONSHIP TO SPIRITUALITY
Historically, most people of color possess this quality called soul. Most have developed a system
of salvation (religion) which is based on ancestral worship. The essence of ancestral worship is
necromancy, or communication with the dead.
How does one communicate with the dead? It occurs naturally when you sleep. Every person
alive has had a dream, at some time or another, in which they've spoken with a deceased relative
or friend who offered them guidance or direction on problems they were facing.
How is it possible to see in your dreams? How is it possible to see with your two eyes closed? It
is possible because when you sleep you see with your "inner eye." In some traditions this "inner
eye" is called the "third eye," the eye of clairvoyance. Other traditions refer to this eye as the
pineal glands.
It is when you are asleep that the pineal gland secretes the hormone melatonin (primarily during
the hours of 2 a.m. to 6 a.m.) which literally bathes the brain, thus creating the chemical
condition necessary for "inner vision" to take place.
The relationship between melatonin and spirituality is certainly nothing new. The revelations of
the Bible, Torah, Koran and of the Buddah were all inspired by melanin-induced visions of
people of color.
We cannot expect non-melanated people to explain to us, or even understand something which
they themselves do not possess. This is all the more reason why the annual melanin conferences
are of the utmost importance to people of color.
As our knowledge of melanin increases we will gain more insight into ourselves, both spiritually
and physically. BUT THE KEY IS THAT THE KNOWLEDGE MUST COME FROM US! We
must develop the scientists, sociologists, and institutions necessary to carry out the research to
expand our understanding of melanin.....the key to life.
Source: "From the Browder File" by Anthony T. Browder.
It appears that Western culture, which enslaved the world, lacked this property (meaning melanin
induced visions) in their culture. It's only sensible to suspect an aberration in their brains. No
other culture has been as brutal to the world.
When you pattern yourselves after such a wicked creation, you set yourself up for failure because
they lack the foresight to recognize that their time of world domination is close to its demise.
Yes, all people have melanin, but due to calcification of the pineal gland during the ice age or
due to a genetic defect, melanin in some people is not fully functional. An indication of a nonmelaninated person (due to calcified pineal gland or a genetic defect) is the lack of rhythm,
spirituality, and consciousness.
These people can enslave other cultures and treat the human being as though they are a horse.
They have NO REMORSE or GUILT behind GENOCIDAL ACTIONS!
All the past presidents of the U.S. would fit into this category.
Their actions SPEAK louder than theory!
Sad to say but the truth has been ignored by most Afrikan people.
They keep praying that non-melaninated people will change their evil ways. I'm here to say that
"IT AIN'T GONNA HAPPEN!"
Melanin is a change agent and they have a deficiency of this polymer (substance composed of
macromolecules/biological structure and function, such as DNA).