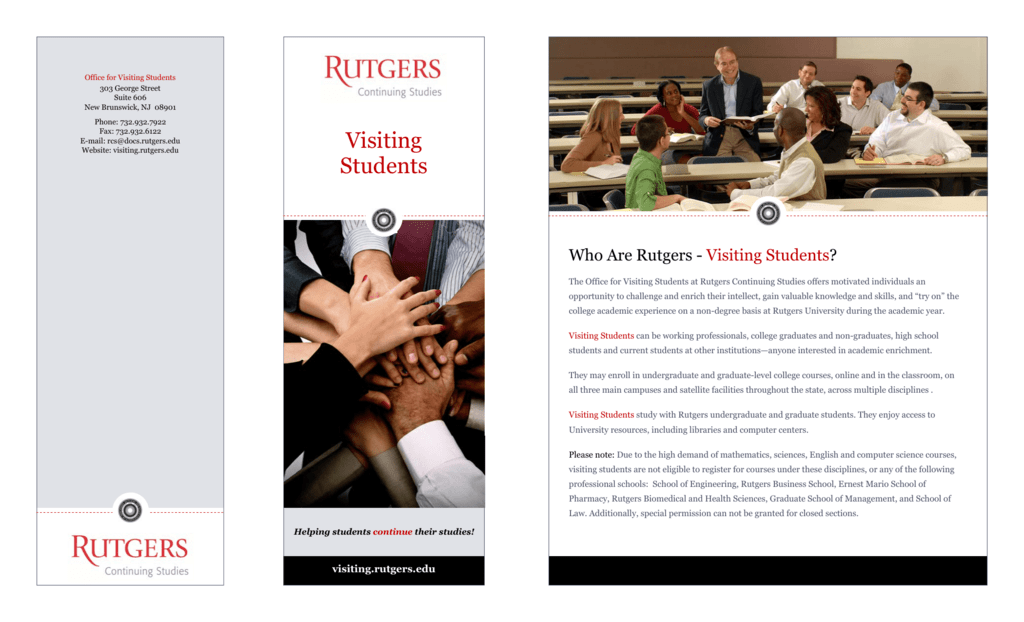 Office for Visiting Students
303 George Street
Suite 606
New Brunswick, NJ 08901
Phone: 732.932.7922
Fax: 732.932.6122
E-mail: [email protected]
Website: visiting.rutgers.edu
Visiting
Students
Who Are Rutgers - Visiting Students?
The Office for Visiting Students at Rutgers Continuing Studies offers motivated individuals an
opportunity to challenge and enrich their intellect, gain valuable knowledge and skills, and "try on" the
college academic experience on a non-degree basis at Rutgers University during the academic year.
Visiting Students can be working professionals, college graduates and non-graduates, high school
students and current students at other institutions—anyone interested in academic enrichment.
They may enroll in undergraduate and graduate-level college courses, online and in the classroom, on
all three main campuses and satellite facilities throughout the state, across multiple disciplines .
Visiting Students study with Rutgers undergraduate and graduate students. They enjoy access to
University resources, including libraries and computer centers.
Please note: Due to the high demand of mathematics, sciences, English and computer science courses,
visiting students are not eligible to register for courses under these disciplines, or any of the following
professional schools: School of Engineering, Rutgers Business School, Ernest Mario School of
Pharmacy, Rutgers Biomedical and Health Sciences, Graduate School of Management, and School of
Law. Additionally, special permission can not be granted for closed sections.
Helping students continue their studies!
visiting.rutgers.edu
How can we assist?
So, how do visiting students
Visiting students register for a variety of courses, as
register?
well as enroll in certificate programs.
Our office will assist departments with…
Visiting students are required to submit an
application for review for either the fall or spring
terms via our online application:

Visiting Student admissions process transcript/document review process

visiting.rutgers.edu
Visiting Students…
Prerequisite eligibility

Special Permission number requests

Student Registration
We can also list special courses on our website,
generating interest in new and exciting programs!

Submit their application*, upload relevant
documentation (e.g., transcripts), provide a
list of potential courses of interest, and pay a
non-refundable $25 application fee.

We can facilitate your
Certificate programs...
Visiting Students
The Office of Visiting Students can assist
...are welcome to study on a non-
process for students who are not affiliated
degree basis during the academic year.
with the university, but are interested in
Some of our students are...
earning a certificate through your program.

Completing a Certificate Program
For more information, please contact us at

Professionals seeking credits for
career advancement and
employment

High School students
Fall registration Dates
(Registration Processed by Visiting Student Office)
August 18—31, 2015
We understand the high demand that some of
your courses have, and the need to have sufficient
seats available for RU students. As such, our office
will contact you for special permission numbers
for visiting students, as needed.
Prerequisites
Visiting students from other institutions may have
already completed the necessary course work to
meet the requirements for classes at Rutgers. Our
staff will review visiting student transcripts,
registered by a DoCS—Visiting Student Office
making sure they have completed prerequisites.
Advising
Will be directed to make payment on their
Normally, visiting students are already affiliated
term bill once their application has been
with another institution and have already been
approved.
advised as to which course(s) are best for them.
However, in some instances, visiting students who
*visiting students who wish to return in future
semesters, will need to complete an application for
each term they wish to attend.
academic programs with the registration
732.932.7922
Special Permission numbers
Applications are reviewed, and if approved,
representative, for approved courses only.

Is there anything else I
need to know?
visiting.rutgers.edu
Disclaimer: Registration for courses at Rutgers
University as a Visiting Student in no way guarantees admission to a degree program at the University. Subsequent transferability of courses to a
degree program either at Rutgers or elsewhere is
determined solely by the degree program from the
home academic institution. Visiting students
matriculating at other colleges should have their
course selections approved by their home institution prior to registration to insure credit transfer.
do not have a home institution may schedule an
appointment to meet with a University
Community College representative for assistance.