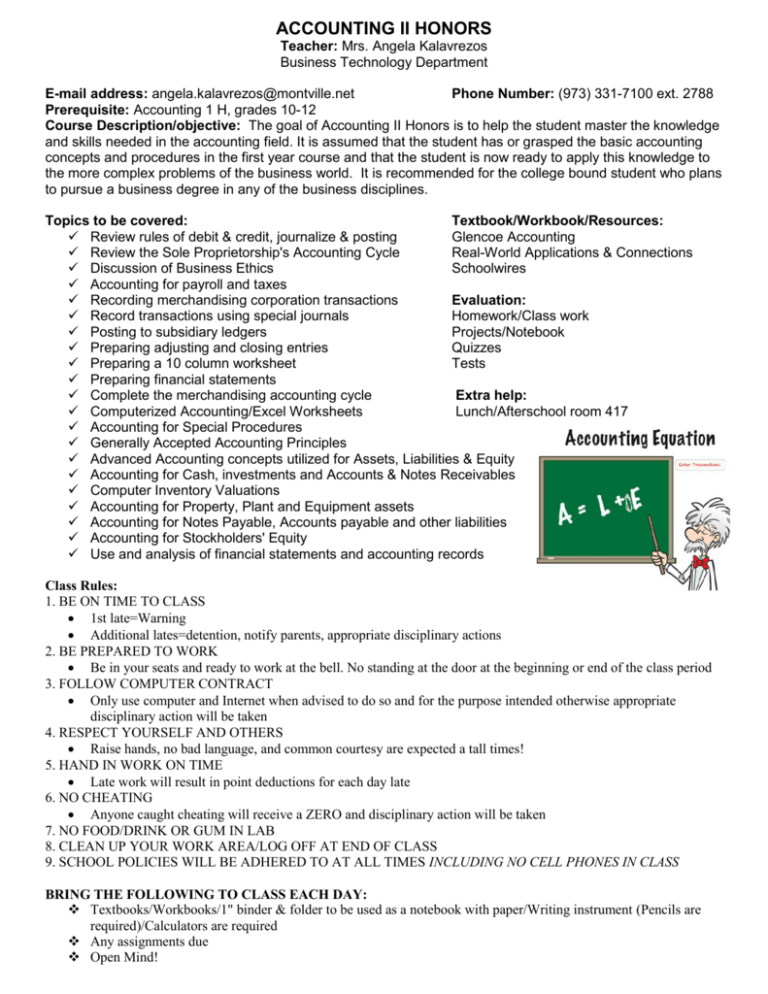 ACCOUNTING II HONORS
Teacher: Mrs. Angela Kalavrezos
Business Technology Department
E-mail address: angela.kalavrezos@montville.net
Phone Number: (973) 331-7100 ext. 2788
Prerequisite: Accounting 1 H, grades 10-12
Course Description/objective: The goal of Accounting II Honors is to help the student master the knowledge
and skills needed in the accounting field. It is assumed that the student has or grasped the basic accounting
concepts and procedures in the first year course and that the student is now ready to apply this knowledge to
the more complex problems of the business world. It is recommended for the college bound student who plans
to pursue a business degree in any of the business disciplines.
Topics to be covered:
Textbook/Workbook/Resources:
 Review rules of debit & credit, journalize & posting
Glencoe Accounting
 Review the Sole Proprietorship's Accounting Cycle
Real-World Applications & Connections
 Discussion of Business Ethics
Schoolwires
 Accounting for payroll and taxes
 Recording merchandising corporation transactions
Evaluation:
 Record transactions using special journals
Homework/Class work
 Posting to subsidiary ledgers
Projects/Notebook
 Preparing adjusting and closing entries
Quizzes
 Preparing a 10 column worksheet
Tests
 Preparing financial statements
 Complete the merchandising accounting cycle
Extra help:
 Computerized Accounting/Excel Worksheets
Lunch/Afterschool room 417
 Accounting for Special Procedures
 Generally Accepted Accounting Principles
 Advanced Accounting concepts utilized for Assets, Liabilities & Equity
 Accounting for Cash, investments and Accounts & Notes Receivables
 Computer Inventory Valuations
 Accounting for Property, Plant and Equipment assets
 Accounting for Notes Payable, Accounts payable and other liabilities
 Accounting for Stockholders' Equity
 Use and analysis of financial statements and accounting records
Class Rules:
1. BE ON TIME TO CLASS
 1st late=Warning
 Additional lates=detention, notify parents, appropriate disciplinary actions
2. BE PREPARED TO WORK
 Be in your seats and ready to work at the bell. No standing at the door at the beginning or end of the class period
3. FOLLOW COMPUTER CONTRACT
 Only use computer and Internet when advised to do so and for the purpose intended otherwise appropriate
disciplinary action will be taken
4. RESPECT YOURSELF AND OTHERS
 Raise hands, no bad language, and common courtesy are expected a tall times!
5. HAND IN WORK ON TIME
 Late work will result in point deductions for each day late
6. NO CHEATING
 Anyone caught cheating will receive a ZERO and disciplinary action will be taken
7. NO FOOD/DRINK OR GUM IN LAB
8. CLEAN UP YOUR WORK AREA/LOG OFF AT END OF CLASS
9. SCHOOL POLICIES WILL BE ADHERED TO AT ALL TIMES INCLUDING NO CELL PHONES IN CLASS
BRING THE FOLLOWING TO CLASS EACH DAY:
 Textbooks/Workbooks/1" binder & folder to be used as a notebook with paper/Writing instrument (Pencils are
required)/Calculators are required
 Any assignments due
 Open Mind!