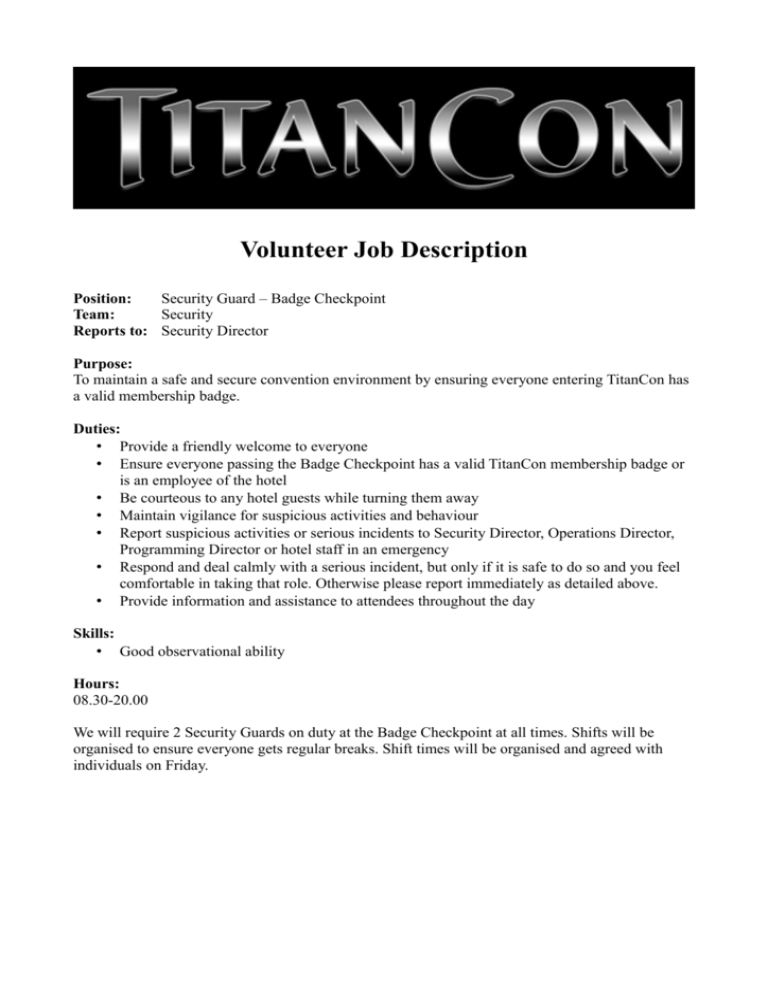 Volunteer Job Description
Position:
Security Guard – Badge Checkpoint
Team:
Security
Reports to: Security Director
Purpose:
To maintain a safe and secure convention environment by ensuring everyone entering TitanCon has
a valid membership badge.
Duties:
• Provide a friendly welcome to everyone
• Ensure everyone passing the Badge Checkpoint has a valid TitanCon membership badge or
is an employee of the hotel
• Be courteous to any hotel guests while turning them away
• Maintain vigilance for suspicious activities and behaviour
• Report suspicious activities or serious incidents to Security Director, Operations Director,
Programming Director or hotel staff in an emergency
• Respond and deal calmly with a serious incident, but only if it is safe to do so and you feel
comfortable in taking that role. Otherwise please report immediately as detailed above.
• Provide information and assistance to attendees throughout the day
Skills:
• Good observational ability
Hours:
08.30-20.00
We will require 2 Security Guards on duty at the Badge Checkpoint at all times. Shifts will be
organised to ensure everyone gets regular breaks. Shift times will be organised and agreed with
individuals on Friday.