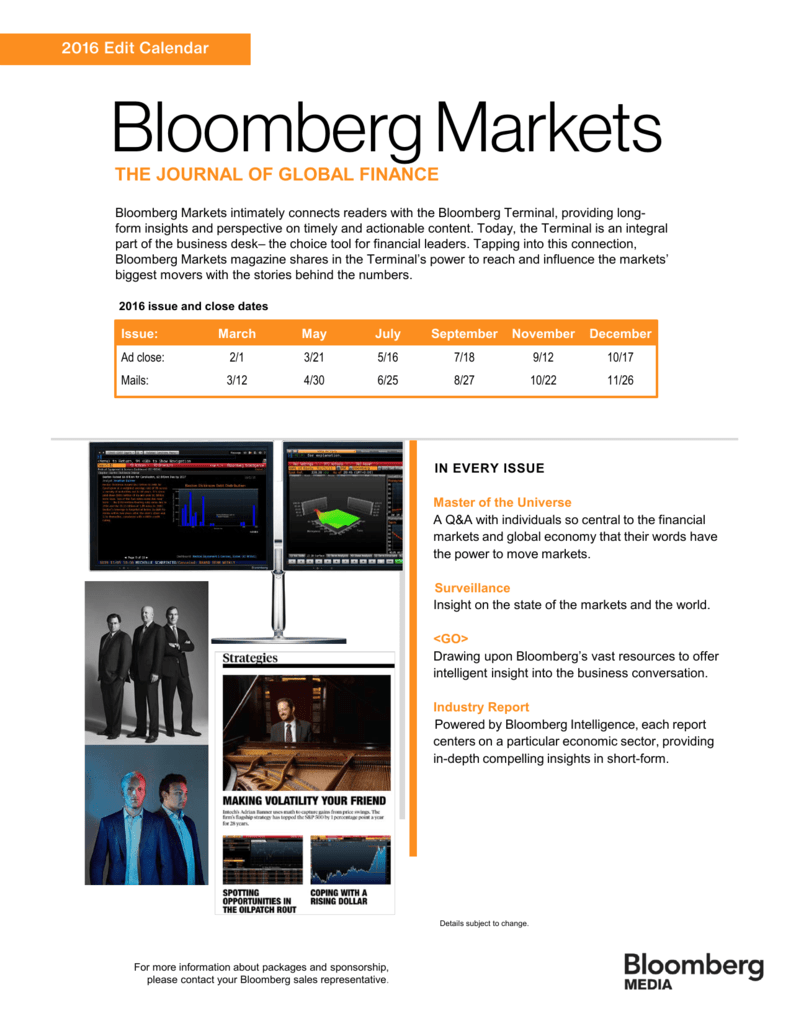 2016 Edit Calendar
Bloomberg Markets
THE JOURNAL OF GLOBAL FINANCE
Bloomberg Markets intimately connects readers with the Bloomberg Terminal, providing longform insights and perspective on timely and actionable content. Today, the Terminal is an integral
part of the business desk– the choice tool for financial leaders. Tapping into this connection,
Bloomberg Markets magazine shares in the Terminal's power to reach and influence the markets'
biggest movers with the stories behind the numbers.
2016 issue and close dates
Issue:
March
May
July
September
November
December
Ad close:
2/1
3/21
5/16
7/18
9/12
10/17
Mails:
3/12
4/30
6/25
8/27
10/22
11/26
IN EVERY ISSUE
Master of the Universe
A Q&A with individuals so central to the financial
markets and global economy that their words have
the power to move markets.
Surveillance
Insight on the state of the markets and the world.
<GO>
Drawing upon Bloomberg's vast resources to offer
intelligent insight into the business conversation.
Industry Report
Powered by Bloomberg Intelligence, each report
centers on a particular economic sector, providing
in-depth compelling insights in short-form.
Details subject to change.
For more information about packages and sponsorship,
please contact your Bloomberg sales representative.