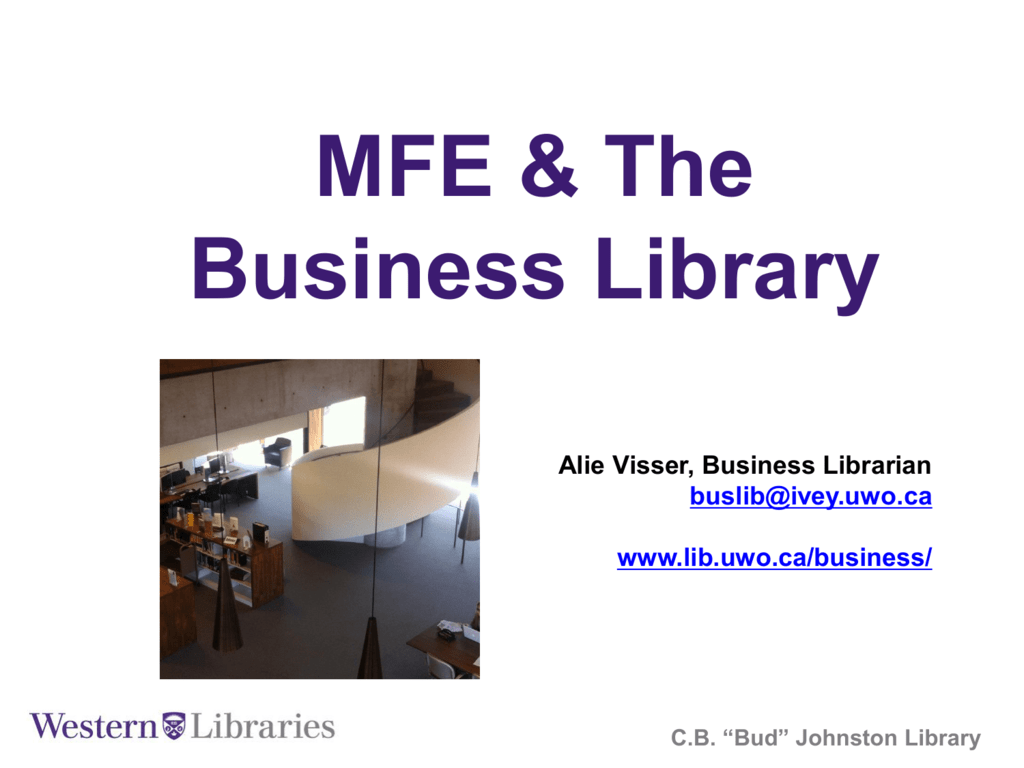 MFE & The
Business Library
Alie Visser, Business Librarian
[email protected]
www.lib.uwo.ca/business/
C.B. "Bud" Johnston Library
Who We Are
• 5 full-time staff members:
Elizabeth, Alie, Dolly, Patrick, and Jean
• Contact us via email at [email protected]
• Call us at 519-661-3941
• Follow us!
@westernulibsBUS
Library Services
•
•
•
•
Research Help
Find Answers Quickly
Business Chat & Text
www.lib.uwo.ca/business/
Databases
• Over 60 databases
• Business Databases by Subject
• Economics – Financial
Economics Research Guide
Popular Finance/Econ Databases
Finding Business News
Business Databases
by Subject
 Articles
 Business &
Economics Magazines
& Journals
Finding Country & Economic Info
1.
Business Monitor
2.
Economist
Intelligence Unit
3.
OECD iLibrary
4.
Passport
(Euromonitor)
5.
Political Risk
Yearbook
Bloomberg Professional
What is it
used for?
•
•
•
•
•
Equities, securities, companies
Bonds, fixed income
Indices, commodities, currencies
Economic data
Data sets
Bloomberg Keyboard
Yellow = market sector
Green = action
Red = stop
Bloomberg Introduction
http://youtu.be/5ggXHGs0OKg
Helpful Beginner Codes
• TK Ticker
• EQS Equity screener
• GRAB Send screen to email
• BU Bloomberg university – seminars,
events, training
Economic Codes
•
•
•
•
•
•
•
ECFC - Economic Forecasts
ECO - Economic Calendar Releases
ECOS - Economist Estimates
ECST - World Economic Statistics
FED - Federal Reserve
GDP - Gross Domestic Product
GDPP - Gross Domestic Product Per Capita
Bloomberg via Excel
• Extracting large data sets
• More than one security
• Import Bloomberg tickers, CUSIP, ISIN and
retrieve data
Bloomberg Excel Add-In
Next, you
will choose
your Time
Frame and
Frequency
Bloomberg Essentials
2 Core
courses
+
1 Market
Sector
course
Must have
75% to be
certified
Capital IQ Excel Add-In
Capital IQ Excel Add-In
WRDS
•
•
Wharton Research Data Services
Incudes access to:
• Compustat: global firm financials
going back to 1950 for most
• CRSP: stock and index pricing,
returns and volume going back to
1925- (monthly) or 1962- (daily)
• I/B/E/S: historical earnings estimates
for global firms going back to 1976-
WRDS
•
•
•
•
•
Fama-French Portfolios and Factors:
1926
Federal Reserve Bank Reports: includes
foreign exchange rates (1971-), interest
rates (1919-) and Philadelphia State
Indexes (1979-)
Bureau of Labor Statistics: 1913Bureau of Economic Analysis: 1969TRACE: OTC Corporate Bond (US)
Transaction Data going back to 2002-
Bloomberg & WRDS Accounts
If you have time, please
come back to the library
and set up your Bloomberg
& WRDS accounts!