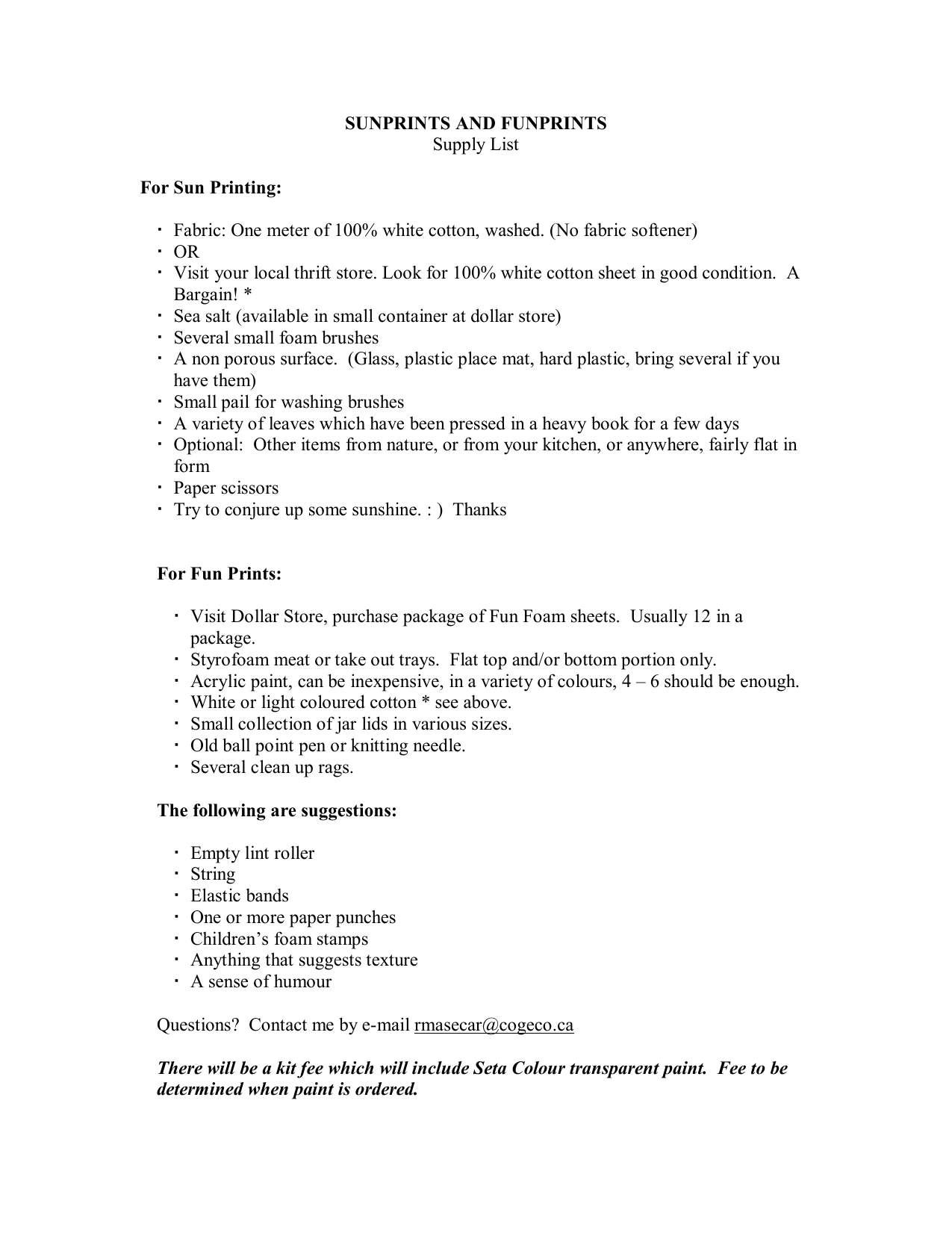 SUNPRINTS AND FUNPRINTS
Supply List
For Sun Printing:
 Fabric: One meter of 100% white cotton, washed. (No fabric softener)
 OR
 Visit your local thrift store. Look for 100% white cotton sheet in good condition. A
Bargain! *
 Sea salt (available in small container at dollar store)
 Several small foam brushes
 A non porous surface. (Glass, plastic place mat, hard plastic, bring several if you
have them)
 Small pail for washing brushes
 A variety of leaves which have been pressed in a heavy book for a few days
 Optional: Other items from nature, or from your kitchen, or anywhere, fairly flat in
form
 Paper scissors
 Try to conjure up some sunshine. : ) Thanks
For Fun Prints:
 Visit Dollar Store, purchase package of Fun Foam sheets. Usually 12 in a
package.
 Styrofoam meat or take out trays. Flat top and/or bottom portion only.
 Acrylic paint, can be inexpensive, in a variety of colours, 4 – 6 should be enough.
 White or light coloured cotton * see above.
 Small collection of jar lids in various sizes.
 Old ball point pen or knitting needle.
 Several clean up rags.
The following are suggestions:







Empty lint roller
String
Elastic bands
One or more paper punches
Children's foam stamps
Anything that suggests texture
A sense of humour
Questions? Contact me by e-mail [email protected]
There will be a kit fee which will include Seta Colour transparent paint. Fee to be
determined when paint is ordered.