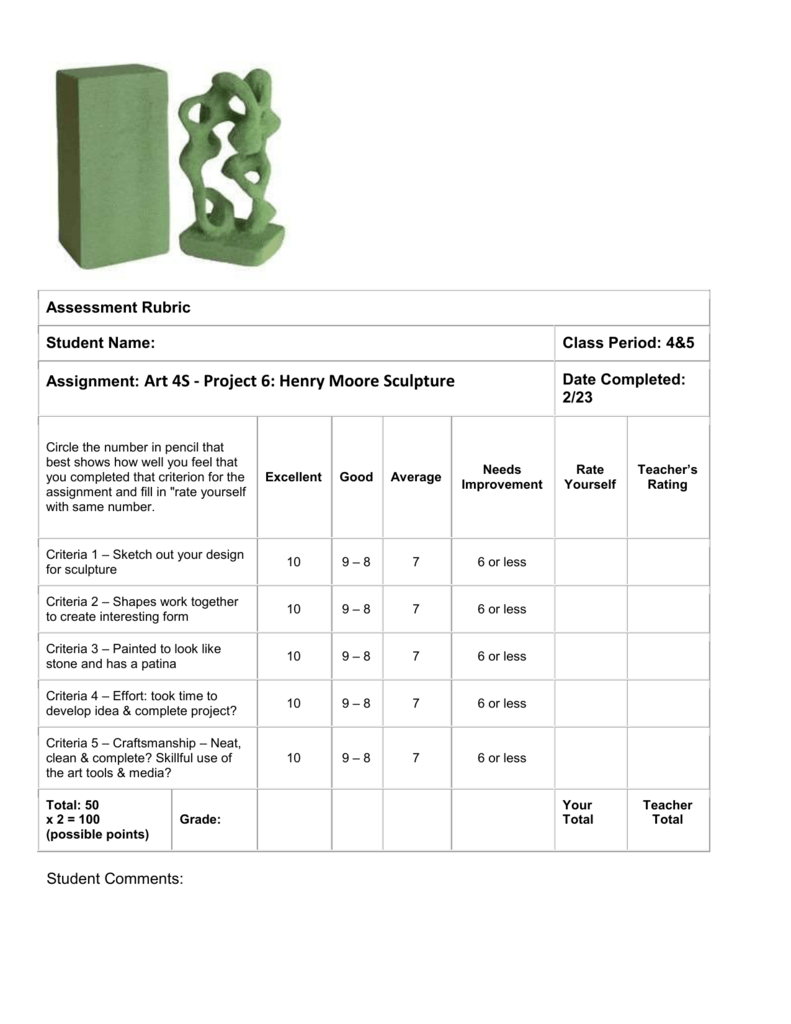 Assessment Rubric
Student Name:
Class Period: 4&5
Assignment: Art 4S - Project 6: Henry Moore Sculpture
Date Completed:
2/23
Circle the number in pencil that
best shows how well you feel that
you completed that criterion for the
assignment and fill in "rate yourself
with same number.
Excellent
Good
Average
Needs
Improvement
Criteria 1 – Sketch out your design
for sculpture
10
9–8
7
6 or less
Criteria 2 – Shapes work together
to create interesting form
10
9–8
7
6 or less
Criteria 3 – Painted to look like
stone and has a patina
10
9–8
7
6 or less
Criteria 4 – Effort: took time to
develop idea & complete project?
10
9–8
7
6 or less
Criteria 5 – Craftsmanship – Neat,
clean & complete? Skillful use of
the art tools & media?
10
9–8
7
6 or less
Total: 50
x 2 = 100
(possible points)
Grade:
Student Comments:
Rate
Yourself
Your
Total
Teacher's
Rating
Teacher
Total
Step 1
Mark where you want to keep the base and don't carve that part of the foam. Use the fettling knife
and rasps to begin shaping and removing pieces of the foam. Cover table or place the foam brick in
a plastic tray to contain the dust and pieces of foam.
Step 2
Continue carving and shaping the foam with the wire tool.
Step 3
Smooth surface and brush off excess dust.
Step 4
Finish with Magic Metallic paint colors of your choice. Spritz on patinas while paint is still wet. Allow
the paint to dry. Add additional layers of paint and patinas. Let it dry.
Optional Tip 1
Seal paint with a sealer or matte medium.