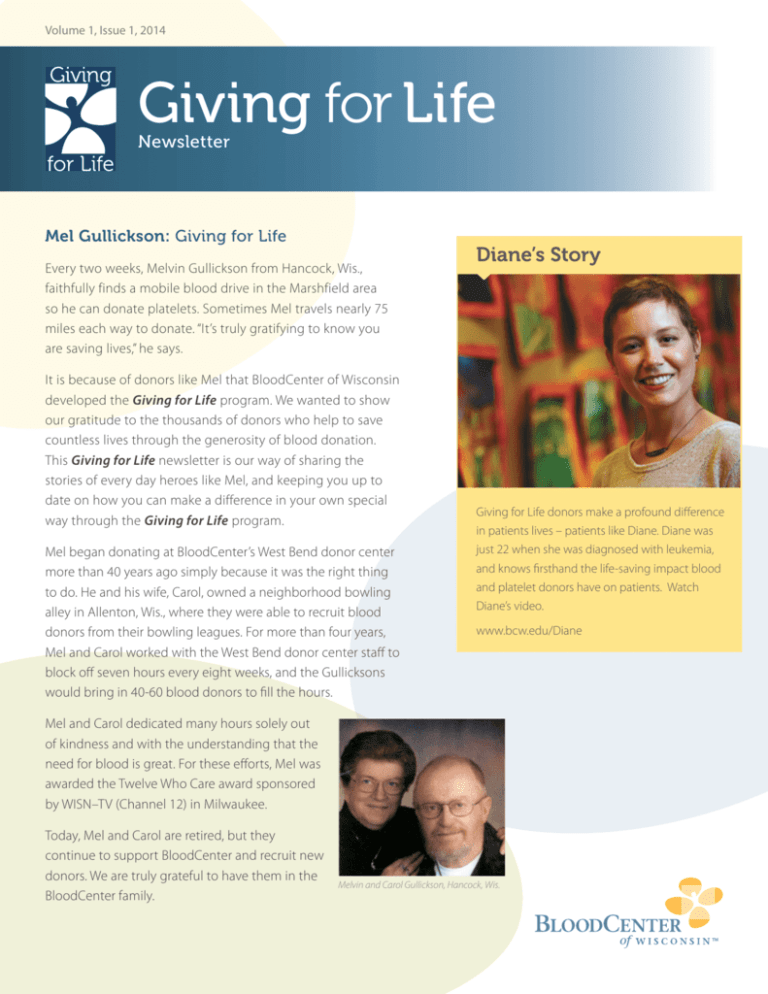 Volume 1, Issue 1, 2014
Giving for Life
Newsletter
Mel Gullickson: Giving for Life
Every two weeks, Melvin Gullickson from Hancock, Wis.,
faithfully finds a mobile blood drive in the Marshfield area
so he can donate platelets. Sometimes Mel travels nearly 75
miles each way to donate. "It's truly gratifying to know you
are saving lives," he says.
It is because of donors like Mel that BloodCenter of Wisconsin
developed the Giving for Life program. We wanted to show
our gratitude to the thousands of donors who help to save
countless lives through the generosity of blood donation.
This Giving for Life newsletter is our way of sharing the
stories of every day heroes like Mel, and keeping you up to
date on how you can make a difference in your own special
way through the Giving for Life program.
Mel began donating at BloodCenter's West Bend donor center
more than 40 years ago simply because it was the right thing
to do. He and his wife, Carol, owned a neighborhood bowling
alley in Allenton, Wis., where they were able to recruit blood
donors from their bowling leagues. For more than four years,
Mel and Carol worked with the West Bend donor center staff to
block off seven hours every eight weeks, and the Gullicksons
would bring in 40-60 blood donors to fill the hours.
Diane's Story
Giving for Life donors make a profound difference
in patients lives – patients like Diane. Diane was
just 22 when she was diagnosed with leukemia,
and knows firsthand the life-saving impact blood
and platelet donors have on patients. Watch
Diane's video.
www.bcw.edu/Diane
Mel and Carol dedicated many hours solely out
of kindness and with the understanding that the
need for blood is great. For these efforts, Mel was
awarded the Twelve Who Care award sponsored
by WISN–TV (Channel 12) in Milwaukee.
Today, Mel and Carol are retired, but they
continue to support BloodCenter and recruit new
donors. We are truly grateful to have them in the
BloodCenter family.
Melvin and Carol Gullickson, Hancock, Wis.
Volume 1, Issue 1, 2014
Giving for Life
Your unique path
to saving lives
BloodCenter of Wisconsin's Giving
for Life donor recognition program
honors individuals who make a
special commitment to saving lives.
It reflects the many reasons donors
like you choose to give blood.
Since the program began in 2012,
more than 13,000 blood donors
have participated. BloodCenter is
truly grateful to its donors for the
profound impact they make on the
lives of others.
If you are already actively involved in
Giving for Life, we thank you! If you
haven't heard about it – it's time to
choose your path and be recognized!
Choose your path
Giving for Life members are invited
to select a specialized Path that best
reflects how they choose to make
a difference. Four Paths help meet
unique patient needs:
Twice the Impact:
For dual red donors whose donations
have twice the impact.
Universal Good
For O Negative donors who
understand the importance of their
universal blood type.
Healing
For platelet and plasma donors who
help enhance the lives of patients with
their healing gift.
Community Need
For donors who give year-round, but
know the importance of donating in
the summer and around the holidays
when the need is greatest.
Donors tour Flight for Life
More than 50 Giving for Life participants and their guests enjoyed Flight
for Life tours as their recognition gift in February and March 2014. They
received a tour of the Flight for Life building and hanger, as well as the
communications center where live calls are received.
When you complete the elements of
your Path, you will receive a special
recognition gift. 2013 gift items
included a movie ticket package, a
recognition reception, and a Flight
for Life tour. The gift is a small token
of BloodCenter's appreciation for the
commitment you make as a loyal
blood donor.
Learn more about the Giving for Life
program at www.bcw.edu/GFL. Log
in with your Donor ID and select the
Giving for Life section on the left side
of the menu. If you have questions,
need your Donor ID or don't have
access to a computer, contact us at
1-877-BE-A-HERO (1-877-232-4376)
and we will be happy to assist.
Additional Recognition
We also recognize Giving for Life donors
through the accumulation of points,
whether or not they select a Path.
Recognition points are awarded for:
• Giving Blood
• Joining a registry
• Becoming an advocate
• Volunteering
The recognition points can be exchanged
at the online Giving for Life Recognition
Center - www.bcw.edu/GFLpoints
You
Tube
Look for the next issue of our
newsletter this summer!
Copyright © 2014 BloodCenter of Wisconsin, Inc. All rights reserved.