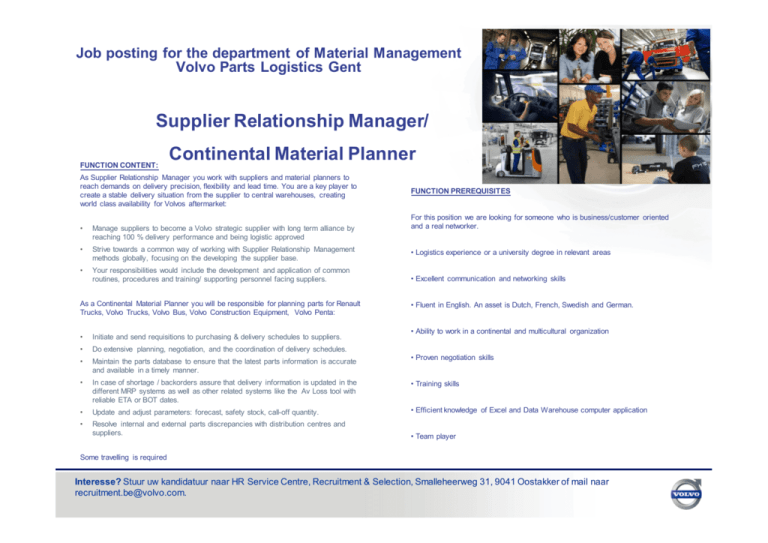 Job posting for the department of Material Management
Volvo Parts Logistics Gent
Supplier Relationship Manager/
FUNCTION CONTENT:
Continental Material Planner
As Supplier Relationship Manager you work with suppliers and material planners to
reach demands on delivery precision, flexibility and lead time. You are a key player to
create a stable delivery situation from the supplier to central warehouses, creating
world class availability for Volvos aftermarket:
•
Manage suppliers to become a Volvo strategic supplier with long term alliance by
reaching 100 % delivery performance and being logistic approved
•
Strive towards a common way of working with Supplier Relationship Management
methods globally, focusing on the developing the supplier base.
•
Your responsibilities would include the development and application of common
routines, procedures and training/ supporting personnel facing suppliers.
As a Continental Material Planner you will be responsible for planning parts for Renault
Trucks, Volvo Trucks, Volvo Bus, Volvo Construction Equipment, Volvo Penta:
FUNCTION PREREQUISITES
For this position we are looking for someone who is business/customer oriented
and a real networker.
• Logistics experience or a university degree in relevant areas
• Excellent communication and networking skills
• Fluent in English. An asset is Dutch, French, Swedish and German.
• Ability to work in a continental and multicultural organization
•
Initiate and send requisitions to purchasing & delivery schedules to suppliers.
•
Do extensive planning, negotiation, and the coordination of delivery schedules.
•
Maintain the parts database to ensure that the latest parts information is accurate
and available in a timely manner.
•
In case of shortage / backorders assure that delivery information is updated in the
different MRP systems as well as other related systems like the Av Loss tool with
reliable ETA or BOT dates.
• Training skills
•
Update and adjust parameters: forecast, safety stock, call-off quantity.
• Efficient knowledge of Excel and Data Warehouse computer application
•
Resolve internal and external parts discrepancies with distribution centres and
suppliers.
• Team player
• Proven negotiation skills
Some travelling is required
Interesse? Stuur uw kandidatuur naar HR Service Centre, Recruitment & Selection, Smalleheerweg 31, 9041 Oostakker of mail naar
recruitment.be@volvo.com.