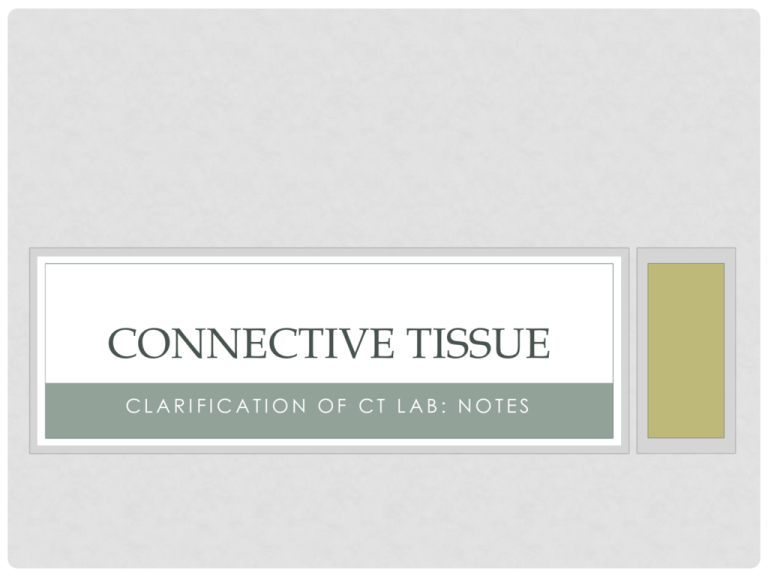 CONNECTIVE TISSUE
CLARIFICATION OF CT LAB: NOTES
CONNECTIVE TISSUE CLARIFICATION
FUNCTIONS OF CT
• Most abundant tissue
• Found throughout the body.
1. Immunological Protection:
Inflammation is principal function (fx) for ct and the blood vessels that pass through it.
2.
3.
4.
Major Transport System
Blood Connects distant body areas by circulating to all regions and carrying
substances from place to place.
Mechanical Support
Gives body and organs the strength to resist external forces, including gravity
Protecting internal organs
Maintaining the proper shape of organs (to keep the trachea, or windpipe, form
collapsing, for example)
Providing a rigid framework on which muscle can pull, allowing movement.
Nutritional Support
Major site of Stored energy. Sources in adipose tissue.
2 ELEMENTS OF CONNECTIVE TISSUE
1. Cells
2. Extracellular matrix
• Ground substance
• Protein Fibers
• The types of cells and the nature of the extracellular
matrix differ among the types of CT
MATRIX OR EXTRACELLULAR MATRIX
• Fills the wide spaces between its cells.
• Consists of protein fibers and ground substance
(the material between the cells and fibers)
which is a fluid, semifluid, gelatinous, or
calcified.
• Matrix keeps connective tissues from touching.
• CT has a nerve supply
• Highly vascular (rich blood supply:
• Exceptions
• cartilage=avascular
• Tendon = scanty blood supply
EXTRACELLULAR MATRIX
GROUND SUBSTANCE
Amorphous: no specific shape
May be fluid, gel, or solid.
Supports cells and binds them together.
Provides a medium through which substances are exchanged
between blood and cells.
• Plays an active roll in tissue development, migration,
proliferation, shape, and even metabolic functions.
•
•
•
•
• The matrix materials determine the tissue's qualities:
• Blood:
• Fluid (plasma)
• Cartilage:
• Firm but pliable (chondrocytes)
• Bone:
• Harder and not pliable (osteocytes)
CELLS ASSOCIATED WITH CT
• Fibroblasts:
• Form fibers that are characteristic of CT
• secrete collagen fibers and ground substance
of the extracellular matrix
• Fibrocyte:
• Resting or less active fibroblasts
• Macrophages:
• (phago=to eat)
• A type of white blood cell that ingests foreign material of both
bacterial warfare and normal growth and degeneration.
• key players in the immune response to foreign invaders of the body
• Move through loose connective tissue by ameboid movement and
engulf foreign matter as well as dead or dying cells.
• Active in inflammatory conditions
• Among the most independent cells in the body!
3 TYPES OF FIBERS
(PRODUCED BY FIBROBLASTS)
• Collagen Fibers(white):
• many different types;
• strong and resistant to pulling force; flexible;
• occur in bundles (creating great strength) lying
parallel to one another;
• made of protein collagen (most abundant (25%) in
body);
• Found in bones, tendons, ligaments and cartilage.
COLLAGEN FIBERS 2
•
•
•
•
•
•
•
•
•
Most abundant
Wavy bands under the microscope
Formed from tropocollagen proteins that link together.
Strong and resistant to stretch
Give tensile strength to tissue: (the ability to withstand a
pulling force without stretching much or breaking) to
tissue.
Compressive strength (ability to withstand compression.
Location: Encases delicate organs (kidney and spleen)
Location: Tendons and Ligaments
Location: Form scars
ELASTIC FIBERS (YELLOW)
• Smaller than collagen fibers in diameter and they
branch to form a network within a tissue.
• Consist of a protein called elastin; surrounded by a
glycoprotein called fibrillin which strengthens and
stabilizes the elastic fibers.
• Provide strength
• Lengthen considerably when stretched, and then
spring back to original length when stretching force
is removed.
• Springiness, or elasticity, to tissues
• Found: skin, blood vessel walls, and lung tissue
RETICULAR FIBERS
• Thinner and less strong than collagen fibers
arranged in fine bundles with a coating of
glycoprotein.
• Help provide a structural framework that keeps cells
in place.
• Support in the walls of blood vessels
• Branching networks
• Provide support and strength and a framework for
many soft tissue organs (spleen and lymph nodes)
REVIEW CONNECTIVE TISSUES
• What are the 4 functions of Connective Tissues?
• What are the 2 elements that make up connective
tissues?
• What are the 2 avascular connective tissues?
• What are three cells associated with connective tissues
and what do they do?
• What is the difference between tensile strength and
compressive strength?
• What are the 3 types of fibers, what is the primary
function, and where are they found?