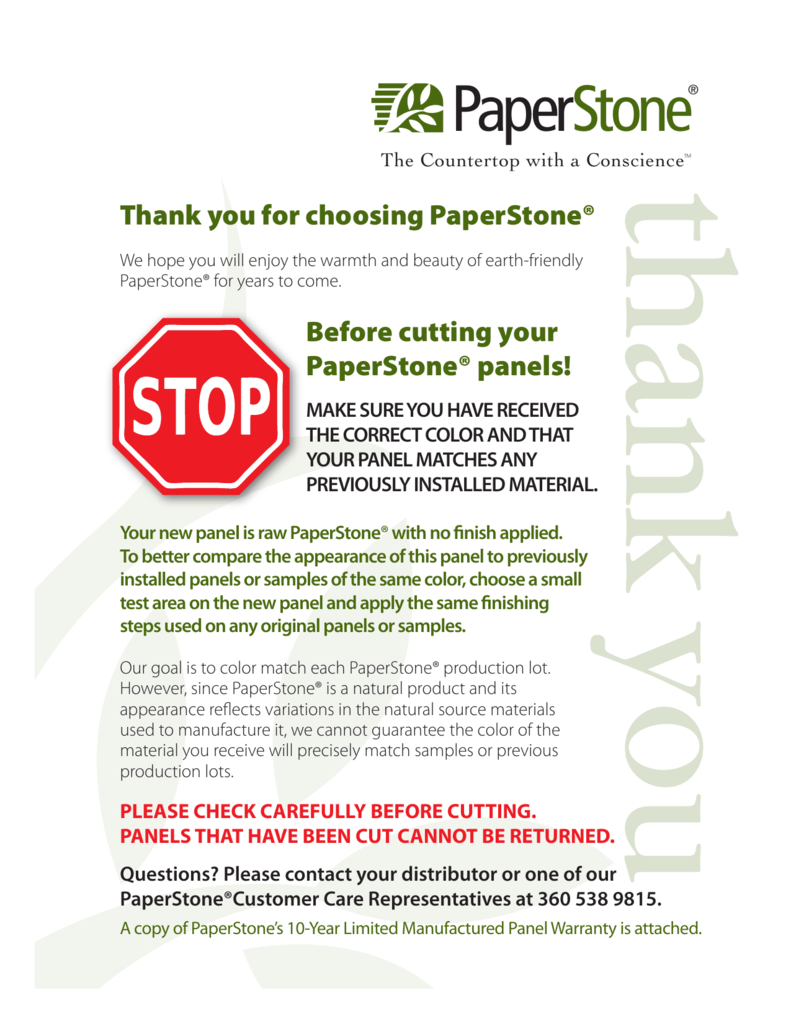 PaperStone
®
The Countertop with a Conscience
TM
thank you
Thank you for choosing PaperStone®
We hope you will enjoy the warmth and beauty of earth-friendly
PaperStone® for years to come.
Before cutting your
PaperStone® panels!
MAKE SURE YOU HAVE RECEIVED
THE CORRECT COLOR AND THAT
YOUR PANEL MATCHES ANY
PREVIOUSLY INSTALLED MATERIAL.
Your new panel is raw PaperStone® with no finish applied.
To better compare the appearance of this panel to previously
installed panels or samples of the same color, choose a small
test area on the new panel and apply the same finishing
steps used on any original panels or samples.
Our goal is to color match each PaperStone® production lot.
However, since PaperStone® is a natural product and its
appearance reflects variations in the natural source materials
used to manufacture it, we cannot guarantee the color of the
material you receive will precisely match samples or previous
production lots.
PLEASE CHECK CAREFULLY BEFORE CUTTING.
PANELS THAT HAVE BEEN CUT CANNOT BE RETURNED.
Questions? Please contact your distributor or one of our
PaperStone®Customer Care Representatives at 360 538 9815.
A copy of PaperStone's 10-Year Limited Manufactured Panel Warranty is attached.