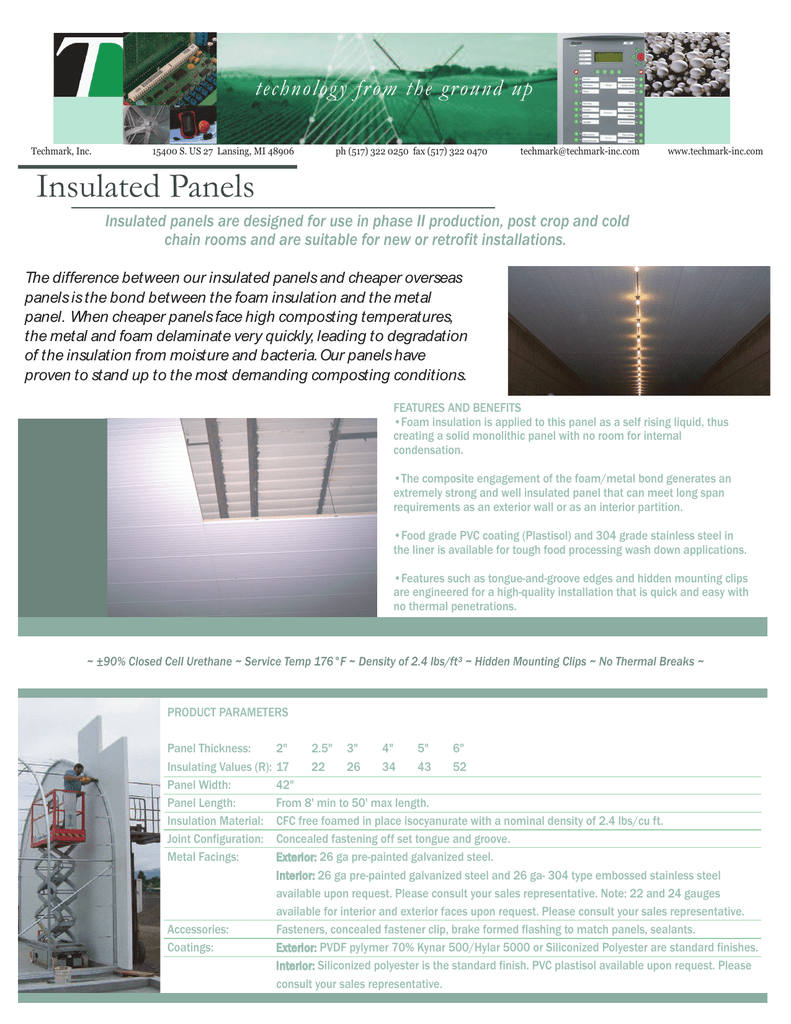 technolog y fr om the gr ound up
Techmark, Inc.
15400 S. US 27 Lansing, MI 48906
ph (517) 322 0250 fax (517) 322 0470
[email protected]
www.techmark-inc.com
Insulated Panels
Insulated panels are designed for use in phase II production, post crop and cold
chain rooms and are suitable for new or retrofit installations.
The difference between our insulated panels and cheaper overseas
panels is the bond between the foam insulation and the metal
panel. When cheaper panels face high composting temperatures,
the metal and foam delaminate very quickly, leading to degradation
of the insulation from moisture and bacteria. Our panels have
proven to stand up to the most demanding composting conditions.
FEATURES AND BENEFITS
!Foam insulation is applied to this panel as a self rising liquid, thus
creating a solid monolithic panel with no room for internal
condensation.
!The composite engagement of the foam/metal bond generates an
extremely strong and well insulated panel that can meet long span
requirements as an exterior wall or as an interior partition.
!Food grade PVC coating (Plastisol) and 304 grade stainless steel in
the liner is available for tough food processing wash down applications.
!Features such as tongue-and-groove edges and hidden mounting clips
are engineered for a high-quality installation that is quick and easy with
no thermal penetrations.
~ ±90% Closed Cell Urethane ~ Service Temp 176°F ~ Density of 2.4 lbs/ft³ ~ Hidden Mounting Clips ~ No Thermal Breaks ~
PRODUCT PARAMETERS
Panel Thickness:
Insulating Values (R):
Panel Width:
Panel Length:
Insulation Material:
Joint Configuration:
Metal Facings:
Accessories:
Coatings:
2"
2.5" 3"
4"
5"
6"
17
22
26
34
43
52
42"
From 8' min to 50' max length.
CFC free foamed in place isocyanurate with a nominal density of 2.4 lbs/cu ft.
Concealed fastening off set tongue and groove.
Exterior: 26 ga pre-painted galvanized steel.
Interior: 26 ga pre-painted galvanized steel and 26 ga- 304 type embossed stainless steel
available upon request. Please consult your sales representative. Note: 22 and 24 gauges
available for interior and exterior faces upon request. Please consult your sales representative.
Fasteners, concealed fastener clip, brake formed flashing to match panels, sealants.
Exterior: PVDF pylymer 70% Kynar 500/Hylar 5000 or Siliconized Polyester are standard finishes.
Interior: Siliconized polyester is the standard finish. PVC plastisol available upon request. Please
consult your sales representative.