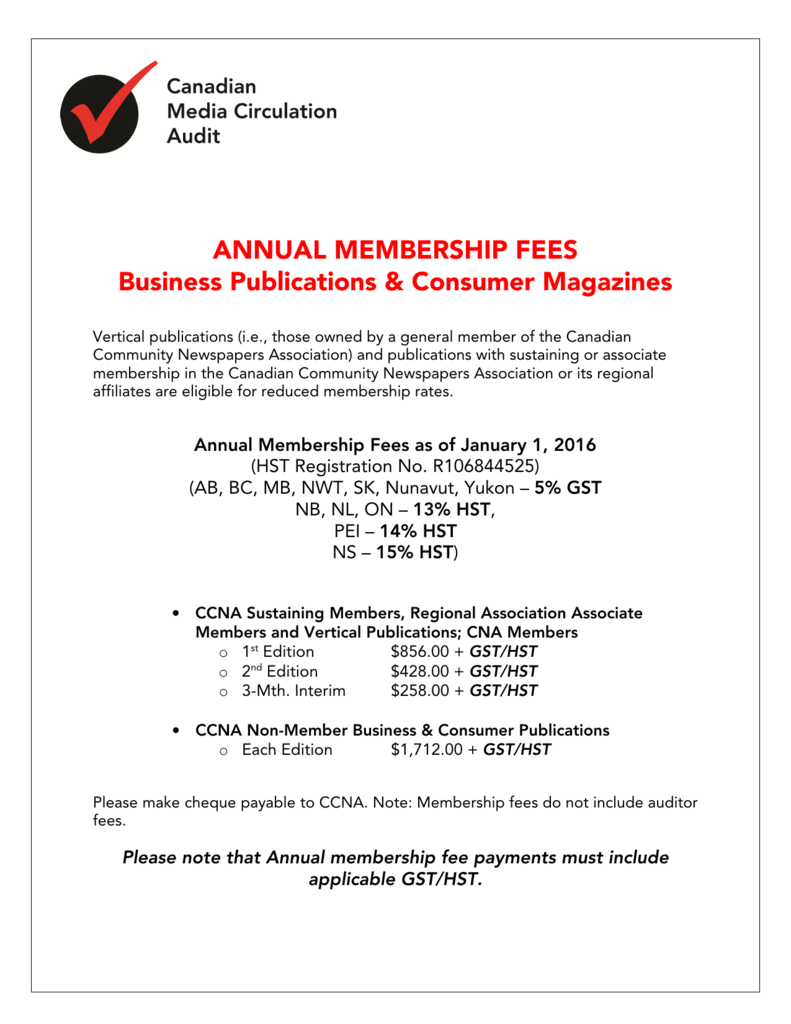 ANNUAL MEMBERSHIP FEES
Business Publications & Consumer Magazines
Vertical publications (i.e., those owned by a general member of the Canadian
Community Newspapers Association) and publications with sustaining or associate
membership in the Canadian Community Newspapers Association or its regional
affiliates are eligible for reduced membership rates.
Annual Membership Fees as of January 1, 2016
(HST Registration No. R106844525)
(AB, BC, MB, NWT, SK, Nunavut, Yukon – 5% GST
NB, NL, ON – 13% HST,
PEI – 14% HST
NS – 15% HST)
• CCNA Sustaining Members, Regional Association Associate
Members and Vertical Publications; CNA Members
o 1st Edition
$856.00 + GST/HST
o 2nd Edition
$428.00 + GST/HST
o 3-Mth. Interim
$258.00 + GST/HST
• CCNA Non-Member Business & Consumer Publications
o Each Edition
$1,712.00 + GST/HST
Please make cheque payable to CCNA. Note: Membership fees do not include auditor
fees.
Please note that Annual membership fee payments must include
applicable GST/HST.