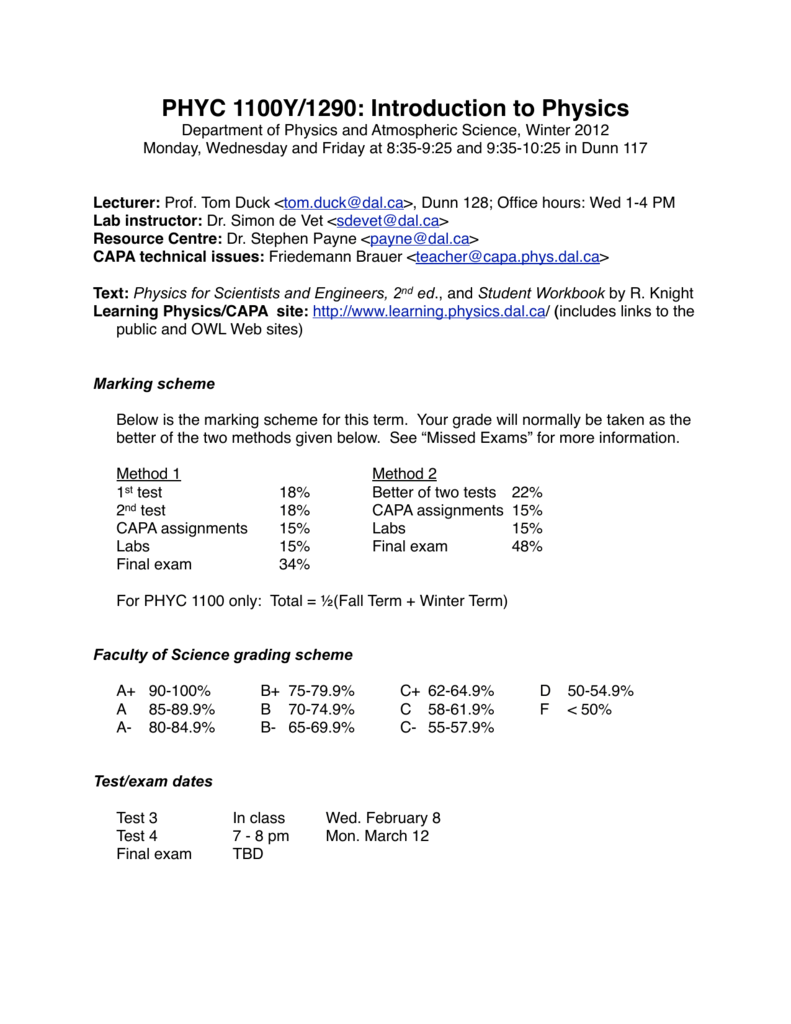 PHYC 1100Y/1290: Introduction to Physics
Department of Physics and Atmospheric Science, Winter 2012
Monday, Wednesday and Friday at 8:35-9:25 and 9:35-10:25 in Dunn 117
Lecturer: Prof. Tom Duck <[email protected]>, Dunn 128; Office hours: Wed 1-4 PM
Lab instructor: Dr. Simon de Vet <[email protected]>
Resource Centre: Dr. Stephen Payne <[email protected]>
CAPA technical issues: Friedemann Brauer <[email protected]>
Text: Physics for Scientists and Engineers, 2nd ed., and Student Workbook by R. Knight
Learning Physics/CAPA site: http://www.learning.physics.dal.ca/ (includes links to the
public and OWL Web sites)
Marking scheme
Below is the marking scheme for this term. Your grade will normally be taken as the
better of the two methods given below. See "Missed Exams" for more information.
Method 1
st
1 test 2nd test CAPA assignments
Labs
Final exam
18%
18%
15%
15%
34%
Method 2
Better of two tests 22%
CAPA assignments 15%
Labs 15%
Final exam 48%
For PHYC 1100 only: Total = ½(Fall Term + Winter Term)
Faculty of Science grading scheme
A+ 90-100% A 85-89.9% A- 80-84.9% B+ 75-79.9% B 70-74.9% B- 65-69.9% C+ 62-64.9% C 58-61.9% C- 55-57.9%
Test/exam dates
Test 3
Test 4
Final exam
In class
7 - 8 pm
TBD
Wed. February 8
Mon. March 12
D 50-54.9%
F < 50%
Lecture Outline
Lecture
1
2
3
4
5
6
7
8
9
10
11
12
13
19
20
21
22
23
24
25
Date
Jan 4
Jan 6
Jan 9
Jan 11
Jan 13
Jan 16
Jan 18
Jan 20
Jan 23
Jan 25
Jan 27
Jan 30
Feb 1
Feb 3
Feb 6
Feb 8
Feb 10
Feb 13
Feb 15
Feb 17
Feb 20-24
Feb 27
Feb 29
Mar 2
Mar 5
Mar 7
Mar 9
Mar 12
26
27
28
29
30
31
32
33
34
35
Mar 14
Mar 16
Mar 19
Mar 21
Mar 23
Mar 26
Mar 28
Mar 30
Apr 2
Apr 4
14
15
16
17
18
Topic
Introduction to waves
Traveling harmonic waves
Superposition and reflections from boundaries
Harmonic superposition and standing waves
Sound and resonance
Interference
Diffraction
Light reflection and ray diagrams
Mirrors and image formation
Refraction and total internal reflection
Lenses and optical systems
Electric charge and Coulomb's law
Electric fields and electric dipoles
Munro Day (no classes)
Electric field lines
Test 3: In class
Electric field from a continuous charge distribution
Gauss's Law
Electric potential energy and potential difference
Electric potential and field
Study break (no classes)
Capacitors and dielectrics
Current
DC circuits
Kirchhoff's laws and multi-loop circuits
RC circuits and timers
Heat flow
Radiative heat transfer and climate change
Test 4: 7 - 8 pm
Magnetic fields and magnetism
Magnetism applications
Special relativity
Magnetic field from a current element
Ampere's Law
Faraday's law
Lenz's law
Inductors and RL circuits
LC circuits
Radio wave communications
Sections
20.1-2
20.3-4
21.1
21.2-3
21.4
21.5-8, 22.1-2, 22.6
22.3-5
23.1-2
23.8
23.3, 23.5
23.6-7, 24.1-5
26.1-4
26.5-6, 27.1-2, 27.7
Comments
CAPA 1 due
Labs begin
CAPA 2 due
CAPA 3 due
27.2
CAPA 4 due
27.3-4
28.1-6
29.1-7
30.1-3
CAPA 5 due
30.5-7
30.2, 31.1-5
32.1-5
32.6-8
32.9
17.8
17.8
33.1-3
33.7-9
37.1-10
33.4-5
33.6
34.1-2
34.3-7
34.8
34.9
CAPA 6 due
CAPA 7 due
CAPA 8 due
CAPA 9 due
CAPA 10 due
Lectures
Lectures will include "powerpoint" presentations, demonstrations, and occasionally
work on the blackboard. The presentations will be made available via OWL after
lecture. Discussions and demonstrations during class are important, and will provide
additional material that will appear in exams.
CAPA Assignments
CAPA Assignments may be picked up from the pigeonholes in the Dunn Building on
the Friday before they are due. Due dates are given on the previous page.
Instructions on how to submit the answers by computer will be given on the back of
the first assignment. See also the Frequently Asked Questions and How To... pages
at http://www.learning.physics.dal.ca/.
If you are sick and cannot finish a CAPA by the due date, please email Friedemann
Brauer <[email protected]> to request an extension. You will be required
to provide a medical certificate confirming your illness.
Please do your own CAPA assignments! They provide valuable experience that you
will need when it comes time to write exams.
Laboratory
Labs start during the week of January 16, and will be held in Dunn 114. You will be
expected to attend on the day you have selected.
Simon de Vet will be selling lab manuals in the lobby after class on January 9 and
11. After that, the lab manual will be available from the Physics Office, Dunn 218.
You are expected to come to the laboratory prepared for that day's experiment. You
should read the relevant pages in the lab manual and in the textbook. Unless
otherwise stated, all labs have a CAPA pre-lab test, which is due 5 minutes before
your lab session. Your personal, printed pre-lab sheet will be handed out at the
previous lab session; if it is not picked up, it will be left in the pigeonholes (where the
CAPA assignments are).
If you have to miss or reschedule a lab, e-mail Simon de Vet <[email protected]> at
least 24 h in advance. Your CAPA pre-lab test is still due on your regular lab day.
Workbook
You are encouraged and advised (hint, hint!) to complete problems in the Student
Workbook. Solutions to the workbook problems are available at the library.
Missed Exams
There will not be any "make-up" midterm exams. Students excused from writing
one midterm (see below) will automatically use grading scheme Method 2. Students
who are excused from both midterms will be considered to have not completed the
requirements of the class and will receive a final grade of INC (incomplete).
There will be ONE "make-up" final exam for those who have been excused from the
scheduled final (see below). The date and time of the make-up will be determined
by Tom Duck. The date and time will not be open for negotiation.
There is no "supplementary" final exam.
Tom Duck (only) may excuse you from writing an exam. You may be excused in the
following situations:
(i) Special Circumstances: Examples include class field trips and sports team
commitments. You must be excused at least one week in advance. You will
need to provide appropriate documentation.
(ii) Illness: You must obtain a medical certificate signed by a physician that
explicitly states that you were examined and found too ill to write the exam.
You must notify Tom Duck within 48 hours of the certificate's expiry that you
missed the exam, and provide him the certificate within one week of the exam.
(iii) Emergency situations: If there is an emergency situation, you must notify Tom
Duck about your absence as soon as possible. Documentation will normally be
required at a later date.
You will not be excused from the exam unless the criteria above are met in their
entirety. If you are not excused from the exam, then you will receive a mark of zero
and grading scheme Method 1 will be used.
Exam Marking
Your exams will be marked by Teaching Assistants (TAs). In general they do an
excellent job. If you think a mistake has been made:
(i) Please carefully check your exam against the exam solutions provided online.
(ii) If you still think that there is an error, please return the exam to Tom Duck with
a written explanation. He will consider your case privately, and will not assess
your exam on-the-spot.
(iii) The exam will be remarked by Tom Duck in its entirety.
Exams must be submitted for remarking within one week of their return.
Accessibility
If you require special accommodations for classes or exams, please register with
Student Accessibility Service (902-494-2836; [email protected]; Killam Library room
G28; http://studentaccessibility.dal.ca/) as soon as possible. Be sure to contact
them well in advance of any exams so that the appropriate arrangements can be
made.
Getting Help
There are several ways to get help when there is something you don't understand:
•
•
•
•
Go to the Resource Centre (Dunn 108). Teaching assistants are there to help,
11:30 am to 5:30 pm, Tuesday through Friday.
Visit to Tom Duck during his office hours (Wed 1-4 PM). Please be prepared to
show where your understanding breaks down.
Discussions with classmates can be very useful (but not during the lectures,
please!) and are encouraged.
The Physics Office (Dunn 218) usually maintains a list of senior physics
undergraduates and graduate students who can do tutoring.
Regulations
University Regulations (http://ug.cal.dal.ca/UREG.htm) and Academic Regulations
(http://ug.cal.dal.ca/acrg.htm) are detailed in the Undergraduate Calendar http://
ug.cal.dal.ca/). We will always adhere to the Regulations described in these
documents.
Academic Integrity
We expect students to do their own work, and to not misrepresent someone else's
work as their own. The TAs in the Resource Centre are there to help you
understand the material and develop sound problem-solving strategies. We also
encourage you to discuss concepts and methods with your classmates. However,
we consider it an academic offense when a student
• copies answers from another student or source;
• obtains answers, or programs that calculate answers, from other students or
other sources;
• provides answers or programs that calculate answers to another student.
Academic offenses will be reported to the Faculty of Science Academic Integrity
Officer. For more information, see the Regulations pages above and Dalhousie's site
on academic integrity (http://academicintegrity.dal.ca/).