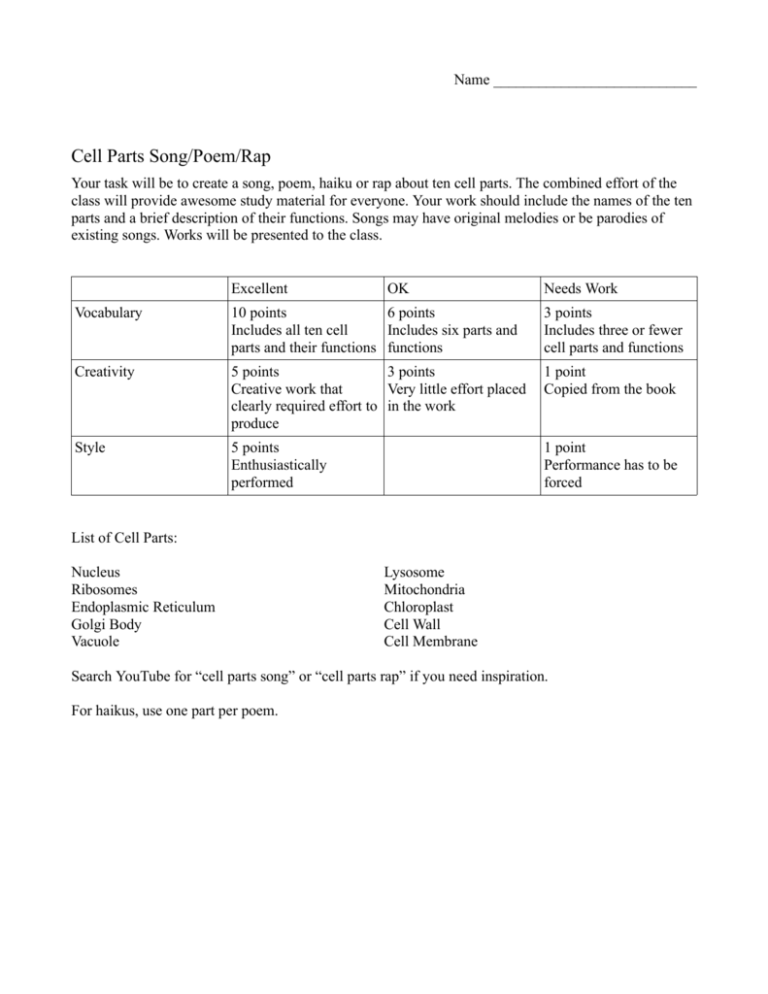 Name ___________________________
Cell Parts Song/Poem/Rap
Your task will be to create a song, poem, haiku or rap about ten cell parts. The combined effort of the
class will provide awesome study material for everyone. Your work should include the names of the ten
parts and a brief description of their functions. Songs may have original melodies or be parodies of
existing songs. Works will be presented to the class.
Excellent
OK
Needs Work
Vocabulary
10 points
6 points
Includes all ten cell
Includes six parts and
parts and their functions functions
3 points
Includes three or fewer
cell parts and functions
Creativity
5 points
3 points
Creative work that
Very little effort placed
clearly required effort to in the work
produce
1 point
Copied from the book
Style
5 points
Enthusiastically
performed
1 point
Performance has to be
forced
List of Cell Parts:
Nucleus
Ribosomes
Endoplasmic Reticulum
Golgi Body
Vacuole
Lysosome
Mitochondria
Chloroplast
Cell Wall
Cell Membrane
Search YouTube for "cell parts song" or "cell parts rap" if you need inspiration.
For haikus, use one part per poem.