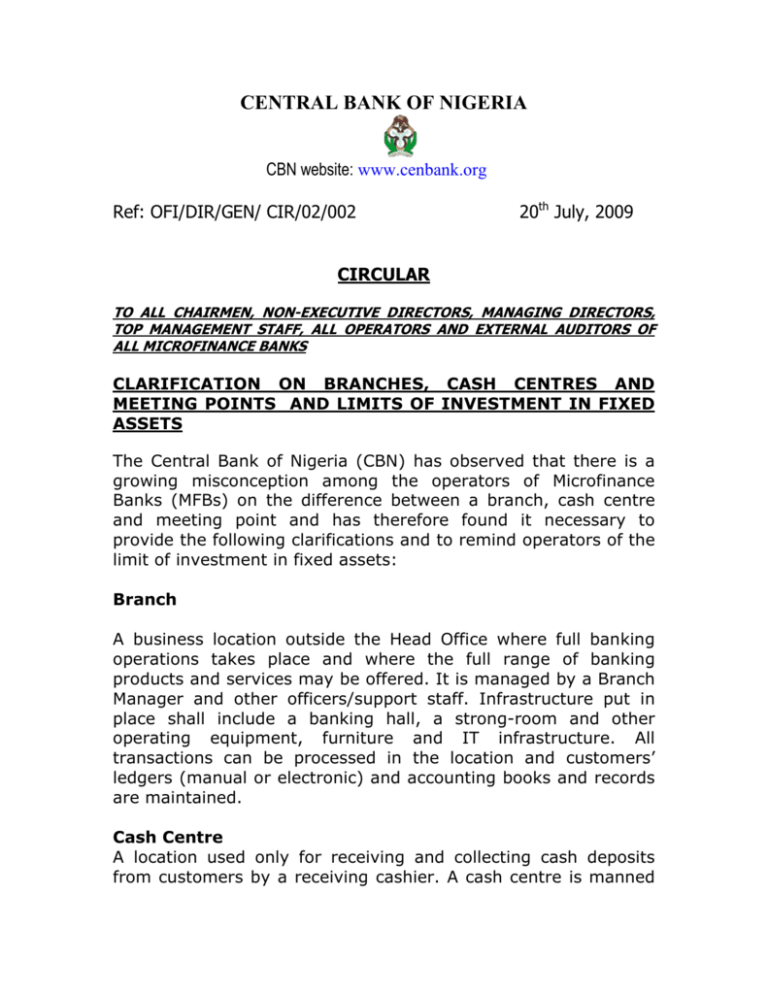 CENTRAL BANK OF NIGERIA
CBN website: www.cenbank.org
Ref: OFI/DIR/GEN/ CIR/02/002
20th July, 2009
CIRCULAR
TO ALL CHAIRMEN, NON-EXECUTIVE DIRECTORS, MANAGING DIRECTORS,
TOP MANAGEMENT STAFF, ALL OPERATORS AND EXTERNAL AUDITORS OF
ALL MICROFINANCE BANKS
CLARIFICATION ON BRANCHES, CASH CENTRES AND
MEETING POINTS AND LIMITS OF INVESTMENT IN FIXED
ASSETS
The Central Bank of Nigeria (CBN) has observed that there is a
growing misconception among the operators of Microfinance
Banks (MFBs) on the difference between a branch, cash centre
and meeting point and has therefore found it necessary to
provide the following clarifications and to remind operators of the
limit of investment in fixed assets:
Branch
A business location outside the Head Office where full banking
operations takes place and where the full range of banking
products and services may be offered. It is managed by a Branch
Manager and other officers/support staff. Infrastructure put in
place shall include a banking hall, a strong-room and other
operating equipment, furniture and IT infrastructure. All
transactions can be processed in the location and customers'
ledgers (manual or electronic) and accounting books and records
are maintained.
Cash Centre
A location used only for receiving and collecting cash deposits
from customers by a receiving cashier. A cash centre is manned
by a Supervisor and the total number of staff shall not exceed 5
including support staff. Cash is usually evacuated to the Head
Office or correspondent bank intermitently or at the end of daily
transactions. Infrastructure required is a cashier's cubicle, strong
fire-proof safe and sparse furniture. All customers' accounts
records are maintained and kept at the Head Office or affiliated
branch and withdrawals can only be done at the Head Office or
the affiliated branch.
Meeting Point or Customer Interaction Centre
A meeting point is typically a location where customer
mobilization through group formation and mentoring takes place.
It is also a place for interaction with prospective or existing
customers. It could be a small stall/shop in a market, under a
tree in a village, e.t.c. It should be sparsely furnished. Only a
desk and few chairs are required. No office equipment required.
Customers' accounts records and cash should not be kept or
maintained in a meeting point.
Approval
Prior approval of the CBN is required for the opening, closing or
relocation of branches or cash centres of MFBs, subject to
meeting the prescribed prudential requirements and minimum
free funds of N20 million. CBN approval is not required for the
opening/closing of meeting points, provided they are within the
definition and scope described above.
Limit of Investment in Fixed Assets
All operators are also reminded that section 9.1(k) of the
Regulatory and Supervisory Guidelines for Microfinance Banks in
Nigeria prescribes that "the maximum amount which an MFB can
invest in fixed assets is twenty per cent (20%) of its
shareholders' funds, unimpaired by losses".
The objective of this is to prevent a high level of investment in
non-earning fixed assets, as well as the use of depositors' funds
for the acquisition of fixed assets or branch expansion, in the
overiding interest of the sustainability of the MFBs.
Mismatch of Assets and Liabilities
All MFBs are strongly advised, not only to ensure that they create
good quality assets, but also to ensure that the assets (mainly
loans/advances and investments) are properly matched with
their liabilities (mainly savings and deposits) in terms of tenor
and cost. This is to ensure that short-term funds are not tied
down in long-term assets, thereby jeopardizing the liquidity
position as well as the safety and soundness of their institutions.
All operators are strongly advised to be properly guided.
O.A. Fabamwo
Ag. Director,
Other Financial Institutions Department.