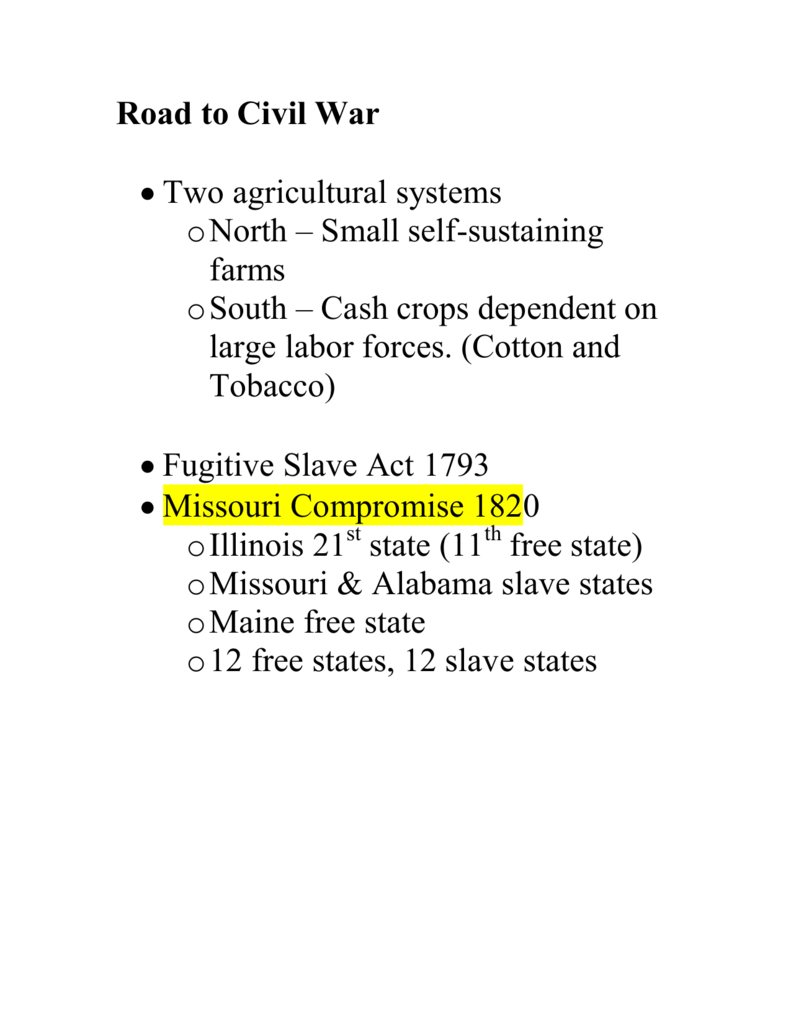 Road to Civil War
Two agricultural systems
o North – Small self-sustaining
farms
o South – Cash crops dependent on
large labor forces. (Cotton and
Tobacco)
Fugitive Slave Act 1793
Missouri Compromise 1820
o Illinois 21st state (11th free state)
o Missouri & Alabama slave states
o Maine free state
o 12 free states, 12 slave states
Tariffs help Northern Industry
Tariffs hurt Southern Agriculture
Great Compromise of 1833
o Gradual reduction in Tariffs to
appease southern states, namely
South Carolina
Manifest Destiny
o United states to expand to Pacific
Mexico encourages immigration from
US to Texas.
Slavery outlawed in Texas by Mexico
Texas fights for independence
Mexican War expands US territories
to California
o US troops later to become famous
in civil war
 US GRANT
 JEFFERSON DAVIS
 ROBERT E. LEE
 GEORGE MCCLELLAN
 THOMAS JONATHAN
JACKSON
 Pierre Gustave Beauregard
 JOSEPH E. JOHNSTON
 WILLIAM TECUMSEH
SHERMAN
 GEORGE PICKETT
 LEWIS ARMISTEAD
 JAMES LONGSTREET
 DH HILL
 BENARD BEE
 NATHAN BEDFORD
FORREST
 AS JOHNSTON
 GEORGE MEADE
 BRAXTON BRAGG
 JOSEPH HOOKER
 WINFIELD SCOTT
HANCOCK
Gold discovered in 1848. People
rush west 1849
Northern Industry
o Factories
o Railroads
o Manufactured goods
o Immigrant work force – strong
opposition to slavery
Southern Agriculture
o Cotton production
o South only produces 10% of
nations manufactured goods
o Slower to act on advancements
o Population slower to grow
o Fewer immigrants
Territorial disputes
Wilmot Proviso – All territories won
by the US in Mexican War would be
closed to slavery. (California, Utah
and New Mexico)
California constitution forbids
slavery going against the line of the
Missouri Compromise of 1820.
Slaves are property and protected by
the Constitution
Compromise of 1850
Henry Clay proposes compromise to
Senate
o California is admitted as free state
o Utah and New Mexico decide
o Slave trade banned in DC, but
slavery is not
o Stricter enforcement of Fugitive
Slave Act
Compromise is rejected
Stephen Douglas of Illinois takes up
the fight.
o Break up compromise and vote
separately on each issue.
o Popular Sovereignty
Kansas-Nebraska Act
Divide territory into two, repeal
Missouri Compromise and allow each
territory to decide for itself the
slavery issue.
Strongly supported in South, strongly
opposed in North
Bleeding Kansas – Fighting between
anti-slavery and pro-slavery forces
erupts all over the territory.
Debates on Senate floor get heated.
o Northern Senator Charles Sumner
gives aggressive speech against
slavery in Senate and denounces
the South and makes fun of South
Carolina Senator Andrew Butler.
o Butler's nephew, Congressman
Preston Brooks beats Sumner with
his cane until it breaks.