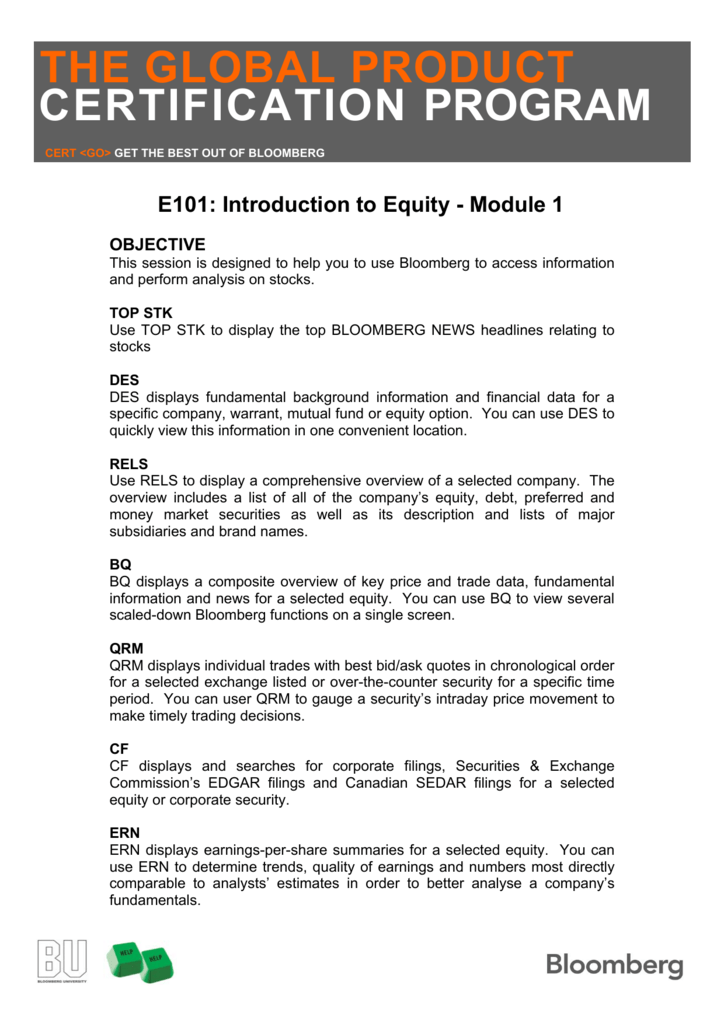 THE GLOBAL PRODUCT
CERTIFICATION PROGRAM
CERT <GO> GET THE BEST OUT OF BLOOMBERG
E101: Introduction to Equity - Module 1
OBJECTIVE
This session is designed to help you to use Bloomberg to access information
and perform analysis on stocks.
TOP STK
Use TOP STK to display the top BLOOMBERG NEWS headlines relating to
stocks
DES
DES displays fundamental background information and financial data for a
specific company, warrant, mutual fund or equity option. You can use DES to
quickly view this information in one convenient location.
RELS
Use RELS to display a comprehensive overview of a selected company. The
overview includes a list of all of the company's equity, debt, preferred and
money market securities as well as its description and lists of major
subsidiaries and brand names.
BQ
BQ displays a composite overview of key price and trade data, fundamental
information and news for a selected equity. You can use BQ to view several
scaled-down Bloomberg functions on a single screen.
QRM
QRM displays individual trades with best bid/ask quotes in chronological order
for a selected exchange listed or over-the-counter security for a specific time
period. You can user QRM to gauge a security's intraday price movement to
make timely trading decisions.
CF
CF displays and searches for corporate filings, Securities & Exchange
Commission's EDGAR filings and Canadian SEDAR filings for a selected
equity or corporate security.
ERN
ERN displays earnings-per-share summaries for a selected equity. You can
use ERN to determine trends, quality of earnings and numbers most directly
comparable to analysts' estimates in order to better analyse a company's
fundamentals.
THE GLOBAL PRODUCT
CERTIFICATION PROGRAM
CERT <GO> GET THE BEST OUT OF BLOOMBERG
DVD
DVD displays detailed information about a selected security's dividend/split
history. Use DVD to determine how a security's gross or net dividend yield
contributes to its overall returns.
EE
Use EE to display earnings projections from I/B/E/S, Nelson, Zacks, First Call
and Toyo Keizai for a selected equity security. EE collects all earnings
estimates for a company in one place so that you can quickly gauge market
expectations.
ANR
ANR displays a list of analysts' recommendations and a consensus rating for
a selected equity.
The consensus rating is based on analyst
recommendations compiled by Bloomberg reports and researchers around
the world.
MOST
Use MOST to display the day's most active stocks by volume, the leading
advancers and decliners by percentage or net gain/loss and stocks with the
most value traded for a particular exchange.
HILO
HILO will display information on common stocks, depository receipts, closed
end funds and real estate investment trusts that have reached a 52-week high
or low price.
LVI
Use LVI to monitor equities with the largest volume increases by percentage
when compared to their 1,5,20 or 90 day moving average volumes.
HALT
HALT provides you with a list of suspended or halted stocks for a selected
stock exchange on a specific date.
BLP
Bloomberg Launchpad is a customisable, dynamic user interface, which takes
existing Bloomberg Professional service functions and allows them to exist on
your computer desktop. Bloomberg Launchpad builds an interactive
workstation driven by the Bloomberg Professional service's data, news and
analytics in a format, which allows you to access the information you need,
when you need it.