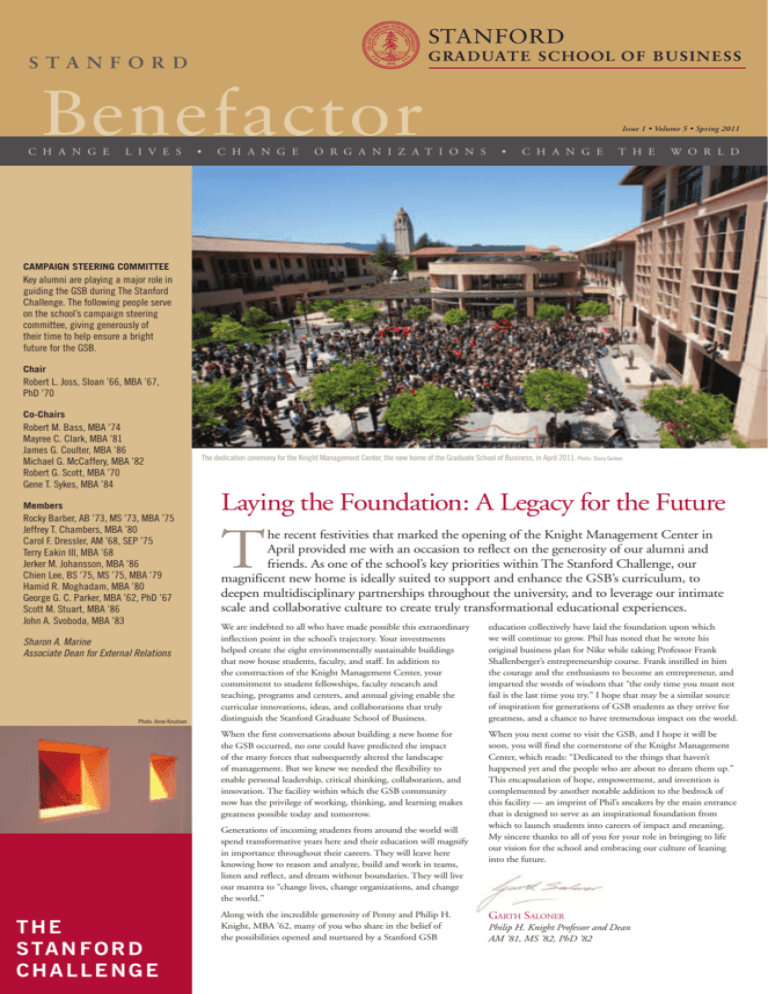 STANFORD
Benefactor
C H A N G E
L I V E S
•
C H A N G E
O R G A N I Z A T I O N S
Issue 1 • Volume 5 • Spring 2011
•
C H A N G E
T H E
W O R L D
Campaign Steering Committee
Key alumni are playing a major role in
guiding the GSB during The Stanford
Challenge. The following people serve
on the school's campaign steering
committee, giving generously of
their time to help ensure a bright
future for the GSB.
Chair
Robert L. Joss, Sloan '66, MBA '67,
PhD '70
Co-Chairs
Robert M. Bass, MBA '74
Mayree C. Clark, MBA '81
James G. Coulter, MBA '86
Michael G. McCaffery, MBA '82
Robert G. Scott, MBA '70
Gene T. Sykes, MBA '84
Members
Rocky Barber, AB '73, MS '73, MBA '75
Jeffrey T. Chambers, MBA '80
Carol F. Dressler, AM '68, SEP '75
Terry Eakin III, MBA '68
Jerker M. Johansson, MBA '86
Chien Lee, BS '75, MS '75, MBA '79
Hamid R. Moghadam, MBA '80
George G. C. Parker, MBA '62, PhD '67
Scott M. Stuart, MBA '86
John A. Svoboda, MBA '83
Sharon A. Marine
Associate Dean for External Relations
Photo: Anne Knudsen
The dedication ceremony for the Knight Management Center, the new home of the Graduate School of Business, in April 2011. Photo: Stacy Geiken
Laying the Foundation: A Legacy for the Future
T
he recent festivities that marked the opening of the Knight Management Center in
April provided me with an occasion to reflect on the generosity of our alumni and
friends. As one of the school's key priorities within The Stanford Challenge, our
magnificent new home is ideally suited to support and enhance the GSB's curriculum, to
deepen multidisciplinary partnerships throughout the university, and to leverage our intimate
scale and collaborative culture to create truly transformational educational experiences.
We are indebted to all who have made possible this extraordinary
inflection point in the school's trajectory. Your investments
helped create the eight environmentally sustainable buildings
that now house students, faculty, and staff. In addition to
the construction of the Knight Management Center, your
commitment to student fellowships, faculty research and
teaching, programs and centers, and annual giving enable the
curricular innovations, ideas, and collaborations that truly
distinguish the Stanford Graduate School of Business.
education collectively have laid the foundation upon which
we will continue to grow. Phil has noted that he wrote his
original business plan for Nike while taking Professor Frank
Shallenberger's entrepreneurship course. Frank instilled in him
the courage and the enthusiasm to become an entrepreneur, and
imparted the words of wisdom that "the only time you must not
fail is the last time you try." I hope that may be a similar source
of inspiration for generations of GSB students as they strive for
greatness, and a chance to have tremendous impact on the world.
When the first conversations about building a new home for
the GSB occurred, no one could have predicted the impact
of the many forces that subsequently altered the landscape
of management. But we knew we needed the flexibility to
enable personal leadership, critical thinking, collaboration, and
innovation. The facility within which the GSB community
now has the privilege of working, thinking, and learning makes
greatness possible today and tomorrow.
When you next come to visit the GSB, and I hope it will be
soon, you will find the cornerstone of the Knight Management
Center, which reads: "Dedicated to the things that haven't
happened yet and the people who are about to dream them up."
This encapsulation of hope, empowerment, and invention is
complemented by another notable addition to the bedrock of
this facility — an imprint of Phil's sneakers by the main entrance
that is designed to serve as an inspirational foundation from
which to launch students into careers of impact and meaning.
My sincere thanks to all of you for your role in bringing to life
our vision for the school and embracing our culture of leaning
into the future.
Generations of incoming students from around the world will
spend transformative years here and their education will magnify
in importance throughout their careers. They will leave here
knowing how to reason and analyze, build and work in teams,
listen and reflect, and dream without boundaries. They will live
our mantra to "change lives, change organizations, and change
the world."
Along with the incredible generosity of Penny and Philip H.
Knight, MBA '62, many of you who share in the belief of
the possibilities opened and nurtured by a Stanford GSB
Garth Saloner
Philip H. Knight Professor and Dean
AM '81, MS '82, PhD '82
Family Makes Gift to Honor a Mother's Inspiration
A
n appreciation for Stanford and a deep belief in the
transformational power of higher education led
Kevin J. O'Donohue, MBA '87, and his wife, Laura,
to make their first major gift to the GSB.
When Kevin graduated from the school, his mother had just
earned her master's degree in communication from Stanford
two years earlier, taking classes after working on campus in both
the business and law schools for
several years. When Kevin and
his wife thought about making a
gift to the Knight Management
Center, they wanted to honor his
mother by dedicating a named
space for her.
The O'Donohues' generosity was further recognized by the
naming of a study space, also on the third floor of the Bass
Center, the four-story centerpiece building of the Knight
Management Center that contains a library, classrooms, and
top-floor reading and board rooms. The family wanted to
designate a location that would be frequently used by students.
The family, which provides financial support to other areas
of Stanford University as well,
strongly believes in Dean
Garth Saloner's vision for
the school. Kevin, who worked
in Germany before getting
his MBA, especially likes the
Global Experience Requirement
that all MBA students must
Laura O'Donohue
fulfill before the beginning
of their second year through
an international trip, exchange, or eligible internship.
"In this space, we envision students
involved in activities that reflect
the collaborative and innovative
nature of the curriculum."
The O'Donohue Family
Classroom, located on the
third floor of the Bass Center, is
dedicated to Joanne M. O'Donohue, MA '85, for encouraging
education, leadership, compassion, and creativity.
"Dedicating a classroom to my mother is a very fitting tribute
to a parent whose commitment to higher education was a great
inspiration to me," says Kevin.
GSB Korean alumni, who pooled resources to name a breakout room in the Knight
Management Center, gather for a chapter dinner.
The O'Donohues, who own and run an organic farm outside of
New York City, are advocates of environmental sustainability and
green architecture. They appreciate that the Knight Management
Center is expected to achieve LEED Platinum status from the
U.S. Green Building Council.
Kevin O'Donohue, MBA '87 (fourth from left), with his family: son Andrew, daughter
Catherine, wife Laura, mother Joanne, MA '85, and daughters Amelia and Juliana.
Groups Come Together to Name Knight Center Spaces
W
hen the Stanford Graduate School of Business
started fundraising efforts for the Knight
Management Center, several groups of alumni saw
it as the opportunity to come together to leave their mark on the
GSB's new center for teaching, research, and collaboration.
Alumni from specific class years, regions, companies, and interest
groups pooled their gifts to name 10 different parts of the new
eight-building complex. Some were drawn to the idea of making
an investment that would yield a very tangible result, while
others wanted to visibly show their support of the strategic vision
for the GSB.
The Women's Initiative Network (WIN) Classroom
is a flexible space that can be configured to meet
the needs of different users. Photo: Steve Castillo
The Hong Kong Alumni Room was the result of 15 alumni
who pooled their resources to name a breakout room on the
ground floor of the faculty office building that opens onto the
courtyard. The group saw the gift as a way to symbolize the
increasing connections between Hong Kong and the GSB and
to demonstrate support.
"The GSB has played an important role in the lives of Hong
Kong alumni and, in turn, they have also had an increasing
impact on the GSB," says Chien Lee, BS '75, MS '75, MBA '79,
one of the lead donors. "We wanted to show our faith in
the school's mission and its new campus that will enable
future innovations."
Another Asian alumni group rallied to make a Knight Center gift
as well. Ten Korean alumni spanning the MBA classes of
2
1984 to 2000 named a breakout room, also on the ground
floor of the faculty office building next to the Hong Kong room.
The effort for the space, named the Korean Alumni Breakout
Room, was led by Donghyun Han, MBA '94, senior vice
president of Korean Telecom, and one of the leaders of the
Seoul alumni group.
"It was done in the typical GSB Korea way — we get together
very often, usually over drinks of soju, and we always talk about
how we can help each other and give back to the GSB," says Han.
The Korean donors personally made the gift to former Dean
Robert L. Joss when he visited Seoul.
Given the ever-increasing global reach of the school, having
spaces named for both the Hong Kong and Korean alumni
groups is an important reflection of the GSB's direction.
Raising the profile of a specific sector of GSB alumni also
contributed to the motivation behind the naming of the
Women's Initiative Network Classroom. A group of alumnae
who volunteer with the school's Women's Initiative Network
(WIN) were urged by Mayree Clark, MBA '81, and Michelle
Clayman, MBA '79, to make gifts to the Knight Management
Center. As a result, a ground-floor classroom in the Serra East
building bears the WIN name — one of two spaces in the new
complex that carries the names of female graduates.
"The WIN classroom ensures that the important contributions
and influence of alumnae is represented in the GSB's new home
MBA Class of 1968 Shatters Records, Names Building
W
ith an all-time record for dollars raised and a class
record for participation, the MBA Class of 1968
outdid itself for its 40th reunion when it raised
$46.7 million from 82% of the class. The group already had a
very successful history and set records for its 25th, 30th, and
35th reunions. But the members of the class were especially
motivated to surpass previous accomplishments to celebrate their
40th anniversary.
The 40th reunion coincided with fundraising efforts for the
Knight Management Center, and the class had high expectations
of raising enough to name a building in the GSB's new home.
They succeeded: the MBA Class of 1968 Building is the
central building along Serra Street, with classrooms and breakout
rooms on the ground floor and administrative offices on the
second and third floors.
"The gift is really meant to reflect the time and money our
class has given over the years," says Jim Crownover, who chaired
the class effort. "In the last 15 to 20 years, we raised over
$100 million for the school."
Crownover, along with co-chairman Ed Johnson and chairs of
previous campaigns (Terry Eakin, Rick Jones, and Pat Gross)
started strategizing for the effort a year in advance of the reunion.
Working with a volunteer group of more than 40 classmates, they
made it a goal to personally contact every member of their class.
"The extraordinary two years spent at Stanford raised my
aspirations, broadened my horizons, enhanced my career
prospects, and gave me friendships that endure to this day,"
Richard Rainwater and Garen Staglin, both MBA '68, are part of an unprecedented
effort that brought together their class to name a building in the new Knight
Management Center. Photo: Steve Castillo
Hong Kong Alumni Room
Gaston C. W. Chan, MS '70, MBA '72
Andrew Y. Chen, MBA '66
Norman L. Chen, MBA '91
Shiv Dalvie, MBA '01
Mei Kwong Franklin, MBA '75, and
Laurence C. Franklin, AB '70, JD '75, MBA '75
Ronna Chao Heffner, MBA '96
James H. Hildebrandt, MBA '86
Katie Kwan Gouw, MBA '02
Regina Ip, MS '87, MA '06
Chien Lee, BS '75, MS '75, MBA '79
Dennis Montecillo, AM '86, MBA '86
Johnson wrote in a letter to classmates. "There is no question
that our ability to support Stanford and other charitable
priorities is greater because of those two years."
For the reunion effort, the class benefited from leadership gifts
from classmates Richard Rainwater, Lorenzo Zambrano, Reece
Duca, and John Scully. Many others stepped up as well.
"People made stretch gifts to be a part of a banner year,"
Johnson says.
While the small class size at the GSB allows students every year
to get to know their peers, the members of the Class of '68
feel they — being one of the youngest classes in the school's
history composed mainly of single men straight out of their
undergraduate studies — are an especially tight-knit bunch.
"My personal ties to my Stanford business school classmates are
as great as my undergrad fraternity ties; they are my friends and
my wife's friends," says Johnson.
The naming of the building is especially appropriate given where
the class fits into the GSB history.
"Our classmates were drawn to Stanford in the late '60s because
of the innovative approach to business education established
during Dean Ernie Arbuckle's tenure, and we were the first class
to occupy the new building (GSB South)," Crownover says. "It's
symbolic to all of us that once again the GSB has taken another
innovative leap forward in business education, and this time we
were able to do more than just occupy a new building — we
could help create it."
Lecturer Peter Wendell teaches students in the course Entrepreneurship and Venture Capital in
the MBA Class of 1968 Building. Photo: Steve Castillo
Antony N. Tyler, SEP '04
David Yao, AB '99, MS '99, MBA '03 and
Ivy Yao, MA '04, MBA '04
Korean Alumni Breakout Room
Donghyun Han, MBA '94
Saehong Hur, MBA '98
Jae Hyun Hyun, MBA '81
Jae Youl Kim, MBA '00
Shin Kim, MBA '97
Dean Park, MBA '84
Sung-Bin Park, MBA '96
Chul-Seak Shin, MBA '85
and serves as an inspiration to current female students,"
Clayman says.
WIN is an alumnae-driven network at the GSB that offers
programs and resources that provide support and information to
women who aspire to serve as leaders in business, in their families,
and in their communities. WIN has more than 50 active alumnae
participants who form six working groups. These groups have
specific and results-oriented goals in the areas of case and course
programming, alumnae outreach/transitions, alumnae outreach/
networking, admissions, student life, and corporate boards.
Women make up about 40% of current GSB students.
Instead of an unrestricted gift to mark their 10th anniversary of
graduating from the GSB, two alumni from the MBA Class of
1999 wanted to see their class' name on a space in the Knight
Jaeyon Won, MBA '89
Taehoon Yoon, MBA '86
Women's Initiative Network Classroom
Katherine August-deWilde, MBA '75
Anne Casscells, MBA '85
Mayree Clark, MBA '81
Michelle R. Clayman, MBA '79
Mary Jane Elmore, MBA '82
Cheryl Jaszewski, AB '67, MBA '83
Joelle M. Kayden, MBA '81
Erica J. Richter, AB '70, MBA '79
Management Center. So Herald Chen and Ed McDermott put
their heads together and contacted a group of about a dozen
classmates who regularly reunite on trips. They eventually
expanded the invitation to a broader swath of the class, and as
a result 20 people came on board to name the MBA Class of
1999 Classroom, which is located on the ground floor of the
McClelland Building.
The McClelland Building houses several spaces
that are named for group gifts to the Knight
Management Center. Photo: Anne Knudsen
"We wanted to make the gift to send a message to the GSB
community about the close-knit spirit of our class, which reflects
the nature of the school in general," says Chen.
Other group gifts recognized with named spaces in the
Knight Management Center include the NGP Collaboration
Lab, TA Associates Café, Makena Capital Trader's Pit, and
Redpoint Ventures Classroom.
3
Graduate School of Business
Highlights
Knight Management Center Opening Gala
1
Dean Garth Saloner presents Penny and Philip H. Knight,
MBA '62, with a Lego model of the new Knight Management
Center at a reception honoring the generous commitments made by
lead donors. The new home of the GSB opened in April. Photo: Steve Castillo
1
Conradin von Gugelberg Lecture on the
Environment
2
U.S. Geological Survey director Marcia McNutt (left), with
Public Management Program Director Gina Jorasch, AM '89,
MBA '89, delivers the annual Conradin von Gugelberg Lecture on
the Environment in February 2011. McNutt's lecture, "Avoiding
the Slippery Slope: Leadership Lessons from Inside the Oil Spill,"
discusses how the Gulf of Mexico crisis forced a diverse group
of scientists, engineers, and operations workers to learn how to
work together. Photo: Stacy Geiken
2
Penny Pritzker Honored with
2011 Arbuckle Award
3
On March 2, Chicago businesswoman and philanthropist
Penny Pritzker, JD/MBA '84 (center), is honored as the 41st
recipient of the Ernest C. Arbuckle Award, presented by the Stanford
Business School Alumni Association. Created in memory of former
business school dean Ernest Arbuckle, the award honors those who
demonstrate excellence in the field of management leadership and a
commitment to addressing the changing needs of society. Pritzker is
pictured with former award recipients (left to right) Henry Segerstrom,
AB '46, MBA '48; Rebecca Morgan, MBA '78; Donald Petersen,
MBA '49; and Dean Emeritus Arjay Miller. Photo: Steve Castillo
3
8
Stanford Africa Forum
4
The student-led Stanford Africa Forum, held in January
2011, highlights key issues in Africa's social and economic
development. The organizers (pictured) put a special focus on
exploring the ideological tension between economic and humanitarian
development, as well as the difference between local and worldwide
impacts on the entrepreneurial investment climate. Photo: Steve Castillo
Knight Management Center Open House
5
GSB students celebrate the opening of the Knight Management
Center with a flash mob in the center of Town Square. They
enthusiastically came together to perform in unison — much to
the surprise and delight of the crowd gathered at the opening day
festivities. Photo: Steve Castillo
4
Executive Challenge
6
Arbuckle Leadership Fellow Jason Mercer, MBA Class of 2011,
celebrates at the Executive Challenge reception after his
Leadership Lab squad is announced as the overall winner. The daylong case competition challenges students to apply the skills they learn
to business scenarios in real time, with high-level alumni
acting as role players and judges. Photo: Stacy Geiken
10
5
6
11
Hispanic Business Students Association
Jerry I. Porras Award
7
Professor Emeritus Jerry I. Porras presents Mike A.
Aviles, MBA '90, former president and CEO of Vignette
Corporation, with the Jerry I. Porras Latino Leadership Award
in February 2011. The Hispanic Business Students Association
hosts this annual award banquet to celebrate the history and
presence of the Latino community at the GSB, and to honor and
encourage business leadership in the greater Latino community.
The banquet unites alumni with current students, faculty, and
administrators, and fosters personal bonds critical to the success of
our communities. Photo: Stuart Brinin
7
Knight Management Center Dedication
8
Dean Garth Saloner thanks the many donors, alumni,
students, faculty, staff, and other partners who helped make
the Knight Management Center possible. The new complex
of eight buildings — which are expected to receive the highest
possible rating in Leadership in Energy and Environmental Design
(LEED) from the U.S. Green Building Council — provide premier
instructional and technological capabilities to support curricular
innovations and enable greater collaboration. Photo: Steve Castillo
Leading Matters in Boston
9
President John Hennessy (left) leads a student discussion
including Andrew Katz-Mayfield, MBA Class of 2011
(second from right), for an audience of more than 500 attendees at
Leading Matters in Boston. These events feature presentations and
panels for Stanford alumni to engage in the life of the university
across the globe. Photo: Matthew Modoono
Excellence in Leadership Award Dinner
in New York
10
The 2011 Excellence in Leadership Award is presented
in April to Jacqueline Novogratz, MBA '91, founder and
chief executive officer of Acumen Fund Inc. She is responsible
for the vision behind Acumen Fund's unique approach to using
philanthropic capital to invest in scalable businesses that serve
the poor with life-changing goods and services. Since its launch
in 2001, the Acumen Fund has invested $40 million in over
35 companies serving 25 million low-income customers in the
developing world. Photo: Lynn Saville
Global Study Trip to India
11
Students visit the iconic corporate campus of Infosys
Technologies in Bangalore to meet with Infosys Chairman
Narayana Murthy. This trip, one of two offered to India in
December 2010, focused on showcasing the astounding diversity
and many contradictions within this emerging economic power.
Photo: Pallen Chiu
Celebrating Fellowship Donors
12
Bowei Lee, MBA '82, enjoys the 2011 Arbuckle Award
Dinner with Danny Lin and Frances Kang, both from the
MBA Class of 2012. This annual event gives fellowship donors
and recipients the chance to meet and share their experiences. The
school celebrates the generosity of alumni who have established
fellowships that enable the next generation of students to explore
their full potential at the GSB. Photo: Stacy Geiken
9
12
5
Honoring a Legend:
The James C. Van Horne Professorship
I
t is a GSB tradition to honor outstanding faculty members
with an enduring legacy designed to benefit future
generations. In that vein, James C. Van Horne, the
A.P. Giannini Professor of Banking and Finance, Emeritus, is
the inspiration for a number of colleagues, friends, and former
students to establish an endowed chair in his honor. In tribute
to Van Horne and his legacy at the school, Jack Levy, MBA '78,
and Michael M. Smith, MBA '88, initially helped to establish a
faculty fund in his name.
With the generosity of many others, the fund subsequently
reached the professorship level to enable the creation of the
James C. Van Horne Professorship in the Stanford Graduate
School of Business. This past February, many who had
contributed to the endowed chair gathered to formally mark
the occasion and celebrate the appointment of Jeffrey Zwiebel
as the inaugural chairholder.
Van Horne began teaching at the Stanford Graduate School of
Business in 1965. In the more than four decades since then, he
has served as a mentor and role model to many. Well known to
former students for his legendary cold calling in the classroom,
he was the first recipient of the MBA Distinguished Teaching
Award. When students honored him again with a second
distinguished teaching award in 1997, he estimated that he had
already had about 7,000 students pass through his door.
His scholarly contributions have focused on the theory and
behavior of interest rates, corporate finance, capital budgeting
decisions, and the valuation of market instruments. He is the
author of numerous case studies, more than 60 articles, and
5 books, 3 of which — Financial Management Policy,
Fundamentals of Financial Management, and Financial Market
Rates and Flows — are in wide use as texts. He is the past
president of the American Finance Association and the Western
Finance Association, has been an active member of the Financial
Economists Roundtable, and has previously served as the
associate editor of leading finance journals.
Professor Van Horne earned his AB in 1957 from DePauw
University, and his MBA in 1961 and PhD from Northwestern
University in 1964. In the mid-1970s he served as deputy
assistant secretary of the U.S. Treasury, and has served on several
federal and State of California commissions and advisory groups,
as well as numerous corporate and nonprofit boards. At the
business school, he has served as director of the MBA program
and as associate dean for academic affairs. In 1989, he was
awarded the Robert T. Davis Award by the dean for extraordinary
faculty contributions over his lifetime.
"This is a wonderful reflection of the impact that Jim has had as
a colleague, teacher, and mentor to so many across generations
of the GSB community," says Robert L. Joss. "I was privileged
to know him during my time as a student and to then be part
of this extraordinary effort during my tenure as dean."
"I run into alumni throughout the world, and it is remarkable how many
of them, when reflecting on their GSB experience, bring up Jim Van
Horne. I realize that everyone had personal stories of how they were
touched by his wisdom, guidance, and generosity. Given this, I feel
most fortunate, and tremendously honored, to be the one chosen to
carry his name."
Jeffrey Zwiebel, James C. Van Horne Professor
Professor Emeritus James C. Van Horne
Alumnus Draws from Personal Experience in
Endowing Fellowship
C
hristopher Li, MBA '90, is keenly aware of the financial
challenges that many students face. Originally from
Hong Kong, he worked as a government statistician for
many years in order to save enough money to fund his graduate
education. Even though his job offered to pay for him to go to
law school, he had reservations about the stipulation to return to
government service in Hong Kong. Additionally, he had his heart
set on attending business school at Stanford.
For Li, getting accepted was just the first step. Palo Alto proved
to be much more expensive than he had thought, and — even
with a well-paying summer internship in investment banking —
Li found himself in need of additional funding to complete his
studies. Money was so tight that he had to resist the temptation
to even purchase a Haagen Dazs ice cream bar on campus. To
finish his degree on time, he was able to get a loan from his
girlfriend at the time, Constance, who would later become his
wife. "I guess you could say her investment paid off, " recounts
Li with humor.
He went on to forge a successful and rewarding
career, which he attributes in large part to
his time at the GSB. He and his wife now
live with their three children in Potomac,
Maryland, and he is president and
chief investment officer of Lockheed
Martin Investment Management, the asset management arm
of Lockheed Martin Corporation. Formerly, he was president
of Diamond Capital Management Inc. for Dow Chemical
following several years with hedge fund Caxton Associates and
MetLife Investment Management Company. Li was named
Large Corporate Pension Manager of the Year in the Institutional
Investor's 2010 U.S. Investment Management Awards.
The financial challenges presented when he was here are not
forgotten. He states, "The experience left me with a deep
impression of the difference a few thousand dollars could make
for a student in need." With this in mind, he and Constance
decided to establish the Christopher and Constance Li
Fellowship Fund to support students at the GSB. "I am
delighted to give back to the school. I came to the GSB with
only two suitcases and I really believe that Stanford is second
to none. I am very grateful for the education I received here,"
he says.
He considers it an honor to be able to give back to the GSB.
However, Li also recognizes a personal benefit
in offering his support. "I'm excited by the
opportunity to get to know the students
this fund will assist, and to reconnect
with the GSB's unique culture of idea
generation."
Constance and Christopher Li, MBA '90
6
Enhancing Leadership: Eli Lilly and the Partnership
for Diversity Fellowship Program
E
li Lilly and Company recently renewed its longstanding
commitment to the Charles P. Bonini Partnership for
Diversity Fellowship Program. Lilly has been a long time
partner in this unique corporate fellowship program named after
emeritus professor Charles P. Bonini, a former director of the
MBA program. Bonini was a guiding force in the mid-1990s
behind the creation of the program as an avenue for providing
fellowship support to exceptional MBA students who —
through their culture, class, race, ethnicity, background, and life
experiences — are able to bring unique perspective to the school.
Since then, the program has enabled participating companies
to identify and support talented students at the GSB. In
addition to receiving a full-tuition grant for the two-year MBA
program, Bonini Fellows undertake a competitively compensated
internship opportunity for 9 to 12 months at the firm prior to
enrollment at the school.
"Lilly is pleased to help talented students build strong leadership
skills through the unique combination of the Stanford GSB
education and exposure to broader professional development
opportunities. We believe strongly in the value of the Partnership
for Diversity Fellowship Program and have seen first-hand
its impact on many motivated individuals who are making a
difference in the workplace and the world," notes Phyllis Ferrell,
MBA '01, senior director at Lilly.
Eli Lilly Fellowship recipients Aja Edmond, MBA Class of 2012, and
Juan Pablo Mas, MBA Class of 2011. Photo (left): Steve Castillo
Lilly is currently sponsoring two Bonini Fellows: second-year
MBA candidate Juan Pablo Mas and first-year MBA candidate
Aja Edmond. "This program made it possible for me to gain
relevant work experience that I will be able to leverage during
and after business school for years to come," reflects Edmond.
"My first quarter at the GSB confirmed everything I expected
and everything the Partnership for Diversity program seeks to
support — diversity of people and their backgrounds, opinions,
thoughts and goals."
Juan Pablo Mas adds, "It is a privilege to have been selected as
a Bonini Fellow. This vote of confidence drives me to grow and
achieve more than I might otherwise have."
Ferrell explains, "Lilly supports programs such as this fellowship
because of our commitment to diversity. Varied perspectives
and experiences provide the insights to discover new medicines
and deliver on our promise to provide better patient outcomes.
Our diversity commitment extends through the full spectrum of
our business, including our clinical trial strategy and our supply
chain."
The school's ongoing partnership with Lilly continues to build
mutually beneficial relationships, and offers Bonini Fellows
a strong foundation for developing their careers within an
organization that clearly invests in a diverse leadership pipeline
for the future.
"We believe strongly
in the value of the
Partnership for Diversity Fellowship
Program and have seen
first-hand its impact
on many motivated
individuals who are
making a difference in the workplace and
the world."
Phyllis Ferrell, MBA '01
Senior Director
Eli Lilly and Company
MBA students tour BYD Company, a manufacturer of automobiles and rechargeable batteries, in
Shenzen, China, as part of a Service Learning Trip in March focusing on energy and environment in this
emerging economy. Photo: Dylan Keil
Innovating for Emerging Markets
T
he study of emerging markets is generating great
interest, particularly as more countries embark on the
transition from a developing country to an emerging
market by restructuring their economies along market-oriented
lines to offer opportunities in trade, technology transfers, and
foreign direct investment. Through the generosity of Marko
Dimitrijevic, MBA '85, the GSB will be able to place even
greater focus in this area with the establishment of the Emerging
Markets Innovation Fund.
As the first alumnus to devote significant resources to this
important priority at the school, Dimitrijevic hopes to stimulate
activity among faculty and students who share his interests
in emerging markets. The fund broadly supports a range of
activities in this area, including faculty teaching and research,
course and case development, executive education, student
programs and clubs, and multidisciplinary or collaborative
initiatives involving other university schools and programs.
As chief investment officer and founder of Everest Capital, a
$2 billion investment advisory firm headquartered in Miami and
with offices in Singapore, Shanghai, and Geneva, Dimitrijevic
sees how fast-growing economies and their roles as regional
economic powerhouses are increasingly important to world
markets — particularly in consideration of the large populations,
large resource bases, and large markets that these emerging
markets represent.
Importantly, the fund provides the flexibility and resources
necessary to pursue new opportunities for faculty collaborations
and student programs, and positions the school to take advantage
of new initiatives as they inevitably arise. It enables curricular
expansion and research that build on courses such as Poverty,
Entrepreneurship, and Development that explores global poverty
and the potential role of entrepreneurship to address it; Growth
and Stabilization in the Global Economy that looks at the effects
of technological change, wage inequality, and macroeconomic
consequences of the financial crisis; and Valuation in Emerging
Markets that introduces students to corporate governance and
transparency issues faced by managers and investors in emerging
economies.
In addition, the fund supports student programs that encourage
MBA students to delve into first-hand experiences in such
regions, including the Stanford Management Internship Fund
that supports MBA students who take summer employment with
nonprofits, government agencies, and social-purpose businesses;
Global Management Immersion Experiences; and the StanfordTsinghua Exchange Program.
In reflecting on his inspiration in making this commitment,
Dimitrijevic notes, "I started investing in emerging markets
over 20 years ago, a passion that has continued to this day.
By encouraging and enhancing the study of emerging and
frontier markets, the Stanford GSB plays a leadership role on
the global stage."
Marko Dimitrijevic, MBA '85
7
C H A N G E L I V E S • C H A N G E O RG A N I Z AT I O N S • C H A N G E T H E WO R L D
STANFORD
Benefactor
Dean's Letter
2
Building a Legacy: Knight
Management Center
4
Highlights at the Graduate
School of Business
6
Investing in
Students and Faculty
8
Celebrating Reunion Records
Editor-in-Chief
Susan Chung
Editorial Staff
Candace Ayers
Megan Long
Maggie Reyes
S tanford U niversity
G raduate S chool of B usiness
K night M anagement C enter
O ffice of D evelopment
655 K night W ay
S tanford , CA 94305-7298
P resorted F irst C lass
U.S. P ostage
PAID
P ermit N o . 28
P alo A lto , CA
Printed with soy-based inks on Neenah Conservation, made with
100% recycled fiber, 100% post-consumer waste, and processed chlorine free.
1
Design
Alexander Atkins Design, Inc.
For additional information
regarding these articles or
The Stanford Challenge, please
call 650.723.3356 or email
marine_sharon@gsb.stanford.edu
gsb-thestanfordchallenge.stanford.edu
The MBA Class of 1985 celebrates its 25th reunion and achieves the coveted "Triple Crown" with Donors and volunteer leaders from the MBA Class of 1990 welcome a record 293
records for attendance, campaign participation, and total dollars raised. Photo: Rachel Bleckman
attendees for their 20th reunion. Photo: Matt Hartenstein
2010 REUNION RESULTS
Class
Participation Gifts &
Pledges
1960
66%
$799,024
1965
40%
$286,998
1970
53%
$904,278
1975
72%
$4,048,675
1980
62%
$5,492,281
1985
86%
$16,998,004
1990
75%
$4,890,141
1995
63%
$659,323
2000
45%
$885,008
2005
65%
$335,406
©2011 by the Board of Trustees of Leland
Stanford Junior University. Reproduction in
whole or part without permission of the publisher
is prohibited. Stanford GSB Benefactor is a
publication of Stanford Graduate School
of Business.
Reunion Giving: A Resounding Success by Every Measure
R
eunions provide a unique opportunity to celebrate the
ties that endure while discovering new ways in which
the school continues to shape the lives of alumni. For
many graduates, reunions deepen their appreciation for the
extraordinary community that is the Stanford Graduate School
of Business and inspire them to give back in ways that are
instrumental to sustaining the vitality of the school. Reunion
attendance in 2010 was exceptionally strong, with six classes
setting records (MBA classes of 1970, 1975, 1985, 1990, 1995,
and 2000) and with more attendees at fall reunion weekend
than ever before. In fact, the MBA Class of 2000 set an all-time
record for classmates and guests in attendance.
As the economy strengthens, so does the support and
involvement of alumni as evidenced by very strong reunion
fundraising campaigns. Collectively, the 10 classes celebrating
reunions contributed $35.2 million in gifts and pledges — more
than twice the amount raised by the reunion campaigns five
years ago. Aggregate participation across the 10 classes achieved
a terrific 63% and three classes either set records or achieved
their best-ever results for participation.
Of particular note, the MBA Class of 1985 — with its long
history of record setting at the GSB — once again continued
that tradition in achieving the coveted "Triple Crown" by
setting records for reunion attendance (144 classmates),
campaign participation (86%), and dollars raised (a remarkable
$16,998,004). With the theme "Sharing Wisdom and Dreams,"
the residential reunion featured truly amazing and moving class
panels, small group discussions, outdoor activities, and a festive
and high-spirited closing dinner. Thanks in large part to the hard
work of the committees, the weekend was a smashing success
with some attendees even commenting that it was the highlight
of the last 25 years of their lives. "Our class really pulled together
for our 25th reunion. We had 70 volunteers who participated in
organizing the reunion and in helping to raise the class gift. Our
weekend together gave us a chance to appreciate each other and
our shared GSB experience," notes Anne Casscells, one of the
reunion fundraising chairs for the class.
The success of all class campaigns helps support the design
and implementation of our curriculum, multidisciplinary
partnerships throughout Stanford, and the opening of the
Knight Management Center as our new home. There is no
question that the results of the 2010 reunions are testament to
the value alumni place on what the school has meant to them
and are critical in creating transformational experiences for
today's students. Thank you to all whose involvement, generosity,
and commitment — whether as a reunion attendee, dedicated
volunteer, or through a gift or pledge in celebration of a class —
bring the GSB to life in so many ways!