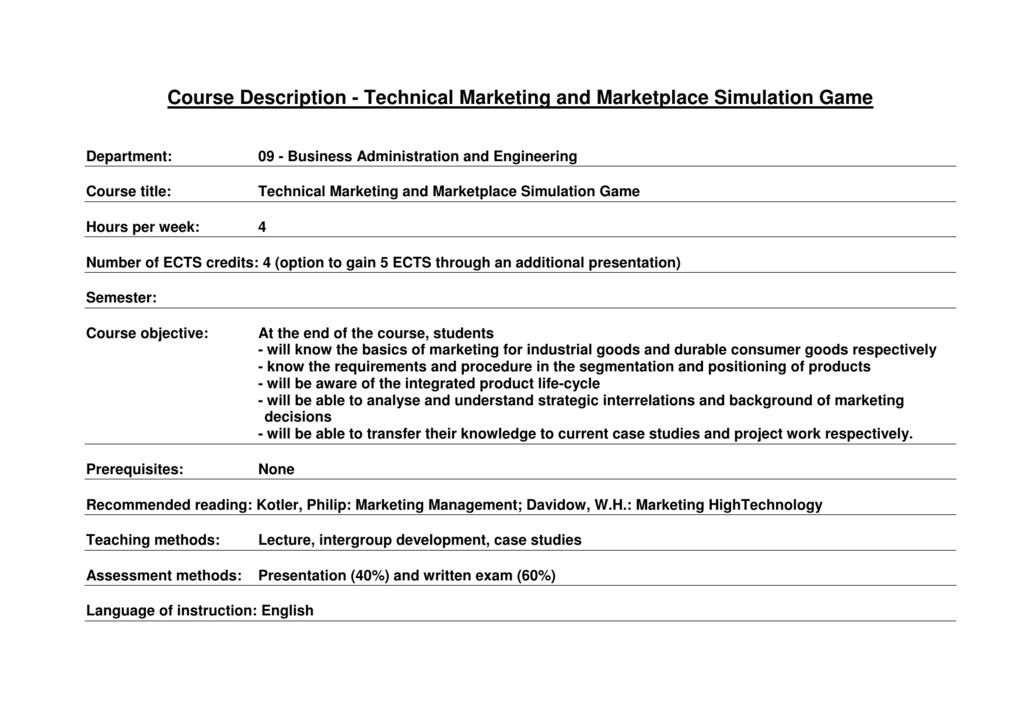 Course Description - Technical Marketing and Marketplace Simulation Game
Department:
09 - Business Administration and Engineering
Course title:
Technical Marketing and Marketplace Simulation Game
Hours per week:
4
Number of ECTS credits: 4 (option to gain 5 ECTS through an additional presentation)
Semester:
Course objective:
At the end of the course, students
- will know the basics of marketing for industrial goods and durable consumer goods respectively
- know the requirements and procedure in the segmentation and positioning of products
- will be aware of the integrated product life-cycle
- will be able to analyse and understand strategic interrelations and background of marketing
decisions
- will be able to transfer their knowledge to current case studies and project work respectively.
Prerequisites:
None
Recommended reading: Kotler, Philip: Marketing Management; Davidow, W.H.: Marketing HighTechnology
Teaching methods:
Lecture, intergroup development, case studies
Assessment methods:
Presentation (40%) and written exam (60%)
Language of instruction: English
Name of lecturer:
Prof. Dr. rer. pol. Wolfgang Döhl
Email:
[email protected]
Course content:
Basics of marketing, complete product, segmentation and positioning, course of action in market
analysis, integrated product life-cycle, technology mix of a product, first/follower problem,
Marketing simulation game.