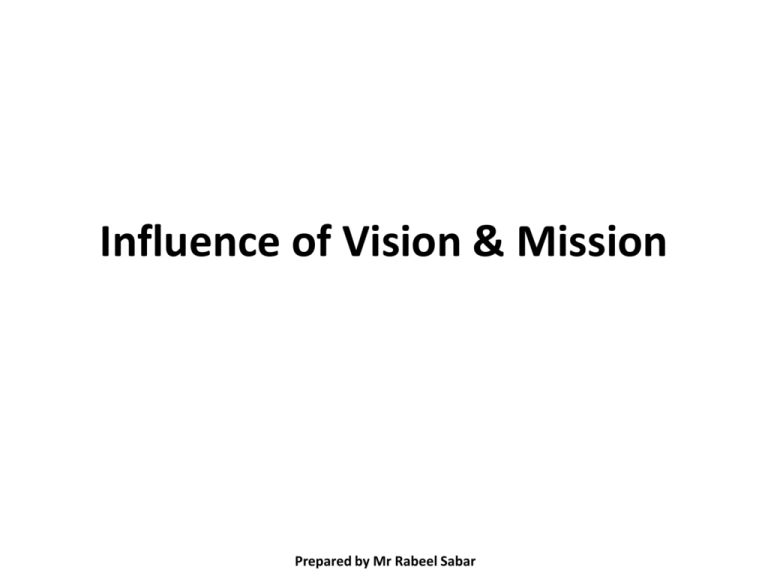 Influence of Vision & Mission
Prepared by Mr Rabeel Sabar
VISION
What do we want to become?
A statement that clearly defines the
firm's "reason" for being in business in
long term direction.
Microsoft Vision Statement
• Create experiences that combine the magic of
software with the power of Internet services
across a world of devices.
Pepsi Co Vision Statement
• PepsiCo's responsibility is to continually
improve all aspects of the world in which we
operate – environment, social, economic –
creating a better tomorrow than today.
Google Vision Statement
• To develop a perfect search engine.
Toyota Vision Statement
• To sustain profitable growth by providing the
best customer experience and dealer support.
Proctor & Gamble (P&G) Vision
Statement
• To provide branded products and services of
superior quality and value that improve the
lives of the world's consumers
Apple Vision Statement
• Apple is committed to bringing the best
personal computing experience to students,
educators,
creative
professionals
and
consumers around the world through its
innovative hardware, software and Internet
offerings.
FedEx Vision Statement
• At FedEX the vision statement is "Leading the
way"
BMW (Bremen Motoren Werken)
Vision Statement
• To become most successful
manufacturer in the car industry.
premium
Nokia Vision Statement
• Connecting
Technology
people
and
Very
Human
Mission Statement
What is our business?
Mission statement provides :
Why the organization exists
What it is to achieve by defining
company's business:Products/Markets
2-25
Mission Statement Examples
Apple designs Macs, the best personal computers in the world,
along with OS X, iLife, iWork, and professional software. Apple
leads the digital music revolution with its iPods and iTunes online
store. Apple reinvented the mobile phone with its revolutionary
iPhone and App Store, and has recently introduced its magical iPad
which is defining the future of mobile media and computing
devices.
Dell's mission is to be the most successful computer company in
the world at delivering the best customer experience in markets we
serve. In doing so, Dell will meet consumer expectations of highest
quality; leading technology; competitive pricing; individual and
company accountability; best-in-class service and support; flexible
customization capability; superior corporate citizenship; financial
stability.
2-33
Mission Types and Mission Agenda
Missions may include some of the following
aspects
• Maximising profits
• Customer satisfaction
• Employee welfare
• Environmental sensitivity
• Product safety
• Community activity
• Ethical considerations
• Benefits to society
Influence of a Good Vision and
Mission Statement
Inspires people in the organization to
achieve things they never thought possible
by risk taking and experimentation.
Brings benefits to the whole society.
Inspirational vision and mission statement
motivates workforce.