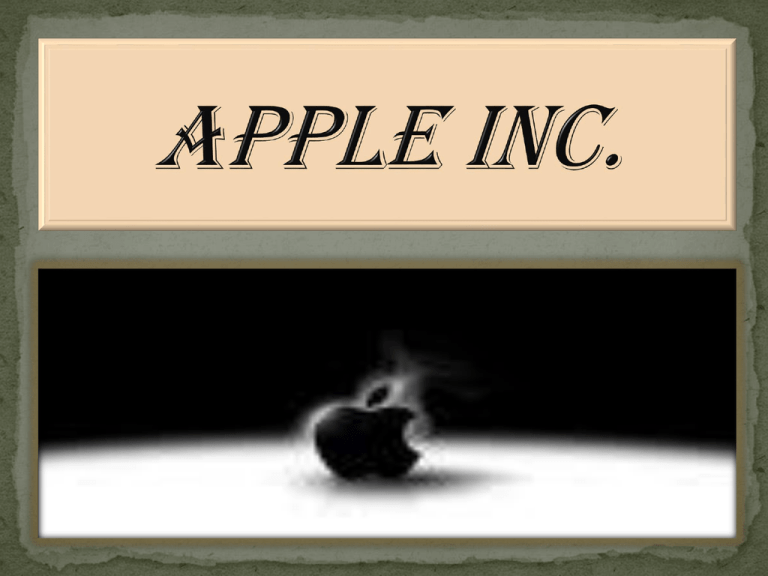 Apple Computer INC. was
co-founded in 1976 by the
CEO of Apple Steve P. Jobs,
and it was incorporated in
California On January 3,
1977.
 The company designs,
manufactures & markets
personal computers, mobile
communication devices,
portable digital music player, &
sells a variety of related
software, services, &
networking solutions.
Apple is leading the consumer
technology world with its
revolutionary Macintosh
personal computer, OS X, iLife,
iWork, iPod, iTunes, iPad,
iBookstore, Mac Book Pro, Mac
Book Air, & Etc…
Apple is committed to bringing the
best personal Computing
experience to students, educators,
creative professional and
consumers around the world
through its innovative hardware,
software and internet offerings.
Strengths
Weaknesses
• Strong Liquidity
• Expanding Operating
Margin & Return on Equity
• Strong Revenue
• Limited iPhone/Mobile Variants
• Unsolved Issues regarding Legal
Proceedings
• Dependence on Network
Providers
SWOT
Opportunities
Threats
• Emerging Markets Providing
Ladder for Growth
• Scope in Retail Segment
• Innovative Products & Designs
• Theft of Digital Content
• Absence of multiple
Distribution network
• Intense Competition
P/E
EV/EBITDA
(Evolution/ Earning before interest, taxes,
depreciation, and amortization)
Return on Equity (%)
(Return on net Value of its risk based capital)
Debt/Equity
27.44
18.06
28.03.00
.00
Operating Profit Marin (%)
(Ratio used to measure a company's pricing
strategy & Operating efficiency)
Dividend Yield
(Return investment for a stock)
27.36
NA
 Apple Inc. competes with big
companies such as: Microsoft ,
IBM, Motorola, Dell Inc., HewlettPackard Company, Teradata
Corporation, Lexmark
International Inc., Silicon
Graphics International Corp. NiceSystem Limited Company, Socket
Mobile Inc., & Etc…
 The company's customers are
primarily in the consumer, SMB,
education enterprise, government
& creative markets. Apple is
focused on expanding its market
opportunities on mobile
communication & media devices,
including iPhone & iPad.
 Apple Inc. utilizes a variety of
direct & indirect distribution
channels, such as its retail
stores, online store, & direct
sales force, & third-party
cellular network carrier,
wholesalers, retailers, & valueadded resellers.

Approximately 44% of the
company's net sales in 2010
came from sales to
customers inside the U.S.

Apple Inc. supplies &
manufactures many of
components by solesourced third-party
vendors in U.S., China,
Germany, Ireland, Japan,
Israel, Korea, Malaysia, the
Netherlands, the
Philippines, Taiwan,
Thailand, & Singapore.