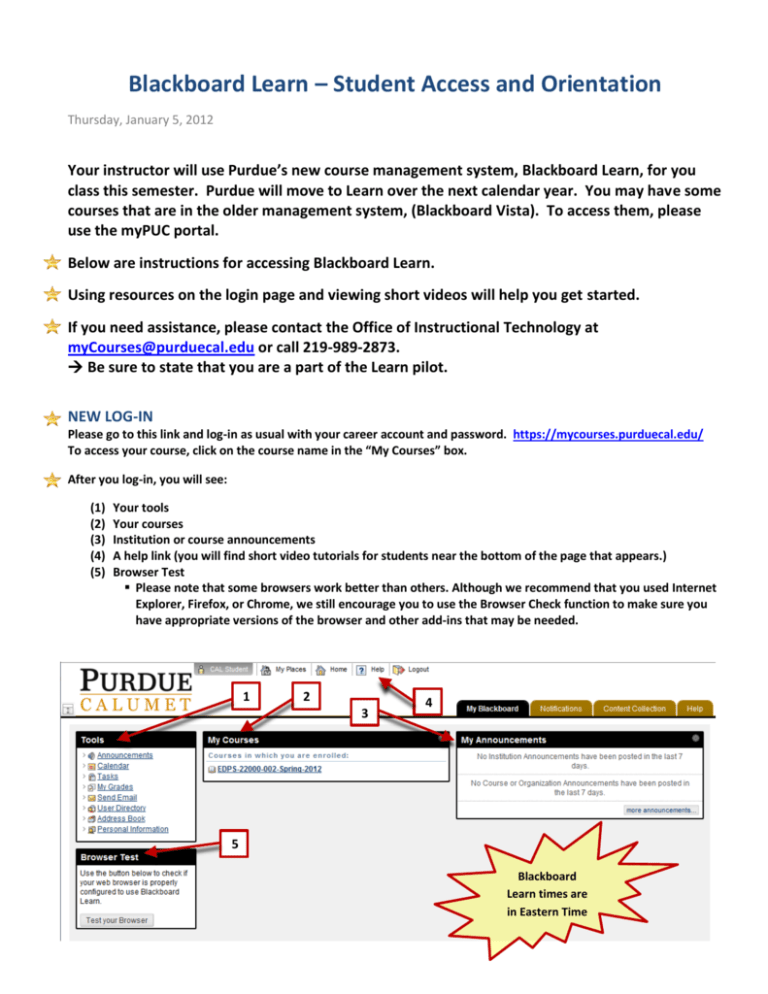 Blackboard Learn – Student Access and Orientation
Thursday, January 5, 2012
Your instructor will use Purdue's new course management system, Blackboard Learn, for you
class this semester. Purdue will move to Learn over the next calendar year. You may have some
courses that are in the older management system, (Blackboard Vista). To access them, please
use the myPUC portal.
Below are instructions for accessing Blackboard Learn.
Using resources on the login page and viewing short videos will help you get started.
If you need assistance, please contact the Office of Instructional Technology at
myCourses@purduecal.edu or call 219-989-2873.
 Be sure to state that you are a part of the Learn pilot.
NEW LOG-IN
Please go to this link and log-in as usual with your career account and password. https://mycourses.purduecal.edu/
To access your course, click on the course name in the "My Courses" box.
After you log-in, you will see:
(1)
(2)
(3)
(4)
(5)
Your tools
Your courses
Institution or course announcements
A help link (you will find short video tutorials for students near the bottom of the page that appears.)
Browser Test
 Please note that some browsers work better than others. Although we recommend that you used Internet
Explorer, Firefox, or Chrome, we still encourage you to use the Browser Check function to make sure you
have appropriate versions of the browser and other add-ins that may be needed.
1
2
3
4
5
Blackboard
Learn times are
in Eastern Time
zone.