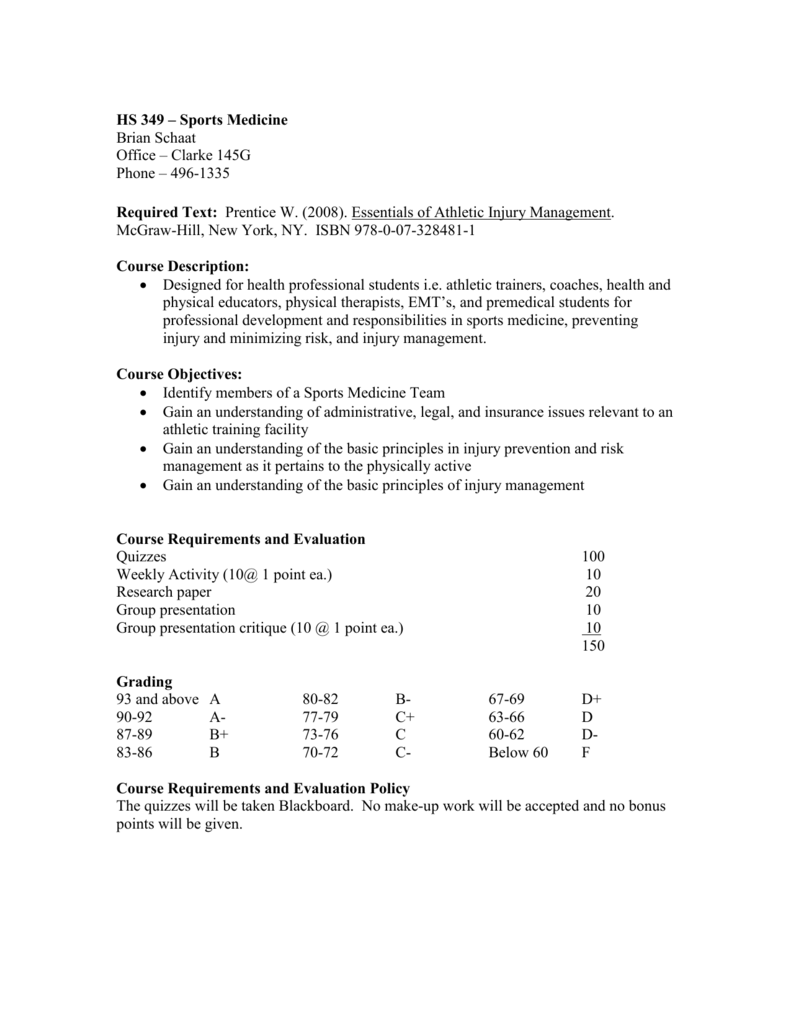 HS 349 – Sports Medicine
Brian Schaat
Office – Clarke 145G
Phone – 496-1335
Required Text: Prentice W. (2008). Essentials of Athletic Injury Management.
McGraw-Hill, New York, NY. ISBN 978-0-07-328481-1
Course Description:
 Designed for health professional students i.e. athletic trainers, coaches, health and
physical educators, physical therapists, EMT's, and premedical students for
professional development and responsibilities in sports medicine, preventing
injury and minimizing risk, and injury management.
Course Objectives:
 Identify members of a Sports Medicine Team
 Gain an understanding of administrative, legal, and insurance issues relevant to an
athletic training facility
 Gain an understanding of the basic principles in injury prevention and risk
management as it pertains to the physically active
 Gain an understanding of the basic principles of injury management
Course Requirements and Evaluation
Quizzes
Weekly Activity ([email protected] 1 point ea.)
Research paper
Group presentation
Group presentation critique (10 @ 1 point ea.)
Grading
93 and above
90-92
87-89
83-86
A
AB+
B
80-82
77-79
73-76
70-72
BC+
C
C-
100
10
20
10
10
150
67-69
63-66
60-62
Below 60
D+
D
DF
Course Requirements and Evaluation Policy
The quizzes will be taken Blackboard. No make-up work will be accepted and no bonus
points will be given.
Quizzes
There is a quiz for each chapter. These quizzes will be posted on Blackboard. You'll be
able to use your notes while taking the quiz but you won't be able to use your textbook.
There will be a comprehensive final given. The student chooses whether or not to take it.
The best of the two scores will be used.
Worksheets
A worksheet will be provided for each chapter. It will be posted on Blackboard.
Activity
Credit will be given for involvement in group discussions and activities.
Research Paper
A referenced research paper is part of the requirement for this class. The topic will be of
the student's choosing as it relates to sports medicine.
Group Presentation
As part of a group, the students will formulate an informational presentation on one of the
members of the sports medicine team and then present it to the class.
Group Presentation Critique
Students will critique their own presentation and that of their classmates for credit.