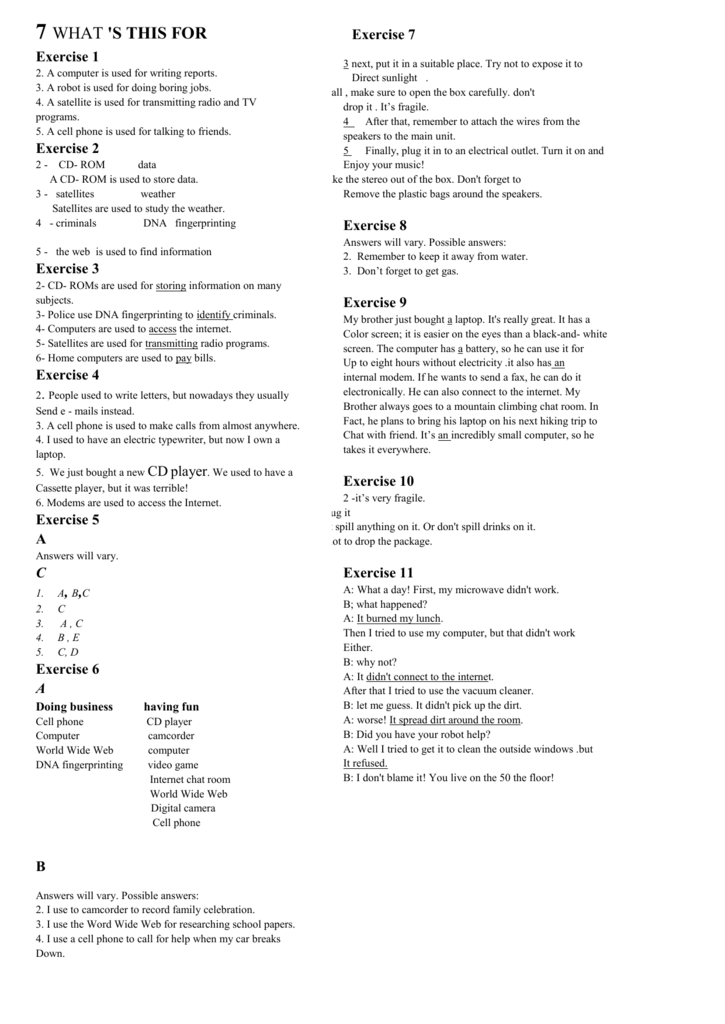 7 WHAT 'S THIS FOR
Exercise 7
Exercise 1
2. A computer is used for writing reports.
3. A robot is used for doing boring jobs.
4. A satellite is used for transmitting radio and TV
programs.
5. A cell phone is used for talking to friends.
1
Exercise 2
2-
CD- ROM
data
A CD- ROM is used to store data.
3 - satellites
weather
Satellites are used to study the weather.
4 - criminals
DNA fingerprinting
2
3 next, put it in a suitable place. Try not to expose it to
Direct sunlight .
first of all , make sure to open the box carefully. don't
drop it . It's fragile.
4
After that, remember to attach the wires from the
speakers to the main unit.
5
Finally, plug it in to an electrical outlet. Turn it on and
Enjoy your music!
Then take the stereo out of the box. Don't forget to
Remove the plastic bags around the speakers.
:
5 - the web is used to find information
Exercise 3
2- CD- ROMs are used for storing information on many
subjects.
3- Police use DNA fingerprinting to identify criminals.
4- Computers are used to access the internet.
5- Satellites are used for transmitting radio programs.
6- Home computers are used to pay bills.
Exercise 4
2. People used to write letters, but nowadays they usually
Send e - mails instead.
3. A cell phone is used to make calls from almost anywhere.
4. I used to have an electric typewriter, but now I own a
laptop.
Exercise 8
Answers will vary. Possible answers:
2. Remember to keep it away from water.
3. Don't forget to get gas.
Exercise 9
My brother just bought a laptop. It's really great. It has a
Color screen; it is easier on the eyes than a black-and- white
screen. The computer has a battery, so he can use it for
Up to eight hours without electricity .it also has an
internal modem. If he wants to send a fax, he can do it
electronically. He can also connect to the internet. My
Brother always goes to a mountain climbing chat room. In
Fact, he plans to bring his laptop on his next hiking trip to
Chat with friend. It's an incredibly small computer, so he
takes it everywhere.
5. We just bought a new CD player. We used to have a
Exercise 10
Cassette player, but it was terrible!
2 -it's very fragile.
6. Modems are used to access the Internet.
3 3-Unplug it
Exercise 5
4 4-Don't spill anything on it. Or don't spill drinks on it.
A
5 5-Try not to drop the package.
Answers will vary.
6
C
1.
2.
3.
4.
5.
Exercise 11
A, B,C
C
A,C
B,E
C, D
Exercise 6
A
Doing business
having fun
Cell phone
Computer
World Wide Web
DNA fingerprinting
CD player
camcorder
computer
video game
Internet chat room
World Wide Web
Digital camera
Cell phone
B
Answers will vary. Possible answers:
2. I use to camcorder to record family celebration.
3. I use the Word Wide Web for researching school papers.
4. I use a cell phone to call for help when my car breaks
Down.
A: What a day! First, my microwave didn't work.
B; what happened?
A: It burned my lunch.
Then I tried to use my computer, but that didn't work
Either.
B: why not?
A: It didn't connect to the internet.
After that I tried to use the vacuum cleaner.
B: let me guess. It didn't pick up the dirt.
A: worse! It spread dirt around the room.
B: Did you have your robot help?
A: Well I tried to get it to clean the outside windows .but
It refused.
B: I don't blame it! You live on the 50 the floor!
8 let's celebrate
Exercise 5
Answer will vary.
Exercise 1
Exercise 6
Two of the most important national holidays in the united
States are Independence Day Thanksgiving Day.
Independence Day, the fourth of July, marks the united
States' declaration of independence from Britain. Most
Towns , big and small, celebrate the fourth of July with
Parades and fireworks. Families celebrate with barbecues
Or picnics. Thanksgiving day is celebrated on the fourth
Thursday in November . it is a day when people give
Thanks for the harvest. Mist families have a large
dinner with roast turkey.
Newly married couples often leave on their honeymoon.
Before the wedding reception end .when they go on their
Honeymoon, most couples like to be alone. After they
come
Back from their honeymoon, many newlyweds have to
live
with relatives. They can only live in their own place
when
They have enough money to pay for it.
Exercise 2
Exercise 7
1I hate April 15th! In the united states, it's the day
When people pay taxes. I always own the government
money.
2I don't like September. It's the month when school
Starts . I always miss summer vacation.
3June is my least favorite month .it's the month when
Students in the united states take exams . I never
study enough.
4I have never liked winter it's a season when I feel
Sad and depressed .the cold weather always affects my mood.
2. The wedding ceremony is often held in a church.
3. The wedding reception is often in a restaurant
or hotel.
4. the couple's friends and family often give them a
gift or money.
5. After the wedding reception, the couple usually goes
on their honeymoon.
Exercise 3
w
i
n
t
e
p a r a
u
n
a n
c
h
c
a
k
c e me
s
c e r
w
h a
e
d
d e
i
j
n i v e
g
w
e
l
r
t e r y
f
l
e mo n y
w
r v e s t
r
u
s p r i
k
p
e
r s a r y
r
t r i c
y
d
a
n
c
i
n g
g
p
r
e
k s
e
n
t
s e a s o n s
Exercise 8
Answer will vary. Possible answer:
In my country, before a man and woman get married,
They usually get engaged. Sometimes the man gives his
fiancée an engagement ring. After they get engaged, the
couple plan their wedding.
Most couples get married in a church .the bride's family
And friends sit on one side of the church and the groom's
Family and friends sit on the other side.
After the wedding ceremony ends, everyone goes to the
reception. It's a time when people make speeches about
the
couple and give them gifts. Then the couple leave for
their
honeymoon.
Exercise 9
2. New Year's Eve is a night when many people have
parties.
3. Everyone exchanges present on Christmas.
4. After they leave the reception, many couples change
into everyday clothes.
5. The bride and groom usually leave the reception before
The guests do.
Exercise 10
Exercise 4
A
Answers will vary.
C
People give gift on:
Easter
Secretaries' Day
Earth Day
Mother's Day
Father's Day
Labor Day
Hanukkah
Christmas
the religious holidays are:
I celebrate:
Answers will vary.
Answer will vary. Possible answers:
2. What happens at midnight?
3. Do you serve any special food or drink?
4. Are we going to sing and dance?
5. What clothes should I wear?
6. Are they going to be fireworks?