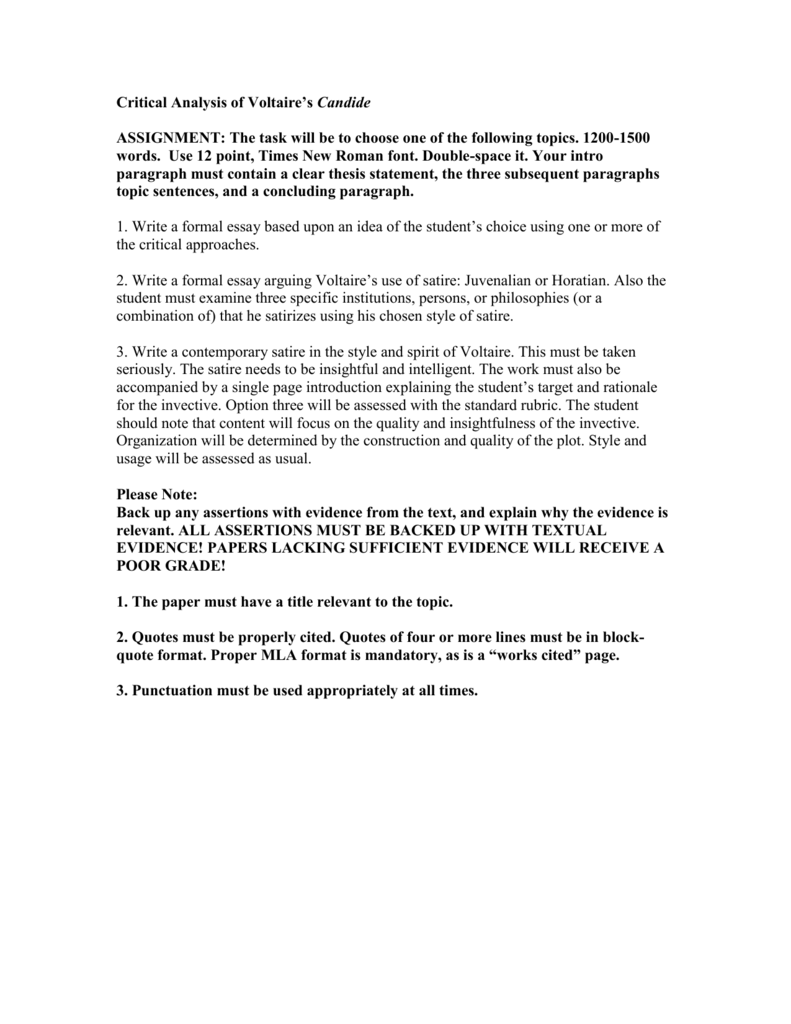 Critical Analysis of Voltaire's Candide
ASSIGNMENT: The task will be to choose one of the following topics. 1200-1500
words. Use 12 point, Times New Roman font. Double-space it. Your intro
paragraph must contain a clear thesis statement, the three subsequent paragraphs
topic sentences, and a concluding paragraph.
1. Write a formal essay based upon an idea of the student's choice using one or more of
the critical approaches.
2. Write a formal essay arguing Voltaire's use of satire: Juvenalian or Horatian. Also the
student must examine three specific institutions, persons, or philosophies (or a
combination of) that he satirizes using his chosen style of satire.
3. Write a contemporary satire in the style and spirit of Voltaire. This must be taken
seriously. The satire needs to be insightful and intelligent. The work must also be
accompanied by a single page introduction explaining the student's target and rationale
for the invective. Option three will be assessed with the standard rubric. The student
should note that content will focus on the quality and insightfulness of the invective.
Organization will be determined by the construction and quality of the plot. Style and
usage will be assessed as usual.
Please Note:
Back up any assertions with evidence from the text, and explain why the evidence is
relevant. ALL ASSERTIONS MUST BE BACKED UP WITH TEXTUAL
EVIDENCE! PAPERS LACKING SUFFICIENT EVIDENCE WILL RECEIVE A
POOR GRADE!
1. The paper must have a title relevant to the topic.
2. Quotes must be properly cited. Quotes of four or more lines must be in blockquote format. Proper MLA format is mandatory, as is a "works cited" page.
3. Punctuation must be used appropriately at all times.