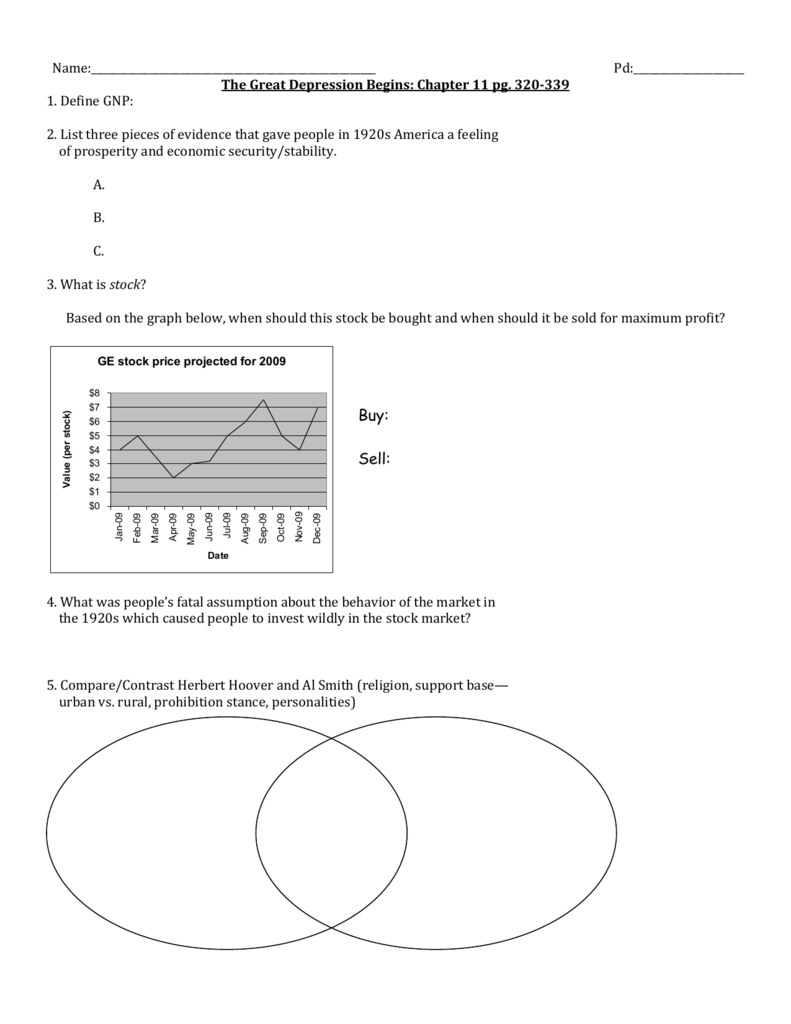 Name:______________________________________________________
The Great Depression Begins: Chapter 11 pg. 320-339
1. Define GNP:
Pd:_____________________
2. List three pieces of evidence that gave people in 1920s America a feeling
of prosperity and economic security/stability.
A.
B.
C.
3. What is stock?
Based on the graph below, when should this stock be bought and when should it be sold for maximum profit?
$8
$7
$6
$5
$4
$3
$2
$1
$0
Buy:
Nov-09
Dec-09
Oct-09
Sep-09
Aug-09
Jul-09
Jun-09
Apr-09
May-09
Mar-09
Feb-09
Sell:
Jan-09
Value (per stock)
GE stock price projected for 2009
Date
4. What was people's fatal assumption about the behavior of the market in
the 1920s which caused people to invest wildly in the stock market?
5. Compare/Contrast Herbert Hoover and Al Smith (religion, support base—
urban vs. rural, prohibition stance, personalities)
6. How was wealth distributed during the 1920s among Americans? By using the graph below, compare/contrast
that to the distribution of wealth among Americans today.
7. Explain what buying on margin means. How does it link to question 4?
8. How did the Federal Reserve try to influence stockbrokers' increasingly risky loans to investors?
9. What historical significance does October 29, 1929 have in America?
10. Describe the effects of the Stock Market Crash in the following areas:
The STOCK MARKET CRASH
Businesses
Individuals
Banks
Overseas
11. Why is bank failure not as much of a concern today as it was during the Great Depression (2 reasons)?
12. Why did people "run to the banks"? Did they get what they wanted when they got there?
13. Why did the price of agricultural goods continue to fall after the Stock Market Crash (2 reasons)?
14. What is a foreclosure?
15. What effect of the Great Depression does the picture below represent?
16. How does the cartoon below reflect how the government felt about helping those affected by the Great
Depression in the early 1930s?
17. Fill in the missing information:
Pull factors
Push factors
Okies!
18. Draw a picture showing the standoff at the capital between the Bonus
Marchers and the federal government. Give each side signs or speech
bubbles to explain the situation and include something to symbolize the
march's outcome.
19. True or False: President Hoover believed in laissez-faire capitalism.
20. What is the difference between the power of individual farmers and those in a cooperative, at least in theory
(address the issues of buying materials and marketing goods).
21. What was Hoover's "associative state" plan and why did it fail?
22. The Smoot-Hawley Tariff—
A. What it was intended to do:
B. What it did:
23. What kind of person should the Democrats elect as their candidate to run against Hoover in 1932 (give at least
3 attributes)?