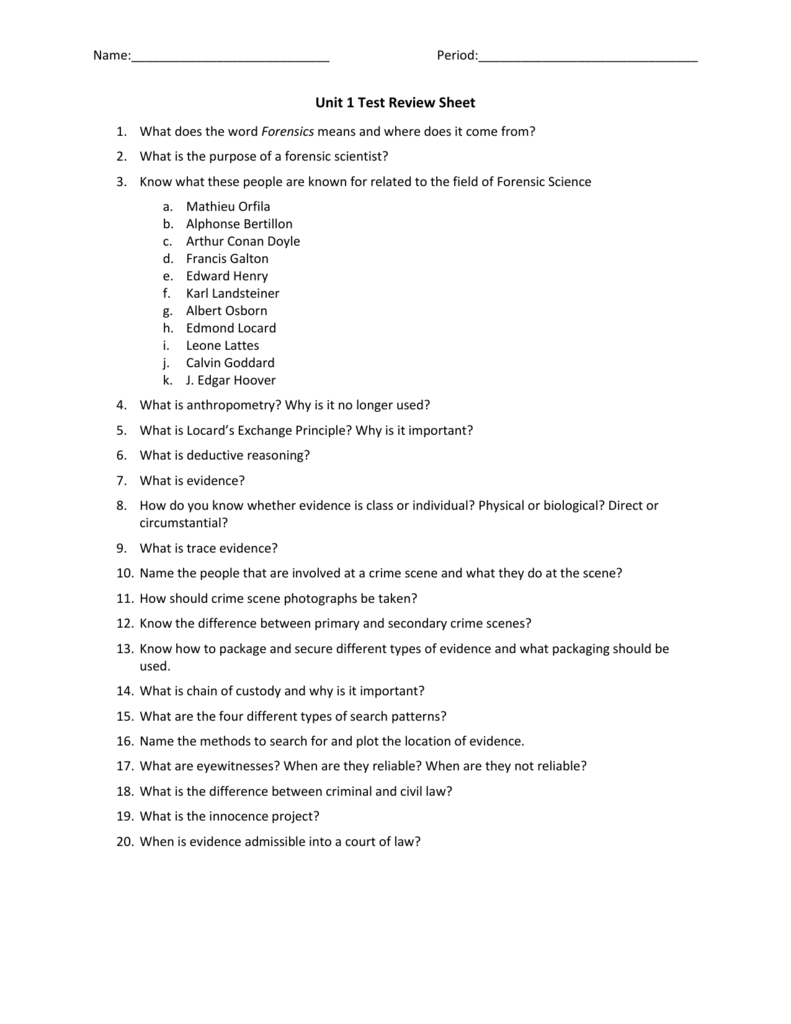 Name:____________________________
Period:_______________________________
Unit 1 Test Review Sheet
1. What does the word Forensics means and where does it come from?
2. What is the purpose of a forensic scientist?
3. Know what these people are known for related to the field of Forensic Science
a.
b.
c.
d.
e.
f.
g.
h.
i.
j.
k.
Mathieu Orfila
Alphonse Bertillon
Arthur Conan Doyle
Francis Galton
Edward Henry
Karl Landsteiner
Albert Osborn
Edmond Locard
Leone Lattes
Calvin Goddard
J. Edgar Hoover
4. What is anthropometry? Why is it no longer used?
5. What is Locard's Exchange Principle? Why is it important?
6. What is deductive reasoning?
7. What is evidence?
8. How do you know whether evidence is class or individual? Physical or biological? Direct or
circumstantial?
9. What is trace evidence?
10. Name the people that are involved at a crime scene and what they do at the scene?
11. How should crime scene photographs be taken?
12. Know the difference between primary and secondary crime scenes?
13. Know how to package and secure different types of evidence and what packaging should be
used.
14. What is chain of custody and why is it important?
15. What are the four different types of search patterns?
16. Name the methods to search for and plot the location of evidence.
17. What are eyewitnesses? When are they reliable? When are they not reliable?
18. What is the difference between criminal and civil law?
19. What is the innocence project?
20. When is evidence admissible into a court of law?