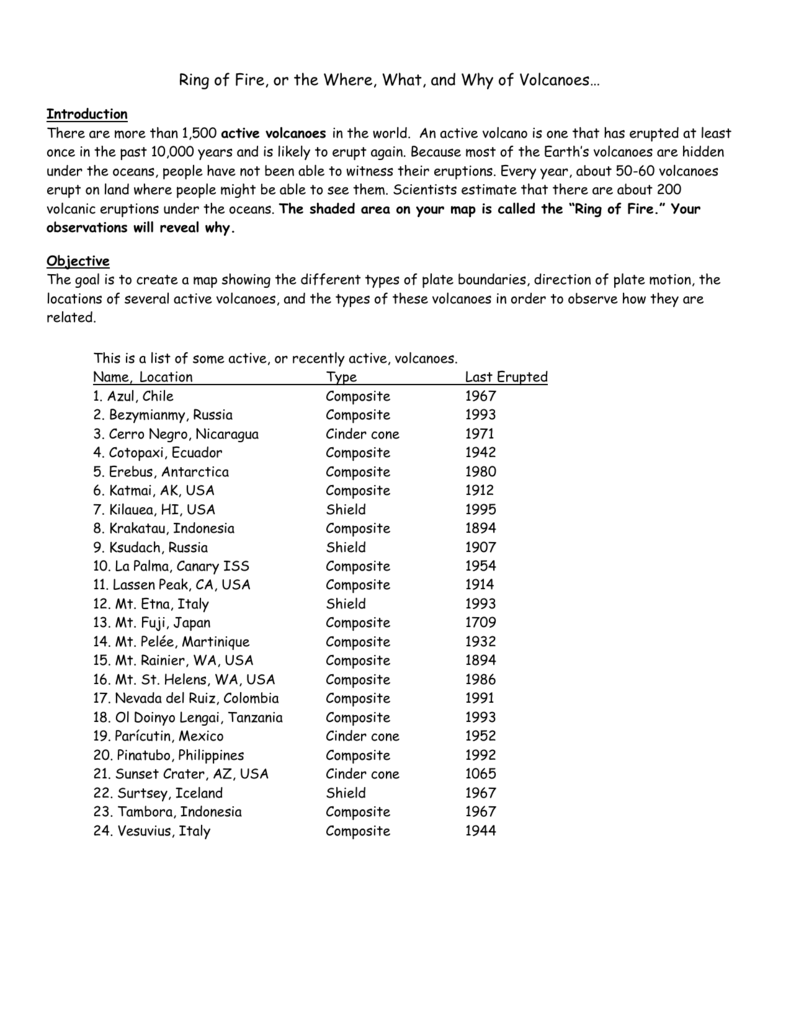 Ring of Fire, or the Where, What, and Why of Volcanoes…
Introduction
There are more than 1,500 active volcanoes in the world. An active volcano is one that has erupted at least
once in the past 10,000 years and is likely to erupt again. Because most of the Earth's volcanoes are hidden
under the oceans, people have not been able to witness their eruptions. Every year, about 50-60 volcanoes
erupt on land where people might be able to see them. Scientists estimate that there are about 200
volcanic eruptions under the oceans. The shaded area on your map is called the "Ring of Fire." Your
observations will reveal why.
Objective
The goal is to create a map showing the different types of plate boundaries, direction of plate motion, the
locations of several active volcanoes, and the types of these volcanoes in order to observe how they are
related.
This is a list of some active, or recently active, volcanoes.
Name, Location
Type
1. Azul, Chile
Composite
2. Bezymianmy, Russia
Composite
3. Cerro Negro, Nicaragua
Cinder cone
4. Cotopaxi, Ecuador
Composite
5. Erebus, Antarctica
Composite
6. Katmai, AK, USA
Composite
7. Kilauea, HI, USA
Shield
8. Krakatau, Indonesia
Composite
9. Ksudach, Russia
Shield
10. La Palma, Canary ISS
Composite
11. Lassen Peak, CA, USA
Composite
12. Mt. Etna, Italy
Shield
13. Mt. Fuji, Japan
Composite
14. Mt. Pelée, Martinique
Composite
15. Mt. Rainier, WA, USA
Composite
16. Mt. St. Helens, WA, USA
Composite
17. Nevada del Ruiz, Colombia
Composite
18. Ol Doinyo Lengai, Tanzania
Composite
19. Parícutin, Mexico
Cinder cone
20. Pinatubo, Philippines
Composite
21. Sunset Crater, AZ, USA
Cinder cone
22. Surtsey, Iceland
Shield
23. Tambora, Indonesia
Composite
24. Vesuvius, Italy
Composite
Last Erupted
1967
1993
1971
1942
1980
1912
1995
1894
1907
1954
1914
1993
1709
1932
1894
1986
1991
1993
1952
1992
1065
1967
1967
1944
Last Name ____________________
First Name ____________________
Date ___________ Period ________
Procedure: Using the provided map and the map found in your textbook (page 159):
1. Choose a different color to represent each type of plate boundary and label each boundary on your map
(convergent, divergent, transform).
2. Draw arrows at each boundary to indicate direction of plate motion.
3. Using a different color to represent each volcano type. Draw a circle around each volcano number.
4. Create a legend for your map
Observations and Analysis:
Answer the following questions. (Hint: diagram on page 160-161 may also be useful)
1. Are most of the volcanoes located in the Ring of Fire?
2. Are most of the volcanoes located near the boundaries or on the interior of the tectonic plates?
3. At which type of boundary (convergent, divergent, transform) are volcanoes more likely to be found?
4. Which process occurs at this type of boundary: subduction or divergence?
5. Please list the number of each type of volcano on your map.
________ # of Composite
_______ # of shield volcanoes
_______ # of cinder cones
6. What type of volcano is most common in the Ring of Fire?
7. Do you observe a relationship between volcano type (Composite, shield volcano, cinder cones) and type of plate
boundary? Please explain.
Conclusions
Write 3 sentences summing up what you have learned about how the different types of tectonic plates, plate
boundaries, and volcanoes are related.