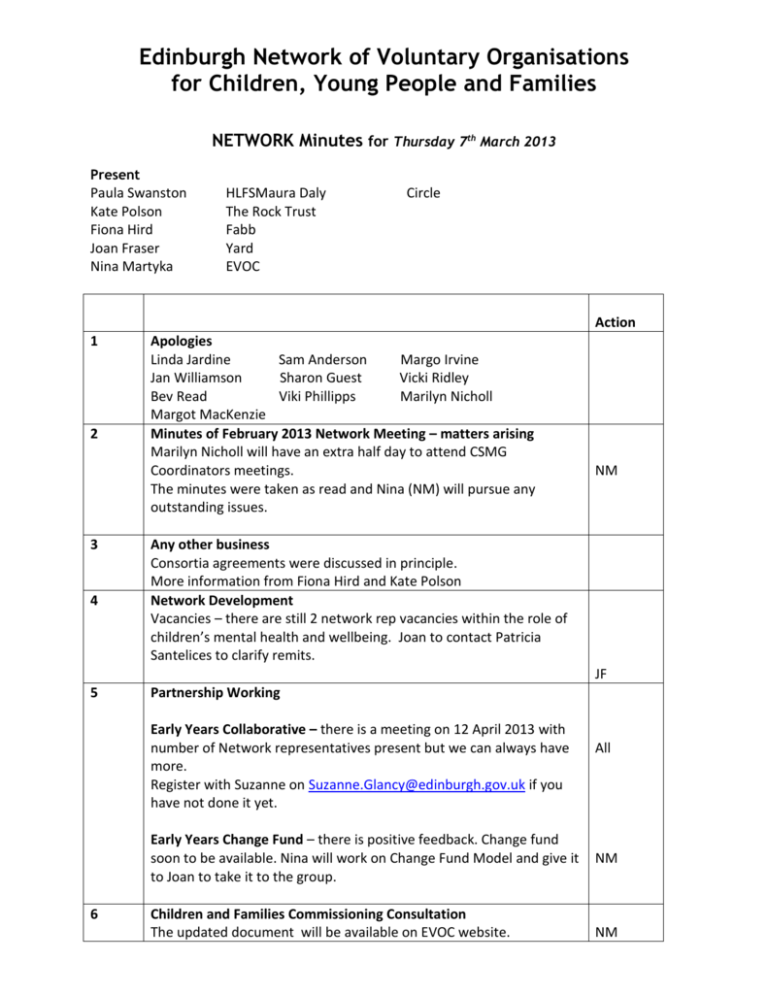 Edinburgh Network of Voluntary Organisations
for Children, Young People and Families
NETWORK Minutes for Thursday 7th March 2013
Present
Paula Swanston
Kate Polson
Fiona Hird
Joan Fraser
Nina Martyka
HLFSMaura Daly
The Rock Trust
Fabb
Yard
EVOC
Circle
Action
1
2
3
4
Apologies
Linda Jardine
Sam Anderson
Margo Irvine
Jan Williamson
Sharon Guest
Vicki Ridley
Bev Read
Viki Phillipps
Marilyn Nicholl
Margot MacKenzie
Minutes of February 2013 Network Meeting – matters arising
Marilyn Nicholl will have an extra half day to attend CSMG
Coordinators meetings.
The minutes were taken as read and Nina (NM) will pursue any
outstanding issues.
NM
Any other business
Consortia agreements were discussed in principle.
More information from Fiona Hird and Kate Polson
Network Development
Vacancies – there are still 2 network rep vacancies within the role of
children's mental health and wellbeing. Joan to contact Patricia
Santelices to clarify remits.
JF
5
Partnership Working
Early Years Collaborative – there is a meeting on 12 April 2013 with
number of Network representatives present but we can always have
more.
Register with Suzanne on Suzanne.Glancy@edinburgh.gov.uk if you
have not done it yet.
Early Years Change Fund – there is positive feedback. Change fund
soon to be available. Nina will work on Change Fund Model and give it
to Joan to take it to the group.
6
Children and Families Commissioning Consultation
The updated document will be available on EVOC website.
All
NM
NM
Edinburgh Network of Voluntary Organisations
for Children, Young People and Families
7
Voluntary Sector News
Sandy Corlett's CSMG South feedback is attached to these minutes.
Linda Jardine's feedback from the Pilot Inspection meeting is also
attached.
Maura Daly need to get in touch with organisations who support
children and families pre-birth to 1 year. Get in touch with Maura on
Maura.Daly@circlescotland.org
Welfare reform – up to date information
Kate Polson to send information she has.
8
9
Funding opportunities:
Weir foundation
Life Changes trust – young carers
Future Network Meetings
A number of points and ideas were raised:
We should have a review of Network remiy, direction and
representative support
Could we have a look at Marketing ourselves as a Network but also as
voluntary organisations. Nina to look at options.
Organise sessions for Creative Funding sessions. Nina to research.
Involving parents in consultations
Publicise what we do – rebranding and promotion
How do we change the fact that council does not really know what we
do?
KP
NM
NM
Future meetings
4th April 2013
2nd May 2013
6th June 2013
The meeting then closed
The next meeting of the Network will take place on Thursday 4 April 2013 2.00pm at EVOC.
Edinburgh Network of Voluntary Organisations
for Children, Young People and Families
Name of Group: CSMG - South
Date of Meeting: 26 February 2013
Network Representative: Sandy Corlett
Contact details for further info:sandy.corlett@children1st.org.uk
Feedback Report:
1. Meeting was attended by all representatives except High School Head
Teacher (not yet identified) and, for first time, Brian Jennings, new
Area Coordinator.
2. Meeting dominated by discussion about Area Coordinator's role. Brian
has been meeting individually with CSMG members and other key
professionals, & attended launch of Additional Support for Learning
Poster in South. Struck by attendees lack of knowledge of CSMG.Gave
information about changes to Children & Family services.
3. Agreement that Brian will:
 will draft an Action Plan for South CSMG with chair Jane
Ramage & Susan Wilson, Services for Communities.
 Meet Head Teachers to identify and agree a High School
representative for the CSMG
 seek statistics for South from Integrated Childrens Plan
February Performance Statistics to assist decisions about
priority objectives for South.
 Investigate provision of GIRFEC refresher training for local
multi-agency staff.
 Meet Team around the Cluster named professionals.
 Circulate Childrens Services Inspection Report – good/very
good results.
4. Noted that CSMG will now monitor needs of children with disabilities
in South. Meeting noted gap in support for parents of children with
ADHD.
5. Feedback about cohort of young offenders/at risk of offending
tracked by Youth TAC. Suggestion to target siblings who may follow in
their footsteps.
6. Information given about Early Years Collaborative.
Follow up Action:
Please indicate any consultations/feedback/input required from the Network.
Date of next meeting:
23 April 2013
Edinburgh Network of Voluntary Organisations
for Children, Young People and Families
ECC Feedback from Inspection
Faith Mission 1/3/13
Jackie Pepper – Inspection team
Pilot Inspection
Strengths
Motivated staff
Actions to keep safe
Culture of positive partnership at all levels
Good practice
Early effective intervention
Intensive re life chances
Leadership
Clear vision
Inclusive services
Areas for Improvement:
Not all vulnerable children were able to benefit – target efforts
 Some gap
 Staff morale good
 Successfully implementing GIRFEC but capacity to deliver is constrained. Health
frontline.
 Some gaps in meeting needs preventing escalation
 Gap in being alert to 6-27 months to ensure community resources accessible.
 Guidance needed re named person and guidance particularly when there is
problematic attendance and indicators of neglect, more can be done




Family Support high quality – not always flexible in meeting lower level needs.
Most vulnerable and not accessing services. Unmet need in the area of lower level
but possibly building concerns and not getting opportunities. At risk of missing out
services.
Immediate safety is prioritised, safe alternative etc – a strong feature. Looked at 114
cases and 27 were on CP. Confident in the inspection feedback in this area.
Assessment
Chronologies
- quality/standard
- more to be done
- not always supporting assessment & decision making
Risk Assessments - most good standard, third very good
Assessing need
- more variable
Edinburgh Network of Voluntary Organisations
for Children, Young People and Families








Planning to be a focus in the future.
How SMART are plans re intended outcome. Link between assessment and plans.
This is variable.
Health & Education should be more involved. Didn't see individual plans – more
family plans.
Reviewing LAC & CP – regular and improving.
Deregistered – supports drop off quickly sometimes too quickly
Step down from registration – how do you support for needs when CP planning
ceases to create long lasting improvements
High dependency on outwith placements more time could be spent working directly
with these children and families but seen respect for children and families from staff
Independent advisory support could be more widely available.
Inspection Feedback
 Getting young people involved from the start
 Culture of valuing contribution of staff
 Partnership , mutual respect staff and service users clear
 Voluntary sector an equal partner
 Joint self evaluation
 Stakeholders – Impact, making steady progress. But group in the middle "in need".
Closing outcome group –children with disability needs more attention Community –
Total Craigmillar….. Local solutions. Community involved resilience.
 Family centre is seen as a community asset.
 Families – range of approaches. Parents value relationships.
 GIRFEC – careful of excluded groups
 Children reporting feel safe & kept safe
 Early support – early signs of domestic violence and neglect. We could do more
there.
 Family Nurse Partnership from pre-birth to pre-school is highly effective.
 Quality of early years is high
 Some waiting too long for support – attendance is problematic and indication of
neglect – step back into services
 School attendance
 Health needs of LAC not consistent
 POA – fantastic improvement – area of significant improvement.
 Children risks to other children.
Edinburgh Network of Voluntary Organisations
for Children, Young People and Families

Four suggestions
- Improve and extend support at early stage before difficulties escalate
- Improve planning to meet needs –to give long lasting improvements
- Quality Assurance
- Speedier improvement for most vulnerable groups children with disabilities and
through care………
Gillian Tee
 2007 results –what was unsatisfactory- now a strength. Goods overall for most
children.
 Want to get to great services for all
 Not taking foot off the gas
 Use the momentum.
 How do we get to great services for all children?
 Very good at assessment.
 Michelle Millar – all of Edinburgh services need to help with the gap.
 Partnership – Away day action plan for improvement. Coordinated from children's
partnership but wider than that.
 Alignment of plans – one plan
 SMART plans with outcomes
 Family nurse partnership – we do the right things really well.
 Services around the names person.
 Need the lead professional working better, taking ownership – help us coordinate
– impact.
 We can take on the lead professional
 Work on children coming off the register – EYC – a test – improve outcomes for
specific group.