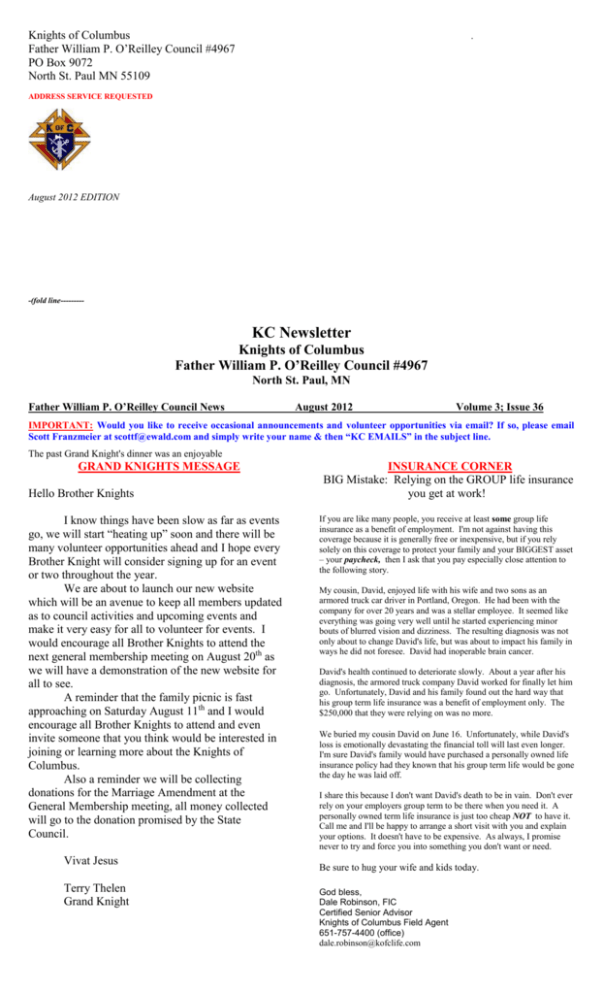 Knights of Columbus
Father William P. O'Reilley Council #4967
PO Box 9072
North St. Paul MN 55109
.
ADDRESS SERVICE REQUESTED
August 2012 EDITION
-(fold line---------
KC Newsletter
Knights of Columbus
Father William P. O'Reilley Council #4967
North St. Paul, MN
Father William P. O'Reilley Council News
August 2012
Volume 3; Issue 36
IMPORTANT: Would you like to receive occasional announcements and volunteer opportunities via email? If so, please email
Scott Franzmeier at [email protected] and simply write your name & then "KC EMAILS" in the subject line.
The past Grand Knight's dinner was an enjoyable
GRAND KNIGHTS MESSAGE
Hello Brother Knights
I know things have been slow as far as events
go, we will start "heating up" soon and there will be
many volunteer opportunities ahead and I hope every
Brother Knight will consider signing up for an event
or two throughout the year.
We are about to launch our new website
which will be an avenue to keep all members updated
as to council activities and upcoming events and
make it very easy for all to volunteer for events. I
would encourage all Brother Knights to attend the
next general membership meeting on August 20th as
we will have a demonstration of the new website for
all to see.
A reminder that the family picnic is fast
approaching on Saturday August 11th and I would
encourage all Brother Knights to attend and even
invite someone that you think would be interested in
joining or learning more about the Knights of
Columbus.
Also a reminder we will be collecting
donations for the Marriage Amendment at the
General Membership meeting, all money collected
will go to the donation promised by the State
Council.
Vivat Jesus
Terry Thelen
Grand Knight
INSURANCE CORNER
BIG Mistake: Relying on the GROUP life insurance
you get at work!
If you are like many people, you receive at least some group life
insurance as a benefit of employment. I'm not against having this
coverage because it is generally free or inexpensive, but if you rely
solely on this coverage to protect your family and your BIGGEST asset
– your paycheck, then I ask that you pay especially close attention to
the following story.
My cousin, David, enjoyed life with his wife and two sons as an
armored truck car driver in Portland, Oregon. He had been with the
company for over 20 years and was a stellar employee. It seemed like
everything was going very well until he started experiencing minor
bouts of blurred vision and dizziness. The resulting diagnosis was not
only about to change David's life, but was about to impact his family in
ways he did not foresee. David had inoperable brain cancer.
David's health continued to deteriorate slowly. About a year after his
diagnosis, the armored truck company David worked for finally let him
go. Unfortunately, David and his family found out the hard way that
his group term life insurance was a benefit of employment only. The
$250,000 that they were relying on was no more.
We buried my cousin David on June 16. Unfortunately, while David's
loss is emotionally devastating the financial toll will last even longer.
I'm sure David's family would have purchased a personally owned life
insurance policy had they known that his group term life would be gone
the day he was laid off.
I share this because I don't want David's death to be in vain. Don't ever
rely on your employers group term to be there when you need it. A
personally owned term life insurance is just too cheap NOT to have it.
Call me and I'll be happy to arrange a short visit with you and explain
your options. It doesn't have to be expensive. As always, I promise
never to try and force you into something you don't want or need.
Be sure to hug your wife and kids today.
God bless,
Dale Robinson, FIC
Certified Senior Advisor
Knights of Columbus Field Agent
651-757-4400 (office)
[email protected]
MEMBERSHIP
Please Pray That Gods will be done
Remember the picnic is a great place to socialize
with our fellow members and their families. If you
know someone that might be interested in joining
invite them to join in the fun and get to know who
we are.
Thank You Volunteers
The Knights of Columbus only works because of the many
hours that we donate to raise money and provide quality
community events.
HAVE A GREAT SUMMER.
MEMBERSHIP DUES
NEWSLETTER UPDATE
We continue to collect and update the email address list.
We now have over 3/4 of the council on our list. We will
continue to try to improve the reliability and readability of
the newsletter. If you have suggestions for improvement or
if we are not delivering your newsletter electronically we
may have an incorrect address so send an email to John
Lawless @ [email protected]
The newsletter will be mailed to people that we cannot
deliver to electronically only.
PICNIC NEW LOCATION THIS YEAR
We still have a few members that have not paid their dues yet We
really don't want to waste time and money sending multiple bills.
We don't want to suspend or even threaten to suspend our
brothers if you are having financial trouble and are unable to pay
the dues and you still want to be a Knight Contact financial
secretary or the Grand Knight and we will take care of it.
The council Family picnic will be held at Hause Park
in North Saint Paul If you need directions call me or
email me at [email protected]
COUNCIL 4967 OFFICERS & DIRECTORS
CHAPLAIN
GRAND KNIGHT
DPY GRD KNIGHT
CHANCELLOR
RECORDER
ADVOCATE
INSIDE GUARD
OUTSIDE GUARD
FR. STAN MASLOWSKI
TERRY THELEN
ERICH HASTREITER
JEFF SCHMIDT
JOE MORRISETTE
JIM HURT
MARK MAURER
789-3163
714-9135
748-0647
770-5203
777-5829
777-2617
777-5042
Ray Stolz
TRUSTEE YR 3
TRUSTEE YR 2
TRUSTEE YR 1
WARDEN
FINANCIAL SEC
TREASURER
INSURANCE AGENT
DISTRICT DEPUTY
DENNIS REBER
MARK SLAIKEU
FRANK SCHULTZ
BEN RAUEN
John LAWLESS
MIKE STAHLMANN
DALE ROBINSON
DENNIS BECHEL
777-2383
777-5187
770-0749
777-9176
779-0917
770-9148
757-4400
429-6665
PAST EVENTS
June 18
Installation of officers
Denny Reber
MARK YOUR CALENDARS FOR THESE UPCOMING EVENTS:
DATE
August 11
`
EVENT
FAMILY PICNIC
CHAIR
John Lawless
All events are held at St. Peter's Catholic Church or School unless noted otherwise.
To volunteer for an event, call Program Director Al Worm at 651-777-0910 or via email at
[email protected]
Remember that all council members are encouraged to attend the council meetings and stay for
refreshments and fellowship after the meeting!
UPCOMING FULL MEMBERSHIP MEETINGS:
Monday, August.
20, 2012
Monday, September 17, 2012
Monday, October 15,2012
in Fellowship Hall; Rosary at 6:45 pm Meeting at 7:00 pm
in Fellowship Hall; Rosary at 6:45 pm Meeting at 7:00 pm
in Fellowship Hall; Rosary at 6:45 pm Meeting at 7:00 pm
UPCOMING OFFICERS & DIRECTORS MEETINGS:
Monday, August
7, 2012 in Conference Room C, Meeting at 7:00 pm
Monday, September 10, 2012 in Conference Room C; Meeting at 7:00 pm
Monday, October
1, 2012 in Conference Room C; Meeting at 7:00 pm
Knights of Columbus #4967
Council Family Picnic
Saturday, August 11, 2012
11:00 am - 3:00 pm
Hause Park, North St. Paul
All food& activities are provided compliments of KC Council #4967
KC Council #4967 members and their families are welcomed and
encouraged to attend!!
Food will be served at noon.
Beverages provided throughout the picnic.
Join fellow KC members and their families for:
Picnic Food & Drink
Kids Games
Cribbage Tournament
Great Fellowship and Fun!!