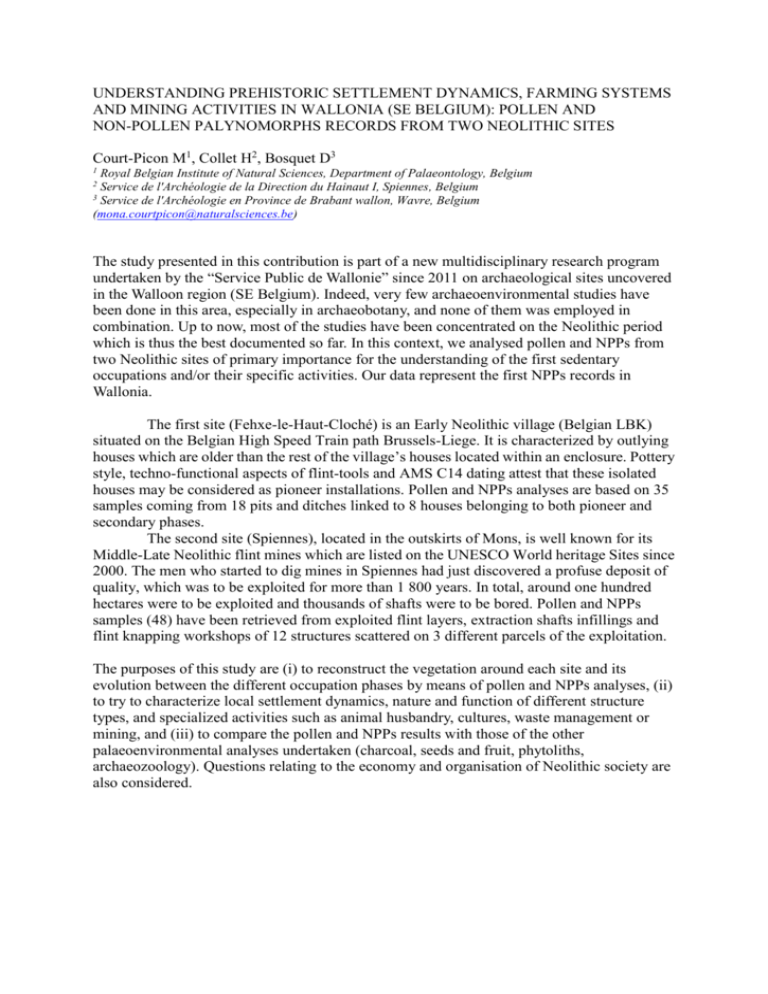 UNDERSTANDING PREHISTORIC SETTLEMENT DYNAMICS, FARMING SYSTEMS
AND MINING ACTIVITIES IN WALLONIA (SE BELGIUM): POLLEN AND
NON-POLLEN PALYNOMORPHS RECORDS FROM TWO NEOLITHIC SITES
Court-Picon M1, Collet H2, Bosquet D3
1
Royal Belgian Institute of Natural Sciences, Department of Palaeontology, Belgium
Service de l'Archéologie de la Direction du Hainaut I, Spiennes, Belgium
3
Service de l'Archéologie en Province de Brabant wallon, Wavre, Belgium
(mona.courtpicon@naturalsciences.be)
2
The study presented in this contribution is part of a new multidisciplinary research program
undertaken by the "Service Public de Wallonie" since 2011 on archaeological sites uncovered
in the Walloon region (SE Belgium). Indeed, very few archaeoenvironmental studies have
been done in this area, especially in archaeobotany, and none of them was employed in
combination. Up to now, most of the studies have been concentrated on the Neolithic period
which is thus the best documented so far. In this context, we analysed pollen and NPPs from
two Neolithic sites of primary importance for the understanding of the first sedentary
occupations and/or their specific activities. Our data represent the first NPPs records in
Wallonia.
The first site (Fehxe-le-Haut-Cloché) is an Early Neolithic village (Belgian LBK)
situated on the Belgian High Speed Train path Brussels-Liege. It is characterized by outlying
houses which are older than the rest of the village's houses located within an enclosure. Pottery
style, techno-functional aspects of flint-tools and AMS C14 dating attest that these isolated
houses may be considered as pioneer installations. Pollen and NPPs analyses are based on 35
samples coming from 18 pits and ditches linked to 8 houses belonging to both pioneer and
secondary phases.
The second site (Spiennes), located in the outskirts of Mons, is well known for its
Middle-Late Neolithic flint mines which are listed on the UNESCO World heritage Sites since
2000. The men who started to dig mines in Spiennes had just discovered a profuse deposit of
quality, which was to be exploited for more than 1 800 years. In total, around one hundred
hectares were to be exploited and thousands of shafts were to be bored. Pollen and NPPs
samples (48) have been retrieved from exploited flint layers, extraction shafts infillings and
flint knapping workshops of 12 structures scattered on 3 different parcels of the exploitation.
The purposes of this study are (i) to reconstruct the vegetation around each site and its
evolution between the different occupation phases by means of pollen and NPPs analyses, (ii)
to try to characterize local settlement dynamics, nature and function of different structure
types, and specialized activities such as animal husbandry, cultures, waste management or
mining, and (iii) to compare the pollen and NPPs results with those of the other
palaeoenvironmental analyses undertaken (charcoal, seeds and fruit, phytoliths,
archaeozoology). Questions relating to the economy and organisation of Neolithic society are
also considered.