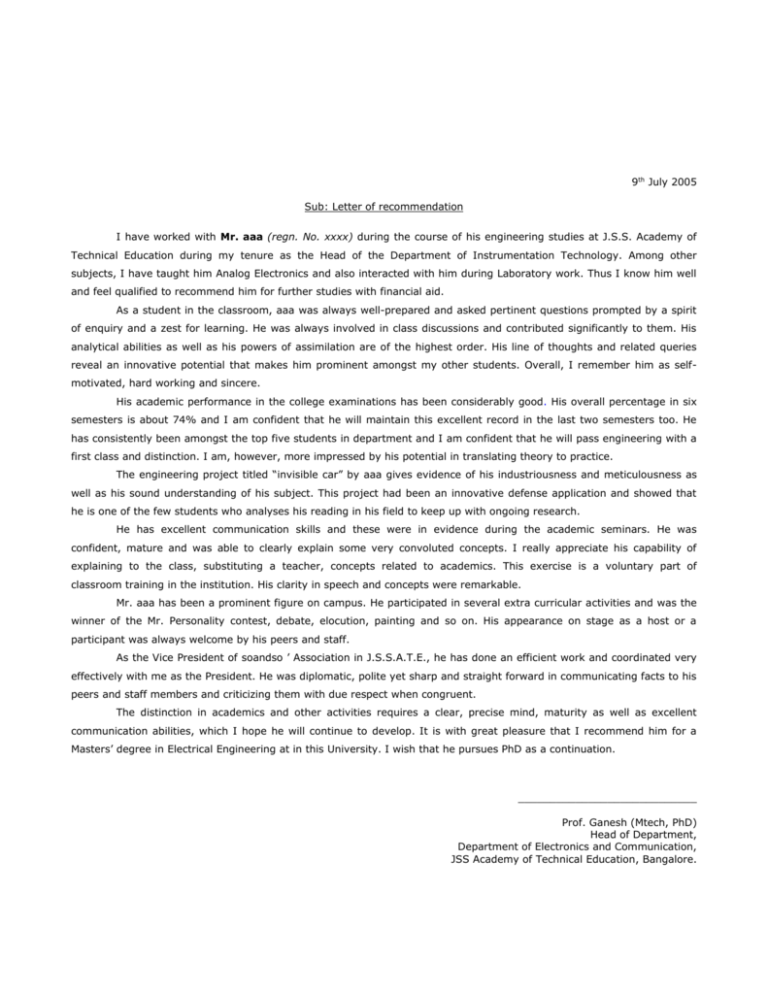 9th July 2005
Sub: Letter of recommendation
I have worked with Mr. aaa (regn. No. xxxx) during the course of his engineering studies at J.S.S. Academy of
Technical Education during my tenure as the Head of the Department of Instrumentation Technology. Among other
subjects, I have taught him Analog Electronics and also interacted with him during Laboratory work. Thus I know him well
and feel qualified to recommend him for further studies with financial aid.
As a student in the classroom, aaa was always well-prepared and asked pertinent questions prompted by a spirit
of enquiry and a zest for learning. He was always involved in class discussions and contributed significantly to them. His
analytical abilities as well as his powers of assimilation are of the highest order. His line of thoughts and related queries
reveal an innovative potential that makes him prominent amongst my other students. Overall, I remember him as selfmotivated, hard working and sincere.
His academic performance in the college examinations has been considerably good. His overall percentage in six
semesters is about 74% and I am confident that he will maintain this excellent record in the last two semesters too. He
has consistently been amongst the top five students in department and I am confident that he will pass engineering with a
first class and distinction. I am, however, more impressed by his potential in translating theory to practice.
The engineering project titled "invisible car" by aaa gives evidence of his industriousness and meticulousness as
well as his sound understanding of his subject. This project had been an innovative defense application and showed that
he is one of the few students who analyses his reading in his field to keep up with ongoing research.
He has excellent communication skills and these were in evidence during the academic seminars. He was
confident, mature and was able to clearly explain some very convoluted concepts. I really appreciate his capability of
explaining to the class, substituting a teacher, concepts related to academics. This exercise is a voluntary part of
classroom training in the institution. His clarity in speech and concepts were remarkable.
Mr. aaa has been a prominent figure on campus. He participated in several extra curricular activities and was the
winner of the Mr. Personality contest, debate, elocution, painting and so on. His appearance on stage as a host or a
participant was always welcome by his peers and staff.
As the Vice President of soandso ' Association in J.S.S.A.T.E., he has done an efficient work and coordinated very
effectively with me as the President. He was diplomatic, polite yet sharp and straight forward in communicating facts to his
peers and staff members and criticizing them with due respect when congruent.
The distinction in academics and other activities requires a clear, precise mind, maturity as well as excellent
communication abilities, which I hope he will continue to develop. It is with great pleasure that I recommend him for a
Masters' degree in Electrical Engineering at in this University. I wish that he pursues PhD as a continuation.
____________________________
Prof. Ganesh (Mtech, PhD)
Head of Department,
Department of Electronics and Communication,
JSS Academy of Technical Education, Bangalore.