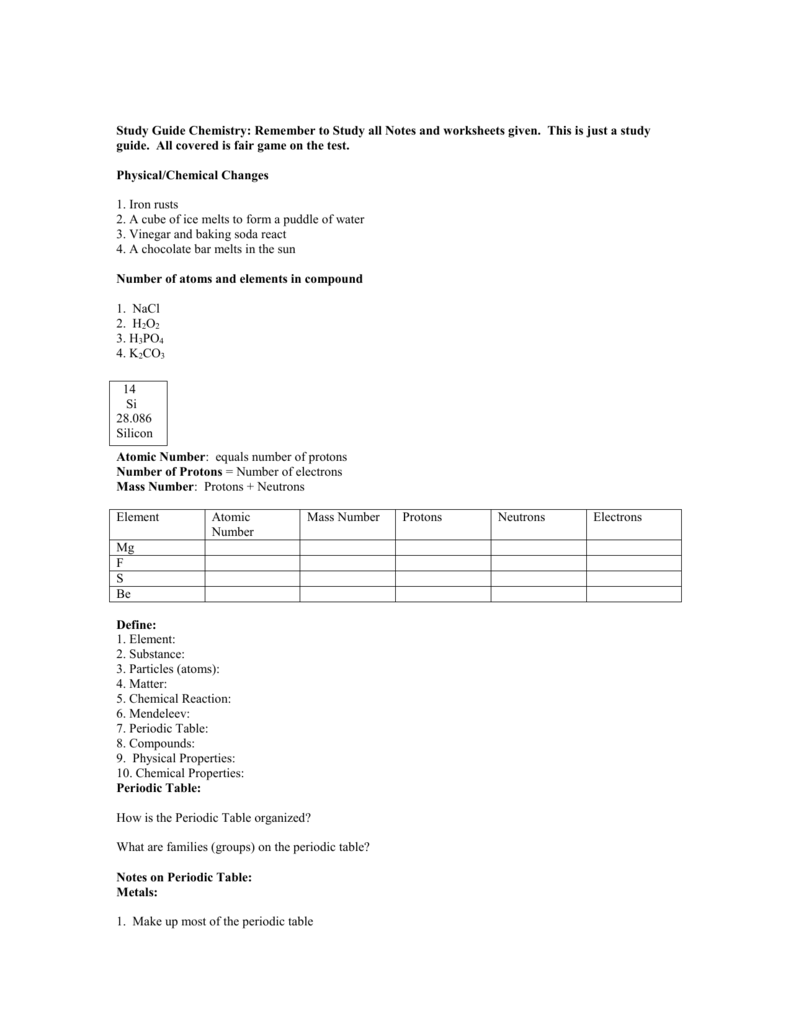 Study Guide Chemistry: Remember to Study all Notes and worksheets given. This is just a study
guide. All covered is fair game on the test.
Physical/Chemical Changes
1. Iron rusts
2. A cube of ice melts to form a puddle of water
3. Vinegar and baking soda react
4. A chocolate bar melts in the sun
Number of atoms and elements in compound
1. NaCl
2. H2O2
3. H3PO4
4. K2CO3
14
Si
28.086
Silicon
Atomic Number: equals number of protons
Number of Protons = Number of electrons
Mass Number: Protons + Neutrons
Element
Atomic
Number
Mass Number
Mg
F
S
Be
Define:
1. Element:
2. Substance:
3. Particles (atoms):
4. Matter:
5. Chemical Reaction:
6. Mendeleev:
7. Periodic Table:
8. Compounds:
9. Physical Properties:
10. Chemical Properties:
Periodic Table:
How is the Periodic Table organized?
What are families (groups) on the periodic table?
Notes on Periodic Table:
Metals:
1. Make up most of the periodic table
Protons
Neutrons
Electrons
2. Metals are found on the left side of the staircase line that runs through the table.
3. Metals have common physical properties: good conductors, malleable, ductile, shiny, opaque (can't see
through them), solid at room temp.
4. Metals have common chemical properties: reactivity (metals corrode when exposed to water and air)
example: rust
Malleable: can be hammered into thin sheets
Ductile: can be stretched into wire
Conductor: easily transfers heat and electricity
Reactivity: describes how likely an element is to form bonds with other elements
Nonmetals:
1.
2.
3.
4.
2nd largest group of elements on the periodic table.
Nonmetals are found to the right of the staircase
There are 18 naturally occurring nonmetals
Physical Properties: Poor Conductors, brittle, transparent (see through them), dull
(gases and solids)
Metalloids:
1. The elements that are on the staircase/jagged line
2. Elements that have some properties of both metals and nonmetals
Properties of elemental Families:
Group 1 (alkali family): Most reactive, soft metals, can be cut with a knife, good conductors. Reactive with
water.
Group 2 (alkaline earth): very reactive metals. Harder than alkali family. Conductors, ductile, malleable,
have a silvery luster.
Group 17 (halogens): most reactive nonmetal.
Group 18 (noble gases): least reactive of all elements. Gases at room temp. Inert gas family (rare for
them to react or bond with any other elements). Very safe to use.
Conservation of Mass:
4Fe + 3O2  2Fe2O3
20g 32 g
?
What group is the reactants? Products?
How much Fe2O3 will be produce?
What's does the phrase mean "conservation of mass"?
Particles:
How are particles organized in each phase of matter?
How do particles move when energy is added? When energy is taken away? When compressed? When
expanded?