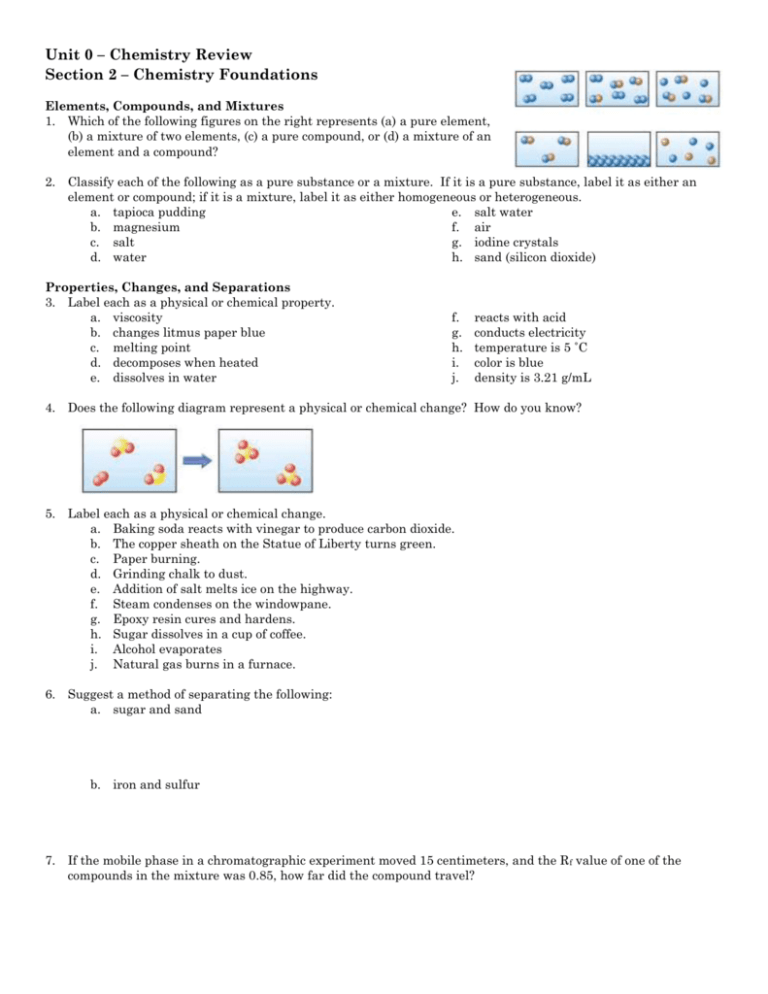 Unit 0 – Chemistry Review
Section 2 – Chemistry Foundations
Elements, Compounds, and Mixtures
1. Which of the following figures on the right represents (a) a pure element,
(b) a mixture of two elements, (c) a pure compound, or (d) a mixture of an
element and a compound?
2. Classify each of the following as a pure substance or a mixture. If it is a pure substance, label it as either an
element or compound; if it is a mixture, label it as either homogeneous or heterogeneous.
a. tapioca pudding
e. salt water
b. magnesium
f. air
c. salt
g. iodine crystals
d. water
h. sand (silicon dioxide)
Properties, Changes, and Separations
3. Label each as a physical or chemical property.
a. viscosity
b. changes litmus paper blue
c. melting point
d. decomposes when heated
e. dissolves in water
f.
g.
h.
i.
j.
reacts with acid
conducts electricity
temperature is 5 ˚C
color is blue
density is 3.21 g/mL
4. Does the following diagram represent a physical or chemical change? How do you know?
5. Label each as a physical or chemical change.
a. Baking soda reacts with vinegar to produce carbon dioxide.
b. The copper sheath on the Statue of Liberty turns green.
c. Paper burning.
d. Grinding chalk to dust.
e. Addition of salt melts ice on the highway.
f. Steam condenses on the windowpane.
g. Epoxy resin cures and hardens.
h. Sugar dissolves in a cup of coffee.
i. Alcohol evaporates
j. Natural gas burns in a furnace.
6. Suggest a method of separating the following:
a. sugar and sand
b. iron and sulfur
7. If the mobile phase in a chromatographic experiment moved 15 centimeters, and the R f value of one of the
compounds in the mixture was 0.85, how far did the compound travel?
Atoms
8. Fill in the table below with the correct information:
proton
neutron
electron
symbol
charge
location
mass
9. If the proton were 10 cm in diameter, the size of an orange, how big would everything be?
object
proton
neutron
electron
atom
actual size
10-15 m
10-15 m
10-18 m
10-10 m
model size
10 cm
model
orange
10. The mass of the atom is due to the _________________.
11. The size of the atom is due to the __________________.
Isotopes and Ions
12. Does the following represent a neutral atom or an ion? Write the complete chemical symbol including mass
number, atomic number, and charge (if any).
13. How are isotopes and ions alike?
14. How are isotopes and ions different?
15. Fill in the following chart below:
Symbol
16.
15
7
14
6
C
12
6
C
15
7
N
15
7
N 2-
15
7
N 3-
235
92
U
238
92
U
N 2- and
Protons
15
7
Neutrons
Electrons
Name
N 3- are ___________________of the same element. They have the same number of
_____________________ and ____________________, but different numbers of _______________________.
17.
18
8
O and
16
8
O are _______________________ of the same element. They have the same number of
_________________________ and _____________________, but different numbers of __________________________.