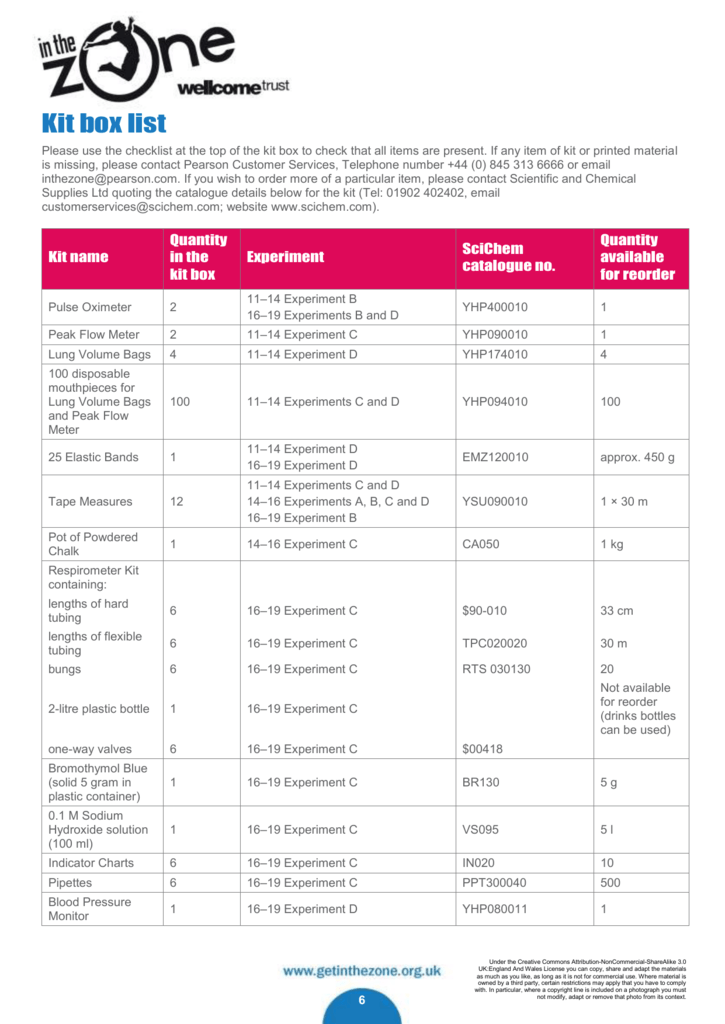 Kit box list
Please use the checklist at the top of the kit box to check that all items are present. If any item of kit or printed material
is missing, please contact Pearson Customer Services, Telephone number +44 (0) 845 313 6666 or email
[email protected] If you wish to order more of a particular item, please contact Scientific and Chemical
Supplies Ltd quoting the catalogue details below for the kit (Tel: 01902 402402, email
[email protected]; website www.scichem.com).
Kit name
Quantity
in the
kit box
Experiment
SciChem
catalogue no.
Quantity
available
for reorder
Pulse Oximeter
2
11–14 Experiment B
16–19 Experiments B and D
YHP400010
1
Peak Flow Meter
2
11–14 Experiment C
YHP090010
1
Lung Volume Bags
4
11–14 Experiment D
YHP174010
4
100 disposable
mouthpieces for
Lung Volume Bags
and Peak Flow
Meter
100
11–14 Experiments C and D
YHP094010
100
25 Elastic Bands
1
11–14 Experiment D
16–19 Experiment D
EMZ120010
approx. 450 g
Tape Measures
12
11–14 Experiments C and D
14–16 Experiments A, B, C and D
16–19 Experiment B
YSU090010
1 × 30 m
Pot of Powdered
Chalk
1
14–16 Experiment C
CA050
1 kg
lengths of hard
tubing
6
16–19 Experiment C
$90-010
33 cm
lengths of flexible
tubing
6
16–19 Experiment C
TPC020020
30 m
bungs
6
16–19 Experiment C
RTS 030130
20
Respirometer Kit
containing:
Not available
for reorder
(drinks bottles
can be used)
2-litre plastic bottle
1
16–19 Experiment C
one-way valves
6
16–19 Experiment C
$00418
Bromothymol Blue
(solid 5 gram in
plastic container)
1
16–19 Experiment C
BR130
5g
0.1 M Sodium
Hydroxide solution
(100 ml)
1
16–19 Experiment C
VS095
5l
Indicator Charts
6
16–19 Experiment C
IN020
10
Pipettes
6
16–19 Experiment C
PPT300040
500
Blood Pressure
Monitor
1
16–19 Experiment D
YHP080011
1
6
Under the Creative Commons Attribution-NonCommercial-ShareAlike 3.0
UK:England And Wales License you can copy, share and adapt the materials
as much as you like, as long as it is not for commercial use. Where material is
owned by a third party, certain restrictions may apply that you have to comply
with. In particular, where a copyright line is included on a photograph you must
not modify, adapt or remove that photo from its context.