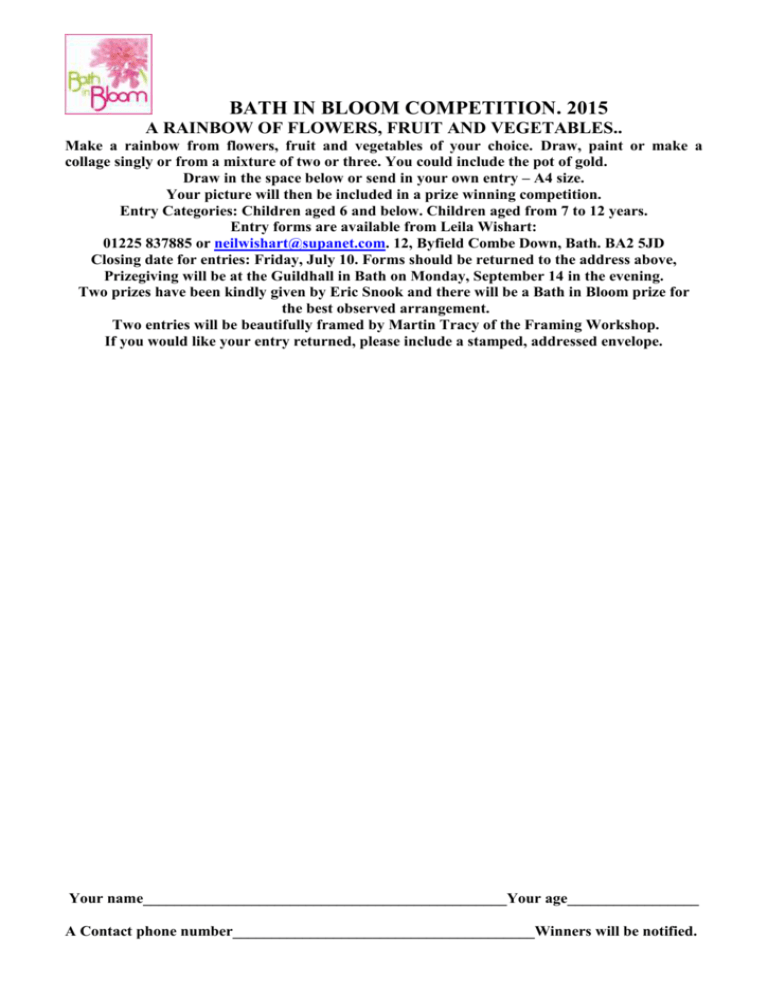 BATH IN BLOOM COMPETITION. 2015
A RAINBOW OF FLOWERS, FRUIT AND VEGETABLES..
Make a rainbow from flowers, fruit and vegetables of your choice. Draw, paint or make a
collage singly or from a mixture of two or three. You could include the pot of gold.
Draw in the space below or send in your own entry – A4 size.
Your picture will then be included in a prize winning competition.
Entry Categories: Children aged 6 and below. Children aged from 7 to 12 years.
Entry forms are available from Leila Wishart:
01225 837885 or neilwishart@supanet.com. 12, Byfield Combe Down, Bath. BA2 5JD
Closing date for entries: Friday, July 10. Forms should be returned to the address above,
Prizegiving will be at the Guildhall in Bath on Monday, September 14 in the evening.
Two prizes have been kindly given by Eric Snook and there will be a Bath in Bloom prize for
the best observed arrangement.
Two entries will be beautifully framed by Martin Tracy of the Framing Workshop.
If you would like your entry returned, please include a stamped, addressed envelope.
Your name_______________________________________________Your age_________________
A Contact phone number_______________________________________Winners will be notified.