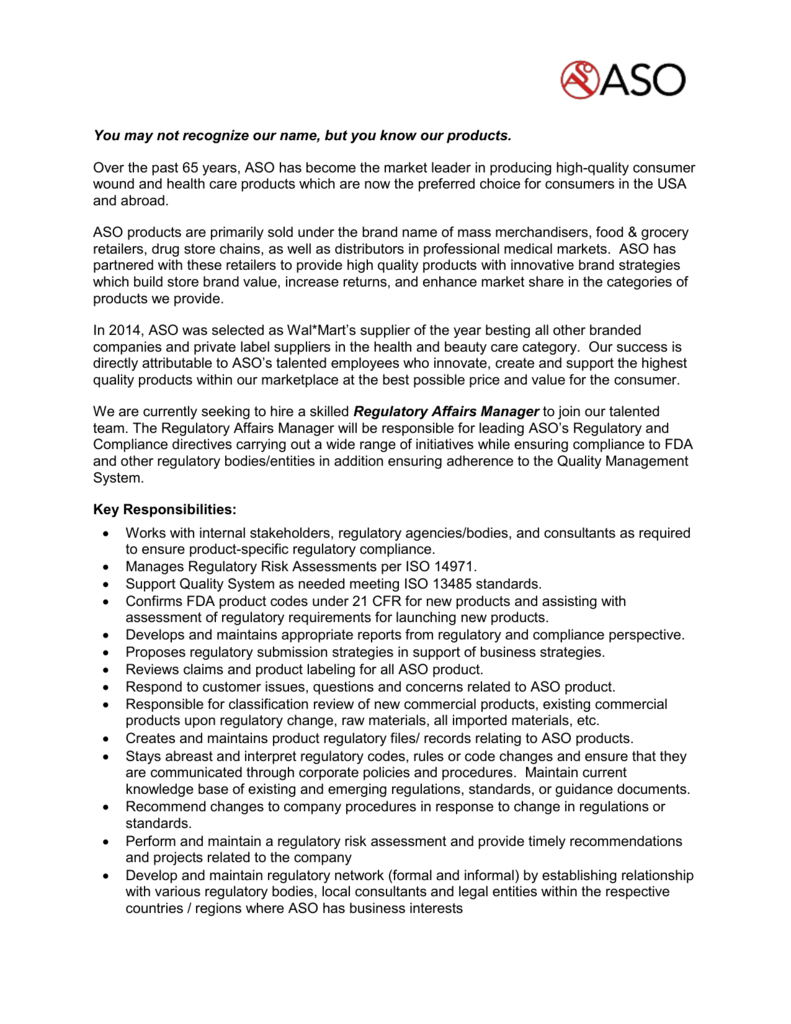 You may not recognize our name, but you know our products.
Over the past 65 years, ASO has become the market leader in producing high-quality consumer
wound and health care products which are now the preferred choice for consumers in the USA
and abroad.
ASO products are primarily sold under the brand name of mass merchandisers, food & grocery
retailers, drug store chains, as well as distributors in professional medical markets. ASO has
partnered with these retailers to provide high quality products with innovative brand strategies
which build store brand value, increase returns, and enhance market share in the categories of
products we provide.
In 2014, ASO was selected as Wal*Mart's supplier of the year besting all other branded
companies and private label suppliers in the health and beauty care category. Our success is
directly attributable to ASO's talented employees who innovate, create and support the highest
quality products within our marketplace at the best possible price and value for the consumer.
We are currently seeking to hire a skilled Regulatory Affairs Manager to join our talented
team. The Regulatory Affairs Manager will be responsible for leading ASO's Regulatory and
Compliance directives carrying out a wide range of initiatives while ensuring compliance to FDA
and other regulatory bodies/entities in addition ensuring adherence to the Quality Management
System.
Key Responsibilities:














Works with internal stakeholders, regulatory agencies/bodies, and consultants as required
to ensure product-specific regulatory compliance.
Manages Regulatory Risk Assessments per ISO 14971.
Support Quality System as needed meeting ISO 13485 standards.
Confirms FDA product codes under 21 CFR for new products and assisting with
assessment of regulatory requirements for launching new products.
Develops and maintains appropriate reports from regulatory and compliance perspective.
Proposes regulatory submission strategies in support of business strategies.
Reviews claims and product labeling for all ASO product.
Respond to customer issues, questions and concerns related to ASO product.
Responsible for classification review of new commercial products, existing commercial
products upon regulatory change, raw materials, all imported materials, etc.
Creates and maintains product regulatory files/ records relating to ASO products.
Stays abreast and interpret regulatory codes, rules or code changes and ensure that they
are communicated through corporate policies and procedures. Maintain current
knowledge base of existing and emerging regulations, standards, or guidance documents.
Recommend changes to company procedures in response to change in regulations or
standards.
Perform and maintain a regulatory risk assessment and provide timely recommendations
and projects related to the company
Develop and maintain regulatory network (formal and informal) by establishing relationship
with various regulatory bodies, local consultants and legal entities within the respective
countries / regions where ASO has business interests

Performs other related and assigned duties by senior management
Qualifications: To perform this job successfully, an individual should be able to perform each
essential duty / key responsibility satisfactorily. The requirements listed below are
representative of the knowledge, skill, and/or ability preferred. Reasonable accommodations
may be made to enable individuals with disabilities to perform the essential functions.
Education: Bachelor's degree in Quality, Regulatory Affairs or an applicable science preferred.
Experience: Minimum of 5+ years of Regulatory experience within an FDA regulated industry.
Understanding of Regulatory requirements for Medical Devices under ISO 13485.
Understanding of 510K, NDA, ANDA, and OTC guidelines is required.
Skills & Abilities: Should possess excellent communication skills (both written and verbal), and
enjoy working with a diverse customer/employee base. Candidate should be proficient in the use
of computer systems including MS Office and Outlook. Previous use of MRP/ERP systems and/or
other databases and knowledge of manufacturing organization structure, policies, and procedures
and a plus. Candidate should be able to deal with high intensity situations involving problems with
multiple variables in a wide range of situations. Should be highly organized, a self-starter, able to
prioritize and carry out multiple functions simultaneously.