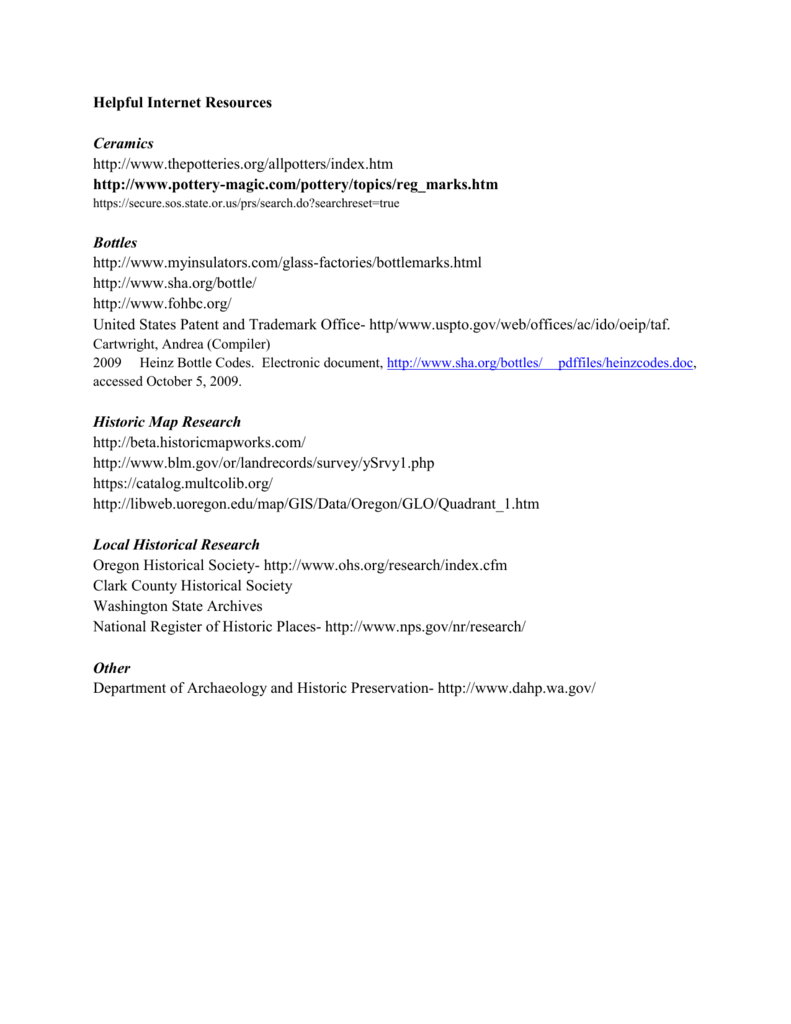 Helpful Internet Resources
Ceramics
http://www.thepotteries.org/allpotters/index.htm
http://www.pottery-magic.com/pottery/topics/reg_marks.htm
https://secure.sos.state.or.us/prs/search.do?searchreset=true
Bottles
http://www.myinsulators.com/glass-factories/bottlemarks.html
http://www.sha.org/bottle/
http://www.fohbc.org/
United States Patent and Trademark Office- http/www.uspto.gov/web/offices/ac/ido/oeip/taf.
Cartwright, Andrea (Compiler)
2009 Heinz Bottle Codes. Electronic document, http://www.sha.org/bottles/
accessed October 5, 2009.
pdffiles/heinzcodes.doc,
Historic Map Research
http://beta.historicmapworks.com/
http://www.blm.gov/or/landrecords/survey/ySrvy1.php
https://catalog.multcolib.org/
http://libweb.uoregon.edu/map/GIS/Data/Oregon/GLO/Quadrant_1.htm
Local Historical Research
Oregon Historical Society- http://www.ohs.org/research/index.cfm
Clark County Historical Society
Washington State Archives
National Register of Historic Places- http://www.nps.gov/nr/research/
Other
Department of Archaeology and Historic Preservation- http://www.dahp.wa.gov/
Books
Fike, Richard E.
1987 The Bottle Book: A Comprehensive Guide to Historic, Embossed Medicine Bottles.
Peregrine Smith Books, Salt Lake City, Utah.
Fowler, Ron
2002 Washington Sodas: The Illustrated History of Washington's Soft Drink Industry. Dolphin Point
Writing Works, Seattle.
Gurcke, Karl
1987 Bricks and Brickmaking: A Handbook for Historical Archaeology. University of Idaho
Press, Moscow, Idaho.
Godden, G.
1964 Encyclopedia of British Pottery and Porcelain Marks. Bonanza Books, New York.
Intermountain Antiquities Computer System (IMACS)
1990 User's Guide, Instructions and Computer Codes for Use with the IMACS Site Form.
Definitions
and Local Variables. Bottles/Glass (Section 472). University of Utah,
Salt
Lage, Chad
2004 Pictorial Guide to Pottery & Porcelain Marks. Collector Books, Paducah.
Kovel, Ralph and Terry Kovel
1986 Kovels' New Dictionary of Marks: Pottery and Porcelain 1850 to present.
Random House Reference, New York.
Lee (Weber) Ruth
1944 Victorian Glass. Published by author, Northboro , Mass.
Lehner Lois
1988 Encyclopedia of U.S. Marks on Pottery, Porcelain, and Clay. Collector Books, Paducah,
Kentucky.
Lindsey, Bill
2008 Historic Glass Bottle Identification and Information Website. Society for Historical
Archaeology and Bureau of Land Management. <http://www.sha.org/bottle/>.
Lockhart Bill
2004 "The Dating Game: Owen's-Illinois Glass Co." Bottles and Extras 15 (3): 24-27.
2006 "Owens-Illinois Glass Company" Bottles and Extras 39 (2): 22-27.
Lockhart, Bill
2006 The Color Purple: Dating Solarized Amethyst Container Glass. Historical Archaeology
40(2): 45-56.
Lockhart, Bill and Michael R. Miller
2007 The Bottles, Marks, and History of the Southwestern Coca-Cola Bottling Co., New Mexico
and Arizona, 1917-1947. Privately Published, Alamogordo, New Mexico.
Luscomb Sally C.
1967 The Collector's Encyclopedia of Buttons. Crown Publishers, Inc., New York.
Munsey, Cecil
1970 The Illustrated Guide to Collecting Bottles. Hawthorne Books, NewYork
Newman, T. S.
1970 A Dating Key for Post-Eighteenth Century Bottles. Historical Archaeology 4:70-75.
Polak, Michael
1994 Bottles Identification and Price Guide (1st Edition). Krause Publications, Iola.
The Potteries
2011 A-Z of Stoke-n-Trent Potters. http://www.thepotteries.org/allpotters/index.htm
Rock, Jim
1988 Training Guide: Tin Canisters – Their Identification (Working Draft). Prepared for the
Klamath National Forest, Klamath Falls, Oregon.
Rosenberg, Robert G., and D. Peter Kvietok
1981 A Guide to Historic Artifact Identification. Privately published. Copy on file, Applied
Archaeological Research, Inc., Portland, Oregon.
South, Stanley
1977 Method and Theory in Historical Archaeology. Academic Press, New York.
Speulda, Lou Ann, Clatyton LeBow, and Richard Pettigrew
1987 Archaeological Investigations at the Ewing Young/Sidney Smith Cabin Site (OR-YA-1), Yamhill
County, Oregon. Infotec Research Incorporated Report No. PNW87-9, Prepared for Yamhill
County, McMinnville, Oregon.
Sussman, Lynne
1978 A Preliminary Catalogue of Non-Copeland Patterns Associated with the Hudson's Bay Company.
Manuscript Report 430. Parks Canada Publication.
Toulouse, Julian
1971 Bottle Makers and Their Marks. Thomas Nelson, Inc. New York.
1977
A Collectors' Manuel with Prices Fruit Jars. Everybodys Press Inc., Nashville.
Williams, Petra, and Marguerite R. Weber
1978 Staffordshire II, Romantic Transfer Patterns. Cups Plates and Early Victorian China. Fountain
House East, Jeffersontown, Kentucky.
Williams, Petra and Marguerite R. Weber
1986 Staffordshire Romantic Transfer Patterns II, Cups, Plates and Early Victorian China. Fountain
House East, Jeffersontown, Kentucky.
Zumwalt, Betty
1980 Ketchup Pickles Sauces: 19th Century Food in Glass. Mark West Publishers, Fulton,
California.